5 Minutes With ... Christophe Pourcel
MX2 FIM World Champion Christophe Pourcel flew to U.S. right before Christmas and was still wearing a cast when he got here. He had damaged the metacarpus of his right thumb in a crash during the Geneva Supercross (Switzerland) when his front wheel slid in a corner during a heat race. Pourcel is now recovered and ready to get back into action.
Racer X: How are you doing? Are you fully recovered?
Christophe Pourcel: Yes, I am fine. I started riding a week ago. I am really, really happy with my bike. Everything is back normal and okay right now.
Great to hear. What is your plan now? How many races are you gonna do?
I do not know, because the plan is basically to go out there check and learn how things are. This for me is a learning experience; I do not want out there trying to achieve anything other than learning and collecting data for the future, when I will be fully involved in [the] U.S. I still have my plan to go back to Europe and defend my MX2 title this year as well. I have the option to do many SX races, but I will first check starting from this Saturday how things go and then from there see what is the right thing to do. I will probably do a couple or three races for now in SX. The key is no pressure now, just learning.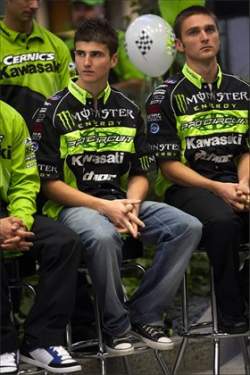 France's Christophe Pourcel will be riding a Monster Energy/Pro Circuit-backed Kawasaki in the Lites class at Anaheim 1

How long have you been here now?
I flew over on December 20, and after Christmas I took the cast off and I could ride again.
Did the injury affect your speed and physical condition?
Not really, I don't think so. It healed quickly and my speed is really good. We'll see this weekend if everything is okay, I guess.
Even if you're here just to learn, you're still a rider and a fighter - you can't go out there just to "learn." What do you expect from these first races in US?
For me, the best result now would be finishing on the podium, but I really do not want to say much about that. I just want to go out there and ride in SX here and see where I am at and see what to do next.
What is your impression about the American atmosphere in motocross?
It is really professional. Everything seems to be bigger and there is a lot more people around you to help you in your mission of winning. And I think that is the way I like for myself; I think it is good for me. The way of training is the same: I take the bike I go riding and come back.
Have you built any particular relationship with any of the riders over here?
Not yet. I've always been here for short times that I have never had the chance to get into that too much.
Are you intimidated by the American circus?
Not really, believe me.