Racer X's Things To Do In...Anaheim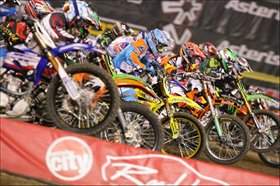 Anaheim 1 is almost here!
photo: Simon Cudby
Anaheim is supercross racing's Indianapolis, Augusta, North Shore, Wimbledon, whatever. It plays three times a year, it's been pretty much sold out since 1999, and the very name ensures a great time at the races. But what if you've never been there and don't know where to go and what to besides just go to Angel Stadium? Here are a few suggestions, based on our own trips to the epicenter of supercross.
Go to Corona!
Follow the 91 East for maybe a dozen miles from the stadium and you will end up smack-dab in the middle of the Orange County motocross business hub. Pro Circuit sits right off the highway on the Serfas Club Drive Exit, and they are open 9 to 5. For Troy Lee Designs, exit off Main Street in Corona, turn left, go under the freeway, turn right on Rincon. TLD is on your left, and there's all kinds of cool stuff in there (ask Sean Beaucar for a private tour). Answer Racing and MSR are also right there, past the 15, right at the very next exit (McKinley). And if you go out to Riverside and San Bernardino, you will find Malcolm Smith's brand new shop, and Chaparral of course!
(There will be an autograph signing at Malcolm Smith's shop in Riverside on Friday night. 5 p.m. to 7:30. RC, Reed, and the Alessi brothers will be in attendance with door prizes, etc. It's located at 7599 Indiana Ave., Riverside, CA – the Madison Exit off 91.)
Pole Position Raceway
951/817-5032
www.racep2r.com
This is a must-visit. Pole Position is where all the top riders do battle in the super-fast karts, and the indoor karting track is surrounded by motocross memorabilia. Jeremy McGrath's 2004 Honda CR250R, Mike Metzger's KX250 used to jump the Caesars Palace fountains, Jeff Emig's '97 works Kawasaki SR250, Rick Johnson's works '84 Yamaha YZ250, James Stewart's '04 works Kawasaki KX125 and more are on display. Pole Position Raceway is located at 1594 E. Bentley Dr., Corona, CA 92883. Call for directions!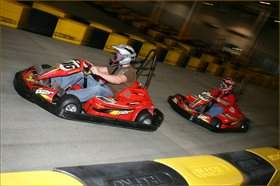 Pole Position Raceway is a blast!
photo: Simon Cudby
Dave & Buster's
Dave & Buster's is the popular place for the Mototalkers to gather for a meet-and-greet plus an all-time bench-racing session the Friday night before each season opener. Located maybe a mile from Angel Stadium at the outdoor shopping mall known as The Block, D&B offers great food, cold beer, and lots and lots of games to play. There is a bar, but it's not a bar—kids are welcome, and there are all kinds of fun games and activities for them.
National Sports Grill
Right across the street from the stadium, behind the Hilton Suites, you will find the watering hole known as the National Sports Grill. The place offers delicious American food, a full bar, and a great sports-centered atmosphere to all restaurant patrons. Lots and lots of supercross people go there on Friday, Saturday, and late Saturday night.
Here's a number you may want to program in your cell phone before your trip:
Anaheim Yellow Cab Taxi Service
1-800-TAXICAB
Airport Shuttle Service
1-800-BLUEVAN
The Block
www.theblockatorange.com
This place is THE place to go Friday afternoon or evening or early Saturday if you don't want to spend ALL of your time at the stadium. The Block is an outdoor mall with several fine places to eat, plus some really good shops like the No Fear store (which is filled with moto stuff), the Vans Skate Park (where you might find Nathan Ramsey and Pat Schutte on the concrete ramps), and even a bowling alley.
Vans Skate Park at The Block
714-769-3800
www.vans.com/skateparks
This 20,000 square-foot indoor street course features an array of obstacles. The course includes an assortment of quarter pipes, banks, handrails, boxes, pyramids and much more. The main street course is surfaced in a combination of birch and "skatelite."
Hungry after the race? Check out Del Taco, because most locations are open 24 hours: www.deltaco.com. Hell, you might run in to Pingree there!
Racer X Supercross Viewing Party
Pole Position Raceway
951-817-5032
www.racep2r.com
Pole Position Raceway and Racer X Illustrated will be hosting a public SX viewing party on Sunday, January 7, beginning at noon. In addition to nonstop kart racing all day long, there will be special appearances by top riders, some races around the track backwards and more. Think you know motocross trivia? Good! Pole Position Raceway will be asking trivia questions all day long and giving away prizes. Everyone is invited, and it will give you an opportunity to check out the cool memorabilia in their collection.
Finally, for you Canadians coming down to Anaheim, the NHL's #1 team (Anaheim Ducks) host the AMA's favorite team (Columbus) on Friday night and Pat Schutte's Detroit Red Wings on Sunday.
If you can do all that in ONE Anaheim weekend, we will have more for you in two weeks when we go back for more at Anaheim 2!