5 Minutes With ... Ryan Dungey
This is an exciting time to be around the sport. Every top pro rider is working on new schemes and new themes to their riding, from established riders to a crop of new rookies looking to make an impact. One such rookie is Ryan Dungey, a surprise new hire for Roger DeCoster's Makita Suzuki factory squad last year. Ryan's preparing for supercross right now, and he'll be racing on the East Coast.
Racer X: Ryan, I was talking to Roger DeCoster and he mentioned that you did a VO2 max test and the result blew everyone's minds. What's the story on that?
Ryan Dungey: I don't know! I've been training way before that, and I've always wanted to get it done, and the opportunity finally came and I was really pumped to see the results were really good. And knowing that they could get better yet is even better. But I was really excited about it. Dr. Falsetti checked them out and he showed some of his guys and Roger seen them, so I guess they were really good, and I was really happy with them.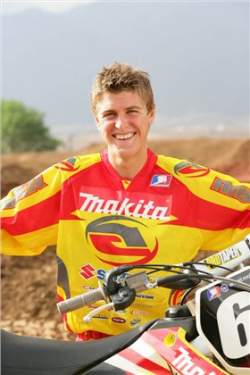 photo: Simon Cudby

So they had some other elite athletes and your numbers matched up?
I don't know about everyone else, but I guess they didn't think that my numbers would be that good.
Did you always feel that your endurance has been one of your strengths?
Well, yeah, I think my endurance is getting better yet right now. But when I was going in to get it done, I didn't know if it was going to be good. I train, but I didn't know how to train. Now I have a trainer, Derrick Stockton, and he really helps me out a lot. But before that, I didn't know if I was hurting myself by doing some stuff; I was just training hard.
How do you feel nowadays compared to the last few nationals of 2006?
Going into Vancouver I was feeling great on the test track. The bike was working really good and my fitness felt great. But on a racetrack you're with 20 other guys, so it's a lot different than riding by yourself. With Ricky and Ivan at the test track, they help me out and they push me around a little bit, so that really helps. I think I felt pretty relaxed in Vancouver, and I think things can get better yet.
Well, you know you're in good shape and everything is coming together, but I know that Makita Suzuki doesn't have huge expectations for you for this season. But how hard is it to control the thoughts of thinking about winning a championship? Because I know that's what you want to do.
I would really like to win it—that would just make my whole year. But we're just going to take it one race at a time and try and be up there in the top five and top three. I just want to put in consistent races, and if I win some, that'd be great too. But for now, when it's all said and done, I'd like to be in the top three.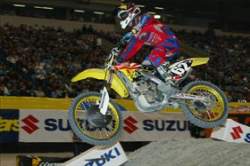 Dungey finished second in the Lites class in Vancouver

photo: Steve Bruhn

How big of an adjustment is it being out there in California?
It's a lot different than from where I'm from in Minnesota, that's for sure. I live out in the country and it's all trees, but the whole staying out there and riding everyday is awesome—I love that lifestyle and it's something I always dreamed about.
Seeing you in Vancouver and talking to you now, it seems like you really want this opportunity and you want to put the work in.
Oh, my whole life I wanted to be that guy on a factory team, and now that it's finally coming, I'm just going to do everything I can, and I want to be the best. I got the equipment, the team, and the right people around me. I think with that I can go far.
You did one of the BooKoo Arenacrosses earlier this year. How did that go?
We were looking around for some racing to do, and there were like eight or nine weeks that went by that I didn't race after Glen Helen, so we just thought we'd head up to Fresno for the BooKoo round and do that and get a little bit of a feel. I think that helped me out a lot for Vancouver. The first night I got second place, and the second night I won it, so I was really happy with that.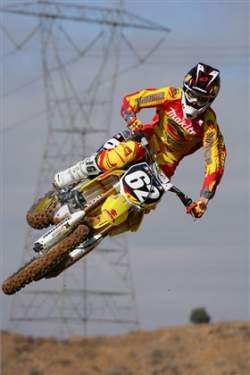 Dungey has extra time to practice and test since he's riding the Eastern Regional Lites series, which starts February 24 in Atlanta

photo: Simon Cudby

How is your confidence at this point? When you first signed with Makita Suzuki, you had to be a little stressed.
I feel really good. I've been putting in the work, and things are coming along. We've got a lot of time before supercross coming up, and I've been out at the track every day, and I know my bike is working awesome. We have some really good settings and I'm really excited. My confidence level is up and I want to have a good 2007 for Makita Suzuki.
What did you do for the holidays?
I went back to Minnesota for Christmas and New Year's, but I came back to Minnesota on the 2nd. I think we have about eight weeks till the East Coast, so I'll be putting in a lot of hard work for that.
How are your parents feeling about all this?
My dad is taking it good. He'll come out for a week and go riding with me. Every time I'm in Minnesota and my mom drops me off at the airport, she'll get a little emotional, but she understands. I'm sure they're pretty proud, though.