5 Minutes With ... Kyle Chisholm
He earned a Canadian motocross championship, landed a contract with factory-supported Motosport Kawasaki, and secured a Toyota sponsorship in 2006. How much better can it get for 19-year-old Kyle Chisholm? The longtime Team Green rider out of Florida, along with dedicated parents Donna and Gary, used the traditional blood-sweat-and-tears approach to pro motocross racing, moving from privateer to factory rider.
Racer X: Kyle, when I saw you talking to the guys at Motosport at Steel City, my initial thought was that if you were signing with them, that's great, but that it was also unfortunate you'd be moving away from Kawasaki. Then Motosport becomes a factory Kawasaki team! When you first began talking to Motosport, did you know they were switching to Kawasaki?
Kyle Chisholm: No, not at all. I was talking to a few other people, primarily the Richmond Kawasaki team, who I rode for this year in supercross and the Canadian outdoors. They were supposed to have the Kawasaki 250F team and Motosport Outlet had nothing to do with it - they were still a Honda team. So I was talking to both of them, and several Yamaha teams. We were just going back and forth. I was trying to make my decision, and it was difficult. I actually signed with Motosport during all this going on, and ended up being on Kawasakis! I was ready to make a switch to Hondas if I had to, but it was nice to stay on Kawis and I was lucky it worked out that way. I'm real familiar with the bike, and the bike's awesome this year.
Was having so many offers a good thing or bad thing?
It was both of those things! I won the Canadian championship - that was the main focus this year. But the other goal was to do the few outdoor races that I could, and get good results so I had people to talk to - that was a good thing. But at one time, it was five or six different teams that I was talking to, so it was kind of a bad thing! I was like, Which one's the best one? I wasn't worried about the whole money thing for my first year. I was more focused on getting good equipment to have good results for next year, then I can be worried about money. Motosport has a great program. They have a good relationship with Pro Circuit, and everybody knows that Pro Circuit does the best engine work of anyone. They showed us everything about how the team works. It's a real solid team. I'm happy with my decision.
You've been a longtime Team Green rider, right?
Pretty much my entire career, since I was on 60s. They've been helping me out along the way, trying to get me to that next level. Now I've finally got the opportunity.
I've followed your career for a while now, but your ride at Southwick this past summer really opened my eyes.
That was my first AMA National in 2006. I did Southwick, Red Bud, Unadilla, Colorado, Steel City, and Glen Helen – whenever we could find time between my Canadian schedule and my amateur schedule here. At Southwick I was coming off the first two rounds in Canada, which I won, so I was feeling good. Then I took the first-moto holeshot! It didn't hit me at first, but soon I was thinking, Man, I'm leading a national, and I got a little nervous. I think Mike Alessi passed me after the first lap, then I was in second for the next six or seven laps. Later, almost halfway through, I made a mistake and ripped off all my tear-offs - that's when Short got by and roosted me. I just couldn't see anymore, and it threw my rhythm off and I ended up seventh. I thought I did better the second moto than I did the first one. I got a mid-pack start and worked all the way up to ninth and I was still catching people toward the end. I got less tired the second moto than I did the first moto, probably because I wasn't out front. I went 7-9 for seventh overall, so I was happy.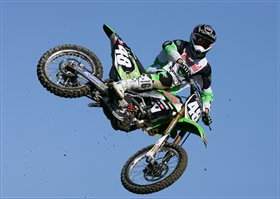 Chisholm is glad to still be on Kawasakis

photo: Simon Cudby

Did you get a lot of recognition after that race?
Yeah, but it was kind of a bummer once I heard the internet talk. The vibe I got made it sound like, "Yeah, he did awesome, but it was a sand track and he's from Florida," like it didn't actually mean anything because sand is what I'm used to. In Florida there are sand tracks, but the majority of our tracks are just as hard as out here in California - they're hard-packed tracks.
But then you had another great ride at Glen Helen.
Yeah, I got seventh at my first one and seventh at my last one. I've ridden the Glen Helen Prequel race, but the national was only my second time ever riding there. Other than Competitive Edge, I've never rode anywhere in California. I was pretty happy with that finish, riding a track that most of the guys out here ride every week in the outdoor season.
You earned a Toyota sponsorship too. How did that come about?
It first came up before Loretta's when they had the Toyota 20 program going on. With their slogan, "Moving Forward," they wanted to help amateurs, specifically ones that move to the pros. Sean Hackley is the one that ended up getting that initial ride, but then they later told us that they were actually going to be sponsoring several riders. At first it wasn't going to work for me when Motosport was Honda, because Toyota and Honda are competitors. But when Motosport became a Kawasaki team, it worked out awesome! I got the Toyota deal, which included a brand-new 2007 Toyota Tacoma. Another big benefit was getting Robb Beams with MotoEndurance as a trainer. It's a cool thing having an outside sponsor and all the exposure that comes with it.
With all your recent momentum, do you have specific goals for 2007?
Yeah, definitely. You have to set goals for yourself. If you don't have anything that you're working for, you won't move forward. For supercross, I'm feeling good and testing is going well. I don't see any reason why I can't be on the podium at some rounds and top-five overall for the series. Everybody works and trains hard. I bust my butt just like they all do, day in and day out, 24-7. I'm not putting all that work in to get tenth place. I want to go out and win!