5 Minutes With ... Billy Laninovich
December 29, 2006 12:32pm
Team SoBe/No Fear/Samsung Honda rider Billy Laninovich damaged his knee while chasing leader Ryan Villopoto at this year's Budds Creek AMA National. From there it was off to the operating table and straight to the sidelines. Laninovich, now 23, plans to make 2007 his year. We spoke with the native of Tuscany Hills in Lake Elsinore, California, about his injury-plagued 2006 season and his hopes and plans for '07.
Racer X: Billy, what have you been up to?
Billy Laninovich: I just started riding a month ago and I'm trying to get my speed back up. I've been putting the laps in at all the local tracks like Elsinore, Perris and Cahuilla. The first two weeks I got on the bike, I just warmed into it, but during the last two weeks I've really started pushing it to start getting my speed and fitness back.
Your season ended at Budds Creek when you suffered a knee injury. I was watching the AMA live timing and scoring that day and you were really hauling ass.
Yeah, I was second and was behind [Ryan] Villopoto. I felt great and was definitely riding good.
How did hurt yourself?
I fell in a corner and stalled the bike. I got up and was in sixth or seventh. While racing through the field, I landed on Langston in an off-camber corner. It was a corner that kind of came back up and you'd jump up two or three feet in the air. I went to the inside and Langston went to the outside and we came together in the air. As soon as I landed, the knee popped. I knew right away that something was wrong and went straight to the medics.
Did everyone know how serious the knee injury was?
No, they didn't think. I did not know that I had torn my ACL. Even when I went to the hospital to have an MRI done, we didn't know that I had torn it. We didn't even find out until surgery. Before I went in for surgery, the doctor felt around my knee and he suspected something might be wrong with the ACL, so I had to sign all these papers in case he needed to put a new ACL in. So I went into surgery, and the ACL was torn. When I woke up after surgery, that was the first thing I asked about. When they told me I had torn the ACL it was a really bad feeling. Another injury and more bad luck, you know?
Did you attend any of the races over the summer?
No, I didn't go to any. Didn't watch one race. I didn't even go to Glen Helen. I knew it would just make me sick. I was already frustrated enough. I was bummed because I knew I could have had a great outdoor season. I was seventh or eighth in points and gaining speed when I got hurt, and then it was all over with. I had spent a month before the season and was starting to gain speed. Going into the nationals, I was shooting for top five overall. That didn't happen.
Stepping back in time a little bit, your 2006 supercross season got off to a very strong start, didn't it?
It did. I was third at Anaheim 1 and was second at Phoenix and went into the points lead. I was third by a few points leading into the San Diego Supercross [round six], but then crashed in the first turn. I got up and was running in 10th when I crashed again. I ended up 11th, but dropped to fourth in points and that really hurt me. We also got into that car accident in Dallas. We went to the track early for press day then went out to eat. When we were done eating dinner we were just kind of driving around and Jake [Weimer], who was driving, lost control. We slid off the road and hit a tree. Jake actually hit the tree with his head. He got hurt real bad and crushed the side of his face. It was very scary. The air bags blew and everything.
Did you get hurt?
I thought I broke my left arm. I couldn't move my arm or my hand. We went to the doctor and he told me I had a severe bruise. The next day we went to track and I sat on the bike. Then I rode around the bike around the pits. I did a wheelie and it was the worst pain ever. The Asterisk guys gave me a shot for pain and I felt better. In the race I got a bad start, but I was riding really good and passing guys. I was going to pass Mike Alessi for fourth on last lap, but he cross-jumped into me over a jump, T-boned me, and I really ate it. It was the nastiest crash ever. I landed on my back with both feet in the air. It knocked the wind out of me and hurt my bad arm once again.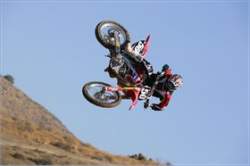 Billy looks like he's feeling pretty good on the bike

photo: Simon Cudby

How are you feeling now?
I'm good. I'd say I'm at about 90 percent. Jeff Spencer has been working with me for the last two months now. He helps me out with training, and I think he's going to be a big help to me in 2007.
Will you ride the East Region?
Yes, the East Coast. I think [Broc] Hepler will probably be my biggest competition. I think [Ben] Townley and maybe [Chris] Gosselaar will also be in the class. But you know, I'm not even really thinking about any of that. I just want to do my own thing.
Do you have a plan of attack for the East Region series?
My plan is to just go in there, be consistent, be on the podium every weekend and win a championship. That's my goal because after this year, I move up to 450 class.
You did a few round on the 450 last winter. Did you feel good about your results?
Well, I did Daytona, Detroit, Orlando, and Dallas. I liked riding the class a lot. I didn't feel intimidated or anything like that in the class. The only problem I experienced was that I didn't have much time on bike. I was ninth at Daytona and was eighth at Detroit. I really think I could have done better, though. Looking back now, I really think I was pretty unprepared to ride the 450 in supercross. It was kind of a rush deal. But I'm glad I did it. It was good to get the experience.
Looking to the future, what's you plan for the next few years?
Just get a factory 450 ride and be a top-five guy. I'm confident I can do that.