5 Minutes With ... Zach Osborne
December 15, 2006 11:51am
One of the biggest stories to emerge from the two Canadian rounds was the solid performance of KTM's rising superstar, Zach Osborne. Zach is the first ripple in a huge set of waves of new talent that will be making their way into the Lites class in the next two years. After struggling through the summer with health and fitness problems, Zach traveled north with a little something to prove. After two consecutive podium finishes, Osborne let it be known that he is for real and he is here to stay. He isn't known to be much of a talker; he is the type of guy that lets his aggressive riding do the talking on the race track This week he finalized his contract with longtime sponsor, Fox Racing, and things are looking pretty good for the hard charger from Abingdon, VA.
Racer X: What's up Zach? What are you up today?
Zach Osborne: Just working on my supercross track. I tore it up pretty good getting ready for those Canadian rounds. I've been working on it all week - it's pretty beat.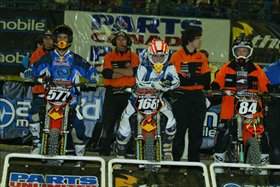 Zach (168) on the Toronto starting line

It was obvious you have been riding. Two podiums in a row up there, eh?
Yeah, it went pretty good. I need to do better on my starts though. I was pretty happy with the way both weekends of racing went, but I know I have some room to improve.
You had some problems getting tired last summer. What was the deal?
I was training hard, just not the right way. I got them (problems getting tired) worked out and learned how to train correctly. My trainer helped me train smarter not harder, you know?
What did you think about your first trips to Canada?
I liked it. I was afraid it would be really cold, but it ended up being pretty nice.
Did you parents go?
They went to Toronto but I was on my own for Vancouver. They have only missed a couple races since I have been racing. It's cool. I am growing up, you know? I feel fine being on my own at the races.
It's a long time till the East Coast starts up. What are you going to do to stay healthy, but still keep progressing?
Right now I don't want to change anything. I am just going to stick to the same program I've been on for the past couple months. It's working, I just need to stay on it. I'm going to keep training and riding with my team as much as I can. I'll head back out to California for three weeks in January to watch the first west Coasts rounds and do some more testing, then I'll come right home so I can stay used to the East Coast-style dirt.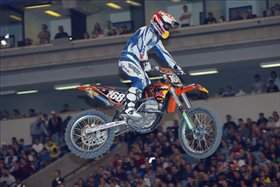 Osborne recently signed with Fox Racing for the 2007 season

How about your deal with Fox? How long have you guys been with them and how pumped were you to sign your new contract?
How long? [Laughs] You tell me! You signed me to them when I was on 60's.
…Oh yeah, guess I did. Give me a break, I'm an old man and that was clear back in '99.
Fox has always been great to me. Just things like when they give you the next year's gear like they do at Loretta's where nobody in the world has that gear but you. And all of the things they do with customizing my helmets and all my gear — they just do a really good job of making a rider feel special and I am glad that I am still with them.
Last words?
Yeah, just Happy Holidays everyone. Especially those guys at Mototalk. They motivate me to ride and train even harder!