5 Minutes With ... Mike Alessi
December 15, 2006 10:40am
Red Bull KTM's Mike Alessi has been busy preparing for the 2007 Amp'd Mobile SX Series out on the west coast, but he's slotted for the East region. We spoke to the #800 this morning about next season, as well as the little squabble that took place last week at the practice track.
Racer X: First of all Mike, I apologize for the mix up in Racerhead last week. The last thing you probably want is a team squabble to get exaggerated or mixed up.
Mike Alessi: Yeah, it's okay. Apology accepted. Things did get out of control, but some people get their information wrong and stuff like that happens. But I'm looking forward to the supercross season this year, and I'm moreso looking forward to today's riding.
Speaking of today's riding, now you're going to ride the east, right?
Yeah, I was going to ride east all along, and then there was word that I had gotten hurt with my leg injury, but that was nothing more than a twisted ankle, but like everything else, that gets blown out of proportion and gets on the internet and everything else. But I'm racing east coast and I'm looking forward to it. There's going to be some stiff competition. It's going to be good with my brother coming back.
Are you guys going to be set up in South Carolina again at Doc Medskers, or are you going to go back and forth?
We're actually going to be there in between Orlando and Daytona, but other than that we'll just be going back and forth from the race to home.
Well, if we had you in Florida, they'd have pretty much all the fast guys.
It seems like all the fast guys are down there, for sure.
I know Jeff has been off for a very long time, but before he got hurt last year, the word on the street was that he was giving you all wanted on a supercross track. Where is he at compared to podium speed in your opinion?
Right now he got a little bit of work to do. He only started riding about a month or so ago. He hasn't ridden a bike since January, so he's been off for a very long time, but he still has a couple months until the race. There's no real stress yet, but he does need to pick up his speed. This time last year, he would've been ready to go for the west coast series and he'd been a threat for top five, maybe even a podium.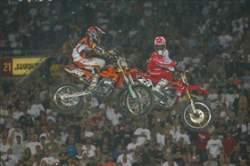 The Alessi brothers are both racing on the East coast in 2007

Well, how does it feel to be a homeowner now?
Yeah, me and Danielle own our own house, and everything is going good. We're looking forward to the New Year. We're going to have a big party here with all of our families—everyone is coming together, so it'll be a lot of fun.
Do you have a supercross track in your backyard?
No, unfortunately we don't.
A trampoline?
No, those are too dangerous!
[Laughs] I've been to Pastrana's house, and I could vouch that trampolines are indeed too dangerous to have in your backyard.
We have a motocross track, a ping pong table, pool table, air hockey table and we're going to make a baseball field before New Year's so we can have a baseball game with all the family.
Well, when you come back east for High Point, we have a ping pong table here at Racer X, and I will take on all three of you guys. Ping pong is one thing I can do!
Sounds good!
Go and enjoy your ride, and have a nice holiday.
Thanks a lot. We'll see you guys soon.