Between the Motos: B.J. Smith
If you haven't checked it out yet, the new AMA Motocross 2006 Season In Review DVD is now available from Duke Video. B.J. Smith is one of the people behind the making of the DVD, and a pretty decent rider himself. We contacted him at work right above Atlanta to talk shop and moto and how to make our sport look better.
Racer X: B.J., after some hiccups this week, we just got the trailer up for the Year In Review video that you guys did with the AMA and Duke Video, and I've got to say, it looks pretty good!
B.J. Smith: Well, I'm glad to see that you guys got your server up and going again. But a lot of blood, sweat, and tears went into that video, especially the part on the Motocross des Nations.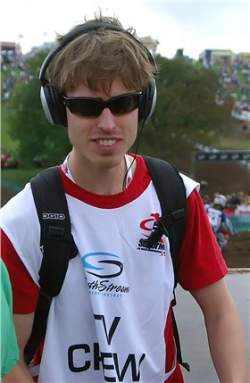 B.J.Smith

I don't want to give away all that happened there, because we actually have a feature about your trip in the new issue of Racer X, and it turned out really cool. Let's back up first: What is your primary job at all of the nationals?
Producer of the television shows, and the company that I work for is Chet Burks Productions. We are the producers of AMA MX television for whatever network it goes on, so it's always kind of funny to see when a network gets moved and the fans' reaction is, "Oh, the shows are so much better this year," but it's actually the same company producing the show.
People always assume that someone who doesn't know a damn thing about motocross is making the calls, but you're actually an expert-level rider yourself.
Yeah, I grew up racing in Michigan with Nick Wey and the Valade brothers, Josh Woods—and I held an AMA pro license in '97 and I tried to race one national at Steel City. I qualified to Sunday but didn't make the main program. But the coolest thing was being able to do practice with Steve Lamson and Ricky—he was a rookie that year.
I know you still ride when you can, but when you go to the races on the weekend, there's not a lot of time for amateur day, is there?
No, there's no time. In fact, when amateur day is happening, I'm still in the office putting the show from the previous week together. Me and the entire team—there's a lot of people back here in the office that do all of that stuff, but you only see a couple of us. The cameramen are freelance for the most part, and I bring all the tapes back and there's another half-dozen people here that go through stuff, trying to pick all of the best pieces. The way motocross is done, it's not done in a TV truck like supercross and superbike is. We bring about 150 tapes back a week and have to go through them all and make two one-hour shows out of them in four days.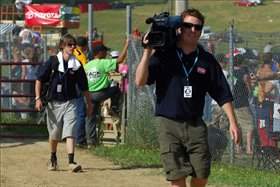 The TV crew is always hard at work

Some of the challenges you face in any motorcycle racing are due to the fact that we have a continuous sport and the action is pretty much non-stop.
And kind of like you said earlier, everybody is an expert and thinks they could do it better and thinks it should be done this way. We're always open for ideas and suggestions, but what it comes down to a lot is money—who is going to pay for this? There are so many things that we'd love to do and I know the AMA would love to do. I'm not a big NASCAR fan, but I can appreciate watching it, and to see what you can do with a budget is absolutely incredible. Same goes for football. I was fortunate enough to be an associate producer on Red Bull's Last Man Standing the past two years, and this year's show, which airs January 16 on Speed, is going to be unbelievable. I've been looking at the helicopter stuff the last couple days, and Red Bull hired a guy that worked on The Italian Job and XXX, and when you got a budget to spend, it's amazing.
Now Red Bull, they're in the business of printing money, right?
[Laughs] Pretty much. The local club down there was just looking for some sponsorship, and a $20,000 race turned into a half-million-dollar race over night!
Just kidding about Red Bull—thank goodness the people in the company know and appreciate motorsports and back events like the Last Man Standing and riders like James and Nicky Hayden and all.…
Yeah, and when they do something, like the Last Man Standing, they go all-out.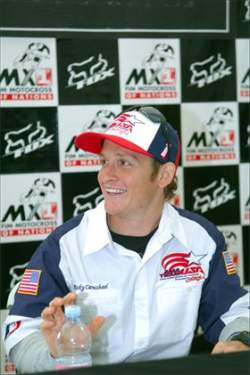 B.J. and his crew were at the 2006 MXdN

What is your biggest challenge as a director?
Like you said, we don't have caution flags or timeouts; motocross and supercross just happen. For instance, I like documentaries. I really like shooting that and getting the feeling of having one shot at it, and if you don't get it, you just don't get it. And that's what shooting motocross is like. That's why passes and crashes are missed, because you can't have a camera on one guy at all times, especially in the outdoors. In supercross and arenacross you can, but outdoors you just can't. Talk to the guys who shoot The Great Outdoors - there are so many great moments that you just can't get.
As far as growing the sport, motocross is so niche—you're either into it or not. And when you sit down with someone that's not into it, they can appreciate it just by watching it, but television makes it look easy. When I was growing up, kids that had bikes would say, "Hey, let's go race down the road." Well, it doesn't really work that way.
I really thought they should let every person who buys a ticket to a supercross take one lap around the track on foot and then hold the race and see how enthusiastic the crowd is, because it's ridiculous what those guys can ride so well on.
The biggest thing that can help is great racing—that's the number-one key. I sat down with my fiancée last year to watch Las Vegas and she fell asleep! It took too long to get to the conclusion. They cut out the semis this year, and that's definitely a step forward. It was like when Evel Knievel used to jump, he would make all of these passes back and forth because they needed something to fill the time with. And that's where supercross and motocross kind of suffer. In motocross you have four motos, which has potential for a great afternoon of racing. But when there isn't any, it hurts. And when you try and put that on TV, it's like, where's the racing? If there isn't any, it's not a great show. And that's when people start harping on the television show for not being good. If it's good racing, the television show is always good.
I watched the Vancouver race with Andy Bowyer, and he somehow managed not to look at a computer all day Sunday, and he was literally on the edge of his seat, screaming at the TV. For Anaheim 1, Live Nation is taking a step ahead with live coverage. I know it's tough for motocross, but how can we shorten that time up between when the race is held and when we see it on TV? Is the answer a TV truck like you had in Colorado?
Yeah, and we'd even have to go bigger than that. We'd want to start putting graphics and stuff on right there, cutting the show down. It could be done, and we could get on a couple days sooner, but first it's money. If there's enough money to play with, then yeah, we're going to bring a TV truck to every round. Cable at some of those tracks, I couldn't even imagine how difficult it would be to cable some of those tracks! It'd be something else. First it's money, and then it's getting a network to give up some of that time during the week, but you don't really want to be on during the week at 3:00 in the afternoon—that doesn't do anything more for you. Unless you can get a network to give up one of those primetime spots, it's tough.
Well, hopefully it'll get better.
Exactly. We're all huge fans, and they get pissed off when they see shows like poker doing well on TV. You know what? Anybody in the world can sit down and watch poker and relate to that person. Just like Deal or No Deal. It's just a couple of cameras, some music, and some briefcases.
And 16 pretty hot models.
Exactly! But you can sit there and relate to these shows, and that's why they do well. You can't get on the line with James Stewart and RC and be racing.
But if you could, that would be must-see TV for the rest of us! So how much fun is it to go through and pick your favorite moments of the year and put them all together for this DVD?
Oh, it's unbelievable. It's so much fun. I was talking with the AMA about doing the DVD, and they said that they did it in '04 and '05, and they were good, but I wanted to do something better. We were able to get a little more money out of them to do some extra stuff at the races, because all of the best stuff is in those shows. For the DVD, we did some stuff where we followed Ricky Carmichael around for an entire day. We didn't sit down and eat breakfast with him, but most of the day we had a mic on him and some of his crew. And then there's sort of a farewell to Ricky with a nice long interview with him, and he talked about stuff people probably never heard him talk about. I just want to thank the AMA for letting us bring some extra guys to help out with that.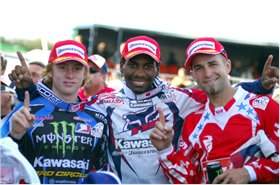 Since the MXdN wasn't on TV, you'll definitely want to pick up a copy of the DVD!

And as many of our readers probably know, the Motocross des Nations was not on TV in America, and that's what the feature in the new issue of the magazine is about. How much coverage did you end up with on Team USA? It was just you and Scotty Lootens, wasn't it?
Oh my gosh, we had about one and a half cameramen—Scott is the pro, and I was just trying to get what I could. We shot all day for four days, and we didn't want to stop rolling because we were too scared we'd miss something, so we came back with 13 hours of tape, and we had to edit it down to 33 minutes in the DVD. I could've made a three-hour show, but it's tight, compact, and it moves. I'm really proud of it.
Where can people get the DVD, and what does it cost?I went to Duke video's website—the British website—and it was 30 pounds. If you go to Duke Video USA it's available, along with the Superbike one, which is really good.