Kawasaki/Racer X Race Report
December 10, 2006 12:01am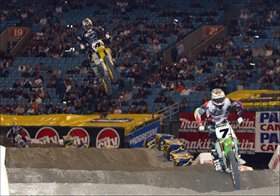 Early in the main, Stewart leads RC with Reed not far behind.
The rev-limiter level of drama from last week's race in Toronto just couldn't last forever. The Amp'd Mobile World Supercross GP racing calmed down for round two of the series, held at the spacious BC Place in Vancouver, BC Canada. A week of fines, protests and controversy finally came to an end when Makita Suzuki's
Ricky Carmichael
touched down with the victory, returning some normalcy to a series that was thrown upside down last weekend.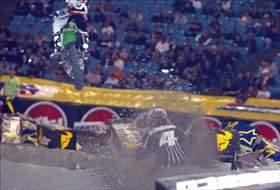 The dirt in Vancouver was definitely strange!
This race's storyline was much more familiar than last week:
Ricky Carmichael
and
James Stewart
engaged in a big battle that lasted nearly the entire race, and the fans loved it. But even though we've seen that battle a whole bunch over the last two years, this time it was a bit of a surprise. Stewart was a bit of a question mark, since he was still hurting from foot and ankle injuries suffered last week in Toronto. But when he grabbed the ProgressiveDirectHoleshot Award, it was on, as Stewart stepped up and held Carmichael at bay for most of the race. The gap between the duo stayed between .05 and 1.5 seconds lap after lap, with small mistakes and lapped traffic costing each a few ticks of the watch here and there. But down the stretch, Stewart came up a little short on a jump and tweaked his foot, and soon Carmichael was on him and then quickly past him.
"I don't think he could have gone much faster even if he wasn't hurt," said Carmichael. "We were cooking out there. Me and him,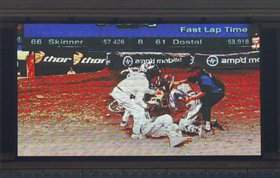 In comparison to Toronto, Vancouver was relatively drama free. Except for the Supercross class LCQ where Keith Johnson and Tyler Evans fought (literally!) for the final transfer spot.
we have had some great battles, man. When you're going that fast, you have to be patient. You just can't pass a guy when he's going that fast. You have to wait for a mistake, and be there to take advantage of the opportunity."
Carmichael did when the duo approached
Jason Thomas
to put him a lap down. Carmichael split him to the right and Stewart to the left and they met in the middle. Carmichael then knifed inside in a big left-handed bowl turn and took the lead. Stewart was just happy to finish second after all he has been through in the last week.
"I'm a racer," said Kawasaki's Stewart. "We are here to win a championship. I told my team and my family that I would never quit on them."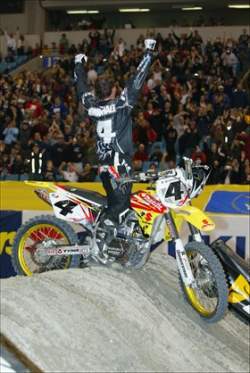 RC was pumped about his great battle with James and winning his last Canadian supercross.
Last week's winner,
Chad Reed
, finished a distant third. He wasn't on the pace of the leaders all day.
"I think we kind of got ahead of ourselves last week," said Reed, of the San Manuel Mission Indians/Yamaha team. "I was just struggling all day. But it's alright." Reed says he has a new attitude on racing, and it showed, because he was all smiles even in defeat.
MDK/Xyience Honda rider David Vuillemin put in another great ride to finish fourth ahead of Kawasaki's
Tim Ferry
.
In the Supercross Lites class, Sobe/Samsung Honda's
Ryan Sipes
made his debut with the team a good one, as he nailed the ProgressiveDirect Holeshot, made a brief mistake and lost thelead, and then got it back and won the race. It was Sipes' first supercross win, and he looked strong. Equally impressive was runner up
Ryan Dungey
, who was making his professional supercross debut. The Makita Suzuki rookie looked strong all night and finished second. Another rookie, Red Bull KTM's Zach Osborne, finished third for the second straight week. His teammate
Martin Davalos
was last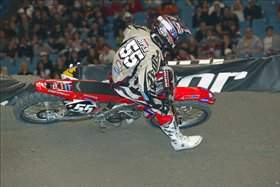 Ryan Sipes was on the gas in Vancouver and took the Lites main event win.
week's race winner, but this time he made a ton of mistakes while battling with the leaders, and he eventually dropped back to fourth.
Now it's break time for everyone until Amp'd Mobile Supercross returns in Anaheim. Once again, Carmichael is the points leader, but Stewart and Reed seem to be happy about their prospects—maybe partially because Carmichael isn't going to be racing them for the championship he currently leads.