Racer X's Things To Do In...Vancouver
This weekend the Amp'd Mobile World SXGP series takes us to the beautiful Canadian city of Vancouver, which lies between the Pacific Ocean and the coastal mountains. Vancouver has been selected to host the Winter Olympics in 2010, but for the past three years they have been hosting Amp'd Mobile World Supercross GP. If you're attending this weekend's event and are looking for a few off-the-track things to do, check out the following list of area attractions. For instance, Robson Street is Vancouver's answer to Rodeo Drive for high-end shopping, and the Pacific Centre Mall is good for inside shopping downtown.
Again, if you have any input or suggestions for "Racer X's Things to do in…" your race town, please drop us a line at letters@racerxill.com.
Vancouver Lookout
Harbour Centre Tower
555 West Hastings St.
www.vancouverlookout.com
Toronto may be home to the CN Tower, but Vancouver is home to the Harbour Centre Tower, better known simply as the "Vancouver Lookout." This is any tourist's recommended "first stop," as you can get your bearings from the 581-foot tall building—the tallest in British Columbia.
Moose's Down Under Restaurant
830 West Pender St.
www.moosesdownunder.com
Looking for a bite to eat? Check out Moose's Down Under, where you'll be entertained, as well as satisfied. As per their website, "Life is a party…why not have it at Moose's!" (And this follows nicely in the hoofsteps of last weekend's Racer X Canada Party at the Loose Moose in Toronto.)
Bar None Night Club
1222 Hamilton St.
www.barnonenightclub.com
If you're looking for a nightclub, you may want to check out Bar None, which is "Vancouver's only truly upscale lounge and nightclub." If you're looking for pretty girls—all parts of Canada boast an extraordinary amount—and great dance music Friday night, this must be the place.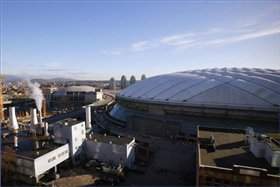 A view outside the stadium

photo: Steve Bruhn

Gotham's Steakhouse

Want to maybe catch a glimpse of Jessica Alba? The Hollywood starlet's favorite restaurant in town is Gotham's Steakhouse. There's also Joe Forte's Seafood House (though Joe is no cousin of Bevo's).
Moxie's Restaurant/Sandman Hotel
180 West Georgia Street
www.moxies.com
Sports fans always like Moxie's Restaurant in the Sandman Hotel, one block from BC Place, and the Shark Club Sports Bar that's right underneath Moxie's.
Capilano Suspension Bridge
North Vancouver
www.capbridge.com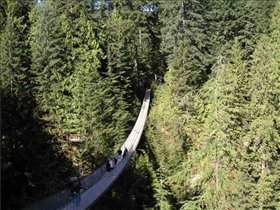 Capilano Suspension Bridge
Our local friend Rick Sheren of 661 in Canada tells us that the Capilano Suspension Bridge in North Vancouver is at the base of Grouse Mountain, and the gondola ride to the top of the mountain is spectacular whether you're skiing of just want to see the amazing view overlooking the city. It's also a great place for dinner, and there's even some really cool native American totem poles carved from the massive trees.
Vancouver Aquarium Marine Science Centre
845 Avison Way
Vancouver, BC
www.vanaqua.org
The city of Vancouver is home to one of the largest aquariums in North America. And as "Van Aqua" website states, "Inside you'll find more than 8,000 aquatic animals, hailing from as far away as the Arctic and the Amazon. The newly opened Pacific Canada Pavilion contains a living exhibit that interprets issues facing marine life of the Georgia Straight. The main attractions, however, are the Orca, beluga and dolphin shows."
Science World
1455 Quebec St.
www.scienceworld.bc.ca
While sightseeing in Vancouver, you may take notice of the odd "golf ball" looking structure. Well, that building happens to be Science World, which is a great family destination, which offers and entertaining and educational experience. Admission (including one IMAX film): CAD18.75 Adults; CAD14.50 Students, Children 4-18 and Seniors.
Supercross After-Party
1036 Richards Street
www.richardsonrichards.com
And best of all, after the checkered flag flies on the main event in Vancouver on Saturday night, make your way over Richards on Richards in downtown Vancouver for the annual SX party with DJs Hedspin, Needle Kineval and DJ 107, hosted by Spy and Ogio. Doors open at 10:30 PM, and there is a $10 cover, but there will be tons of giveaways! Check it out and tell them Racer X sent you!