5 Minutes With ... Brett Metcalfe
Nothing good comes easy…
You get out of it what you put into it…
If winning doesn't matter, why do they keep score?
Pick any old blood-sweat-and-tears sporting adage, because they all apply to motocross. A sport that places extraordinary demands on its athletes, timing and luck are also required for any given rider to rise above. Take Brett Metcalfe, for instance. At 22 years of age, Metcalfe has been in the United States since 2003, banging his head on the wall and trying to earn his big break. He's been on good teams, but luck and off-song equipment didn't exactly help the Australian's cause. It started to all came right this summer, though: After placing second at the rain-lashed, season-opening Hangtown National, Metcalfe continued to charge, catching the eye of Monster Energy/Kawasaki team boss Mitch Payton. And by the time the AMA circus of the stars left Southwick, Massachusetts, Metcalfe's name was signed at the bottom of a contract.
This afternoon, Racer X caught Metcalfe, who was just driving out of the parking lot and away from his new place of work, Pro Circuit Racing in Corona, California.
Racer X: Brett, how have you been?
Brett Metcalfe: I'm good. I just had shoulder surgery a week from today, and I dropped in to Pro Circuit to see what everyone was up to.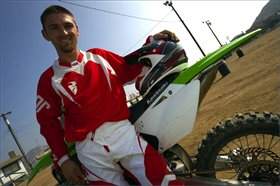 Brett is stoked on his 2007 ride with the Monster Energy/Pro Circuit Kawasaki team

For this time of the year, a shoulder surgery sounds like a pretty heavy deal…
Yeah, I had two tears and torn ligaments and I just had to get it done. I'll be off for 10 weeks now, but I'm on the road to being better and just laying low. I'll be off for 10 weeks, and I'll be riding the East Region, so I'll just be laying low for a little while.
How did you hurt your shoulder?
I hurt the shoulder at the Motocross des Nations two months ago. I had a terrible weekend there. I borrowed a bike to do the race. It was good, but it wasn't set-up for me, so I ended up pushing even harder and crashed a lot. I had one big one and landed on the shoulder and it hurt bad. Right after the race I flew home to Australia for holiday for three weeks. After a while the shoulder started feeling better. When I got back to the States, I rode the bike outdoors four times and my shoulder really hurt. I knew something wasn't right and ended up having an MRI done and being informed I'd need surgery.
So you didn't get to ride the KX250F too much then…
No, I rode the bike four times [and fortunately, Mario Marini was there to make some photos].
Did you like it?
It was unbelievable! I was bummed I had to have surgery. I was excited about the new bike, the new team — and the team is great. I guess I'll just have to wait a little longer.
Stepping back a little bit, how did you end up on the Monster/Kawasaki team?
[Laughs] I don't know! Mitch approached me before the start of the outdoor nationals. I had the best start to my best season ever and he just somehow wanted me on the team. I had some good offers on the table at the time, but there was one spot I really wanted and that was on Mitch's team. When he called and offered me the job, I was so pumped; I was so happy. We finalized it at the Southwick National.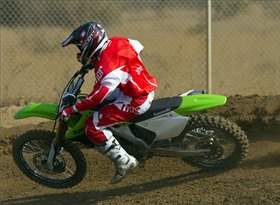 Metty powers out of a corner on his new KX250F

Will Ryan Hughes continue to work with you on your training and racecraft?
Yeah, Ryan will continue on with me next year.
In what ways does Hughes help you?
He helps me little bits with everything. He helps me with my whole program—not necessarily in the way that he'll have me do more training or things like that, but on all else. He was a racer who was at the top. He's experienced and knows how hard it is and what needs to be done to win. Ryan adds a little bit of information while I'm racing, while also helping me with my outside-of-racing life.
The Yamaha of Troy team seems to be in a little bit of turmoil right now. Was it a good team to race for?
The team was good. Obviously Mitch and the Pro Circuit team is at the top and I don't know of any better team. But I still haven't had a race there, so I can't say too much yet. I can say, though, that Yamaha of Troy is not Pro Circuit. I think they're at the next level just under Pro Circuit. But I had a great bike and a great team while there and the environment was good. I enjoyed my time with the team and it was a good stepping-stone for me. Bu the team I'm on now is phenomenal. If I play it smart, this will be the next big step in my career.
When will you be able to start riding again?
I'll be riding around the start of February. The protocol is for me to ride on the fifth of February. My first race is scheduled for February 24 (the Atlanta SX in the Georgia Dome). That'll give me roughly two and a half weeks to learn and dial in my supercross bike.
You placed seventh overall in the AMA Supercross West Region in 2006. When all was said and done, how did you feel about that result?
I was not super-happy. I hoped to do a lot better—I hoped to be in the top five. Yeah, I was seventh overall, but my goal was to be in the top five. I was disappointed with all of it. But I know where my weak spots are and how to improve them. I mean, I had that second in San Francisco mud race, which I was happy about, but that was more of a survival race. I had too many crashes last season. You can't be doing that if you want to keep progressing.
What's the goal for the 2007 East Region series?
Podiums. Man, I'd love to get podiums. That's my main goal: Podiums. To be on the podium will be as good as a win to me. After that, winning is the ultimate and that's what I want to do. And in the outdoors, I'm aiming for wins — absolutely.
So you and Ben Townley will now be teammates. You two guys grew up in the same part of the world. Did you know each other as kids?
Yeah, we go back to when were 9 or 10 years old. I'd go race against him in New Zealand and he'd come over to race in Australia. We'd go back and forth.
Did you ever dream you guys would get this far?
[Laughs] No, not really. In fact we would have wet our pants thinking about it! It's pretty cool we've made it this far. But it has been a pretty rough road. I've been on good teams, but riding the two-stroke (both for KTM in 2004 and Yamaha in 2005) was not great. The results I was getting on the two-strokes were not doing me justice. But out of all that, I've gotten to where I am now, which is on a top-level team. What I did in the past helps me respect where I'm at now. When I look back at the tougher times and all the hard work it took to get here, I think to myself, 'It paid off. I never gave up and I never will give up.' Even when I was placing 20th on the two-stoke, it just made me try harder and harder. It mad e me work and made me climb to the point where I'm at now.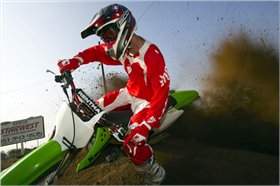 2007 may be the Aussie's breakthrough season here in the United States

Do you feel comfortable here in the U.S. now?
Absolutely. I love being here. I've just come to realize that in the last year. Now I appreciate and love it here more than ever. This is home. I feel comfortable. Everyone loves the sport here so much. It's amazing
What will you be doing for Christmas?
I'm not really sure yet. I may go to my girlfriend's home. She's from Wisconsin, so I may go there and freeze my ass off!
Did you watch the Toronto race on TV?
Yeah and it was pretty gnarly. I was pumped for Chad to pick up a win. That was good for him. I just hope James is okay. I haven't really heard any sort of word. James is tough, so I think it'll work out for him.