Monday Conversation: Chad Reed
Chad Reed took time off, got his life changed around a little, made a lateral team change, and won his first race back—and it was a big one. Reed battled both Ricky Carmichael and James Stewart at round one of the Amp'd Mobile World Supercross GP in Toronto and emerged the winner of a wild and crazy main event. Now Reed is the series leader, Stewart is getting and MRI on his foot, and RC's phone is ringing.
Reed and his teammate Nathan Ramsey are racing for a new title sponsor, the San Manuel Band of Mission Indians, some of whom were on hand to watch their team take the first round. They certainly got the right introduction to supercross!
Racer X spent a few minutes with Chad just before he left the Toronto press conference to go celebrate to see what he had to say about his return to racing, his win, and his new surroundings.

Racer X: Chad, how have you been, haven't seen you in a while?
Chad Reed: [Laughs] I have been hiding. No, I have been in Australia, hanging out.

What chance did you give yourself to win this race tonight?
I didn't come here wanting to lose or thinking I was going to lose, but I didn't come here with the attitude that if I didn't win, my heart was going to be broken. I think that was the difference. I just wanted to ride strong and ride to the end and battle with those guys, and not ride around in third or worse by myself. It was fun to have a battle.

How did you find the new format using qualifying practice and what did you think when you were fourth in time?
When I think about fourth in lap times I was a little disappointed. I thought at worst I would be third. I have been around Villy (David Vuillemin) a lot and I know that that guy can ride a motorcycle, and for one lap he is unbelievable. I think we are going to see him up there (in lap times) all year. James, Ricky, myself and Villy were all close. But I liked it. It brings a little bit of intensity to practice. It's more that just going out to get the track down; you really have to be on your toes and be fast or you get a bad gate pick.

How did the main event start for you?
It started great. I got to the first turn almost first, I think. I came in a little hot and Nick Wey got by me. Ricky was on the inside as well. I was third or something like that. I knew Ricky was going to go to the front so I was just trying to go to the front with him. When he was trying to set Nick up, it gave me the opportunity to get by both of them. I tried to put solid laps together.
I was expecting to go 20 laps with Ricky. One thing I have to say is Ricky is a bad dude. He's a champ. You can race with him and have so much fun. You can rub, you can not feel that you have to watch him, he's not stupid. He has been around a long time and he is not going to put you in danger or himself. We have had some battles but these past two years I really haven't been a threat to him for a title. It's neat he will be around for a few races—I want to battle with him and have some fun. He has put me through hell for two years! He has taught me a lot and given me a lot of motivation.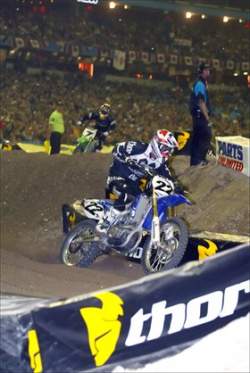 Reed didn't back down to Stewart's challenges

Moving up a few laps in the main, now you are battling with James.
James was there around halfway. I was making a few mistakes but I felt like I was solid. It's not like he was eating me up. He was chipping away a little bit and we kind of stayed the same. Once he got on me, he made a pretty aggressive move on me after the finish line. It scared the crap out of me. I was exiting wide open and the next thing you know I see a big #7 out of my right eye and I didn't enjoy that too much. It kind of fired me up a little bit. Whenever he came back at me, I was going back at him. I wasn't going to let him have it.

That table-to-table just before the finish, you guys got pretty close over there a few times. Was that clean racing?
Yeah, it was. I didn't end up on the ground or on the hay bales. That comes from a little bit of experience too, knowing what the riders are going to do, and who the rider is and all that stuff. We all know where we stand with James: He is going to be aggressive and wants to win. You give him one thing and he gives it back.
It was a shame he crashed. He jumped on the brakes as I was trying to get up the right side. He is smart. He knew I was trying to do that and I ran right into the back of him. He shot off to the left. It was a scary situation. I was going like 'Dude, don't go into incoming traffic on that triple.'

What's it like on the new team and what's it like working with Larry Brooks, who organized something similar with McGrath before?
Larry is an awesome guy. He is a racer at heart. He understands us. He understands that we are people first, and not some robot where you press the button and go and do these things. I think just having that in common—and he just puts a lot of effort into the team—all the guys in the team love the guy. They work hard because they love their job. We all get along good and we have fun. We spent some time in Florida hanging out at my house. It's been a ball so far. This is a great reward for them but we know there is a whole lot more than this weekend. We are not getting cocky or over confident. It's a long season. We are ahead of schedule. Next weekend we are going to do what we did this weekend.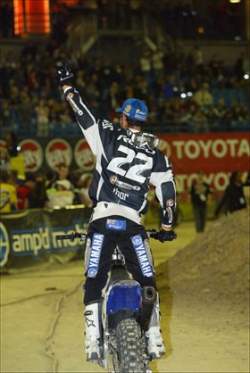 Reed is off to a great start in the 2007 Amp'd Mobile WSXGP season

Your new sponsor, the Sam Manuel Band of Mission Indians, the reps were here and seemed to really enjoy it. How did you connect with them?
Larry brought that deal to the table and it turned out to be a lot of fun. It's not a money deal where its "Hey, we are a casino and we have a bunch of money and we are going to sponsor a race team because we can…." There is a whole lot more to it. They have the same motto in life as I have. I didn't grow up with a lot. I grew up wanting to become the best I could. I chose motorcycles that were going to take me and give me a life. They are about that. They support all that stuff. They have a lot of kids in their tribe and they have a lot of motorcycles. They are building a facility for them to ride on. They are some crazy dudes. They ride around with no helmets, no gear, and on the roads and that kind of stuff. Hopefully Nathan and myself and the whole L&M team can bring some knowledge to them and say that's not a good way to do it and help them out.

Okay, I better let you go celebrate, see you next weekend.
Thanks Steve.