Where Are They Now: Jimmy Button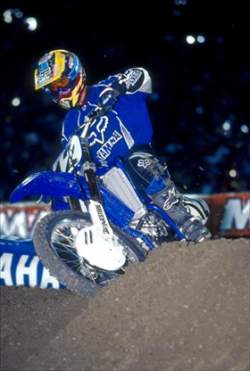 Jimmy Button made it to the factory level with Team Yamaha
photo: Simon Cudby
The first time I saw Jimmy Button was at Ponca City, circa 1987. At the time he was an 85cc factory Honda rider in a day and age when guys like Buddy Antunez, Jeff Emig, Brian Swink, and himself were virtual gods to the amateur community. That year, Honda had refused to pay the sponsorship fee Ron Hendrickson imposed and chose to pit way in the back by the burnout area. After a prolific amateur career that boasted six Loretta Lynn's championships (which at the time was the record), Jimmy entered the fire of AMA professional competition and didn't waste any time establishing himself as a bona fide contender for supercross and outdoor victories. Along his career path, he rode for Team DGY Yamaha, factory Suzuki, Team PJ1, Team Chaparral, and had the best days of his career, including a victory at
Washougal
, as a member of factory Yamaha.
As a roommate of Jeremy McGrath's, Jimmy would appear in the epic motocross video Steel Roots, where he would pull huge can-cans, which at the time were pretty burly. Jimmy really became popular in the motocross industry, appearing in ads for Spy Optics and even playing a small part in the ill-fated Frezno Smooth. Jimmy was making the most out of this fun-loving era in our sport, and he was definitely one of "the boys." Meanwhile, he was riding strong on the track.
Jimmy had finally reached the top of AMA pro racing when disaster struck.
Button knows what it takes to become a successfull SX racer
photo: Simon Cudby
On January 22, 2000, Jimmy entered a set of whoops on his YZF426 like he had done literally hundreds of times before. Somehow he dropped the front wheel and went over the bars, landing headfirst. He would break his neck in the fall and suffer temporary paralysis. He was bedridden from this moment all the way through June of the same year. In July, Button would help found the Road 2 Recovery Foundation, which to this day helps riders suffering injuries such as his.
At the 2000 supercross awards banquet, he received a standing ovation as he walked, with the help of his trainer Cory Worf, up to the speaker's stand, just five months removed from almost total paralysis.
The months to come would see Jimmy continue outpatient rehab, where he would begin the painful effort to regain movement in his extremities. At this time he came to a realization that his job as a factory motocross racer was over and he needed to begin looking for a means of income very quickly. Thankfully, a position at Bell helmets opened up and Jimmy found himself gainfully employed within the industry, handling all of the rider contracts with Bell and Bieffe road racing.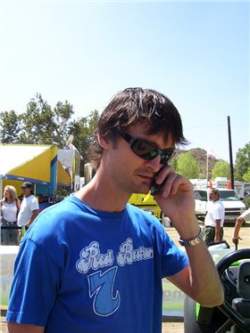 Jimmy Button today
photo: Mike Farber
Later that year, Jimmy helped form Action Sports Management (ASM), where he began representing riders as an agent. A year later he would marry his current wife, Kristi. Jimmy has had a successful career representing riders and has withstood the mergers of ASM to The Familie, which has in turn merged with Wasserman Media Group, where he presently works alongside several of his partners from the original ASM firm.
"Even if I wouldn't have gotten hurt, my career would have been over by now," Button says. "I can honestly say that I would probably be doing exactly what I'm doing right now, even if I had rode out the last remaining years of my career. Things are pretty good, and I feel fortunate that things worked out the way they did."
Button deserves his place among the upper echelons of motocross racers. He won at every level and has always been regarded as one of the coolest guys you will ever meet at the races, and he has always been very approachable. Today, "Button Fly" remains a consummate student and fan of the sport he has loved since he has been able to walk - both times.