5 Minutes With ... Heath Voss
For the 2007 Amp'd Mobile SX tour, Heath Voss hasmade wholesale changes to his racing program, riding private Hondas and working out of his own truck. Thrilled with his new bikes and excited about "changing it all up," he is looking for top-five results this season. Yesterday, we cornered the 28-year-old while he was packing his gearbag for the trip north to the Rogers Centre in Toronto. Confident and ready to go racing, Voss was eager to get things started in Canada.
Racer X: Heath, what are you up to today?
Heath Voss: Right now I'm in my shop packing for Canada.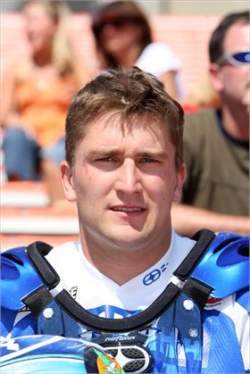 photo: Steve Bruhn

Are you going to drive up to Toronto?
No, I'm not going to take the truck to the first two races. It's such a long drive from where I live here in Texas that it would be too expensive and use too much diesel. So I'm going to get a couple of bikes from Honda of Canada and ride those.
Taking any extra or special parts along with you?
I've got MB1 Suspension that I'm taking with me, and I'll also take a Dubach Racing Development pipe. These [Hondas] are so good, though, you can ride them stock. They're awesome stock.
How long have you been riding the Honda now?
I've been riding them since a few weeks before McGrath's race. I feel great on the bike. I have a lot of confidence in Honda. I really believe in Honda products. I've started to build my confidence up since I got on the bike. I don't have to worry about my bike anymore.
Will Honda help you out at all in 2007?
Yes. I'm part of the Honda race team, and I have the support of the Honda race team. They're helping me with suspension, bikes, and parts. I'm even getting support from Honda Oils.
Will you go on the road as a private team?
Yeah, I've got my own truck and I go to the races to compete and race and have fun. I'll have a couple of mechanics working with me who have worked with me in the past. Tom Wallace will be working with me and so will Shaun Ward, who is going to the race with me this weekend.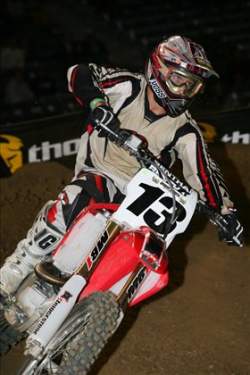 Heath feels comfortable and confident on his new Honda

photo: Simon Cudby

Who else will be helping you out in 2007?
MasterCraft boats will be there to help me. So will CytoSport. Those guys have been helping me for three years now and make some great products. And Jeff Kent, who plays baseball for the Dodgers and has a Honda shop, will be helping me out. I also have five different people working on outside sponsors for me. The deals are close. I'm hopping one comes together before the first few rounds of the supercross series begins.
So it's kind of back to the Great Lakes Aviation Honda type of team you and your dad ran back in 2001. Will being on your own again be good for you?
It's different. I don't really know how to say it... I go to the races to compete and for some reason, I think having my own program will be more fun. It's better for me to have family and friends around.
Will it be different now that you're not part of a factory team? I mean, I'd assume having your own race team brings on a number of headaches you wouldn't have to deal with in racing for a factory team.
Yeah, the racing team I was on, Yamaha, was really good to me. Yamaha is a great company, we just had some problems with the motorcycle. Weird things would happen and in no way did we know what was up or how to fix them. I also had some bad races. I think I needed a change. I think the problems with Yamaha were 50 percent me and 50 percent the motorcycle.
Have you been riding and training a lot to get ready for these Canadian rounds?
Brock Sellards has been staying at my house and we've been riding together a lot. I just did a race at the Cycle Ranch called the U.S.A. Motocross Championship. It was a pretty big race and I got third overall. I crashed and got back up and passed 40 people in both motos. They were good rides for me.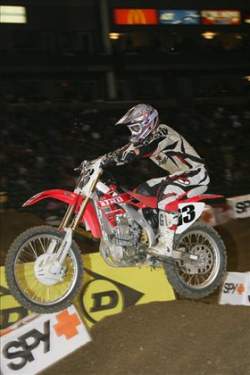 Look for Voss to be running up front this weekend in Toronto

photo: Simon Cudby

What's your goal for Toronto?
I've been working hard. I'm better and stronger than I've ever been. I'm doing better than I've ever done. The real challenge is if I can go there and ride as good as I do on my practice track. That and I need to be able to get around people during the race. Sometimes I'll get behind someone slower than me and it'll take me too long to get around them. If I can go to Canada and get fifth place, that would be great for me. You know how it is—there are a few guys that are really fast, then there are two or three guys that are pretty good, and the rest of us are pretty much all the same. I guess it just depends on the start. You know, I believe that racing motocross is all mental—it's not the bars or the pipe or the motor. I mean Ricky Carmichael can get on any bike and win. Same with Bubba. On some tracks all of us are the same. It's all mental. It's the people who make the difference. If you have the right people around you with the right attitude, it's amazing what you can do. The equipment we have for 2007 is so good, that it's not going to be a problem. I'd really like to be in fifth position in the points at the end of the year. Also, I've never been on the podium. I've come close a few times and I want to do that in 2007.
Heath, you sound good. Good luck up racing up in Toronto on Saturday night.
Thanks, Eric. I'm excited. I love racing, but it's just like anything else: if you don't change it up, it gets old. I've been doing a lot of riding with Robbie Reynard, Travis Pastrana, and Brock Sellards at my house, and I've really enjoyed it. I feel great about the new season.