Privateer Profile: David Izer
You probably know David Izer from DMXS Radio, but did you know he is actually an accomplished ATV racer? Just kidding. But he did compete in the 2006 Baja 1000 on a Suzuki King Quad with Team Pastrana and friends and actually finished, albeit with a separated shoulder and some minor burns. We got in touch with the personable Izer today for this week's Sponsorhouse.com Privateer Profile.
Racer X: First off, how has everything with DMXS Radio been going?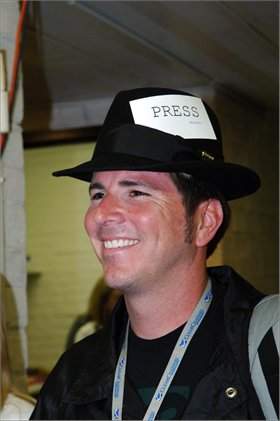 David Izer's team finished 216th in the Baja 1000
photo: Steve Bruhn
David Izer: Everything is doing awesome! We've never had more downloads, and the listenership, if that's even a word, is up, so everything is going great.
Well, the point of this interview is not to talk about DMXS; we want to learn more about your sudden emergence into the ATV racing scene. Tell us where you were two weeks ago and what were you doing.
Well, Travis Pastrana contacted me a few weeks before the Baja 1000 and said he wanted to put a team together on a stock quad to tackle the 1000, and he gave me the option to ride at the beginning with all of the dust and booby traps, or later when I would be hunted down and crushed by trophy trucks at 120 mph, so I chose the dust.
Certainly, Travis didn't choose you because of your ATV racing experience in the desert.
Travis always wants to share the fun with his friends, it this was basically the entire Nitro Circus traveling-circus crew and myself. Travis also talked about fielding a team with DMXS in a stock Volkswagen bug for next year, so we had already been talking about the Baja 1000 in those terms, so this was just an opportunity for me to go down there and get my feet wet--or dusty, as it were--and get some experience. Unfortunately, we did it on a bone-stock 700cc Suzuki King Quad with no GPS, no satellite phones, and humble gas mileage. So it was the worst of times and the best of times.
The Baja 1000 is a very serious event, and you really shouldn't go in there unprepared, as you did.
No! And I think the Dust to Glory movie in 2003 brought a lot of exposure to the race and had a lot of people thinking that if they've seen the movie they could compete in that race. And that's just a drop in the bucket compared to the reality of down there. We were totally unprepared, and I think Travis was even a little worried the night before the race that he was sending out a couple of his friends into the unknown so ill-prepared. But we finished, and that's what was awesome. We finished 216th overall out of 431 starters, and sixth of of seventeen in our class on a stock quad. And all of us that raced were rookies. Nobody expected us to finish, even Bad Billy Ursic didn't.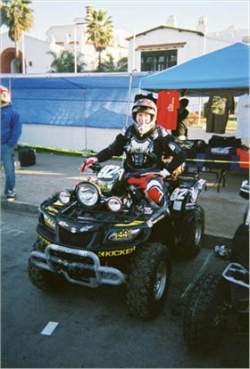 The calm before the storm

I was basing my opinion on the fact that I didn't think you were an experienced ATV rider. You aren't, are you?
No. I have some property here in Georgia, so I've always had ATVs and utility quads to do work on my property, but to say that is a rough comparison to the gate dropping in Ensenada and doing 75 mph down the streets into a drainwash in the desert.
How long did the race last?
This year the race was actually 1,047 miles, and they determine an hour limit, and this year you had 42 hours to complete the race. We finished in a little over 38 hours, so it's a time limit thing. If you get to a certain checkpoint and they know you're not going to be able to finish, they'll pull you off the course at that time just for safety reasons.
I'm sure there were many highs and lows in that 38-hour time span. Can you share some with us?
Actually, I started the race and I was to do the first 200 miles to San Felipe. About 42 miles into the race myself, I struck a truck coming the wrong way in a blind corner in a riverbed. I hit the car at about 25 mph, and the quad flipped and landed on me. I separated my shoulder and burned the back of my hand. The quad landed directly on top of me and pinned me down, and the Mexican tourist did not stop, and I was left to dig myself out of the sand and to get the quad back over with my shoulder jacked up. I did all of this while realizing I still had about 150-plus miles left to ride, which I did.
Finishing the race after that is very commendable, David.
I did, and what was amazing is the adrenaline level after striking a vehicle. In the U.S. you'd think there would be a police report and stuff like that, but in the Baja it's just another thing. I went through like seven or eight booby traps that were built by the spectators just to watch people crash. They'll dig holes and cover them up and watch motorcycles and quads go into the holes. Or they'll build jumps around a blind corner to kick you over the bars. Pastrana warned me prior to the race that if you come up on a section where there's nobody and then all of a sudden there is a group of people standing around, that's probably a booby trap. He then said aim for the spectators, because you know that the booby trap won't be there. So I came up on this one section and obviously I saw where the dirt has been disturbed, so I aimed for about 40 of the Mexicans and split them right in half. I then got nailed by four Tecate beer bottles as I went through the crowd. I thought to myself, It can't get any more bizarre than this! But it did. I didn't want to let my team down, but after my crash, I got the quad bent back to where it was rideable. A majority of the gas had leaked out at that point, so I had stop at the next town and get off course and go down the road for a few miles and fill up at a gas station.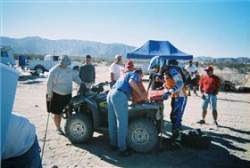 Pit stop

Did that gas station accept debit cards?
Thank goodness I was prepared. I did have my passport and mucho pesos. I had enough pesos to get my out of trouble with the law, or any other unexpected expenditure. But speaking of gas, I want to thank all of the people along the course that helped us get there. Our gas mileage was so atrocious. We were expecting to fuel up every 175-200 miles, but our quad would only make it about 90 miles on a tank. So I was pulling into these trophy truck pits begging for gas, and these guys would do everything they could to help. I would pull in and about eight guys would jump on my quad and tighten the lug nuts, fix the fenders, and give me something to drink. It was like a little miniature NASCAR pit stop on this oasis in the middle of the Baja peninsula. It was amazing how the teams would help smaller teams like myself.
Speaking of NASCAR, your dirt bike experience is limited, and last year you did a backflip into Pastrana's foam pit. Your ATV experience is limited, so this year you raced the Baja 1000. So what's next for you—go-karts to NASCAR?
I'm not sure. It just depends on what Travis calls and asks me to do next. A lot of my life experiences have been associated with him, whether it's at the Michelin test track on the wet skid pads driving Corvettes or the Nitro filming or Baja—it's always a blast when he invites us to do something.
And so far you've managed to come away unscathed, for the most part.
Yeah, but I think Racer X needs to do a story next year down there in Baja. You need to get your ass down there and ride, because that story needs to be told. The Dust to Glory movie is just a drop in the bucket, because there were 431 starters and 431 stories to be told. I'm just one little piece to that puzzle of the entire race. Each ride, driver and team has a story, and it's a very compelling drama from start to finish.
What are the requirements to race?
Score International is the sanctioning body, and they have a lot of specific rules. Our class was the Sporsman Quad class. We went through tech inspection like everyone else, and I loved sitting there with a half-million dollar in front and behind us, and there we are with a $7,000 quad. People were just shaking their heads thinking that there was no way. We had a ton of people coming up to us and shaking our hands, but we finished. I want to thank Hubert, Street Bike Tommy, Chris, Jim DeChamp, and Ron Meredith—all of the guys. I never been happier to see someone than Ron Meredith. I was several hours later for my pit and when I finally pulled in to our area he was there waiting on me. Without him there, I don't know if I would've made it to the next checkpoint. We have a lot of people to thank, and it was definitely a team effort and I was just a very small part of that. Unfortunately, Travis was supposed to ride the last leg of the race, but he flipped his $300,000 car and it burned to the ground, so he never made it down to our pit stop to hop on the quad.
Will we see any of this footage in an upcoming Nitro Circus video?
I'm not sure there were any cameras at all. The reason we did that was just to race the course, and that's what we did. Next year we're planning on doing something similar, but we're going to be a little more prepared. Knowing what I know now, we went in to that race dangerously unprepared.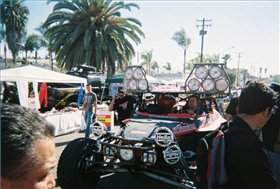 Is this the next step for Izer? We hope not.

We're glad to see you made it out in one piece, Dave.
Well, I appreciate that. I want to thank you too, Bad Billy, of all of your skepticism, and "punking" me prior to this race. I laid at that 40-mile marker with 150 miles to go thinking to myself, Bad Billy will not be right!
I know that's what fuels you!
And it worked well. I thought to myself that I wasn't going to let you or my team down, and somehow I made it happen. After San Felipe, I dropped the quad off and drove six straight hours into San Diego to the emergency room. The following day, Travis called me and told me the team had finished, and the pain just went away and everything was all of a sudden worth it. That's all about the male testosterone.