We close our eyes, and another year goes by… If that sounds familiar, it's because I usually say that once a year before wrapping the season up. Usually, it's at the end of the calendar year. But with the changes to the schedule of the North American circuit, the new season basically starts next Friday, when a few of the top riders roll out on to the track at Rogers Centre (ye olde Skydome) in Toronto to do some press-day work before the start of the 2007 Amp'd Mobile World Supercross GP Series. (For ticket info, check out www.supercross.cc.com)

With that in mind, this marks the last off-weekend of the season, though you would never know it by the thousands of kids racing down in Florida right now at the Winter Olympics at Gainesville—their 2007 started this past Monday. (And for more from Florida, check out www.amateurmx.com for reports and photos.) So instead of waiting until the end of December to do a Best/Worst edition of Racerhead, the staff all pictched in to help me get an end-of-November edition out.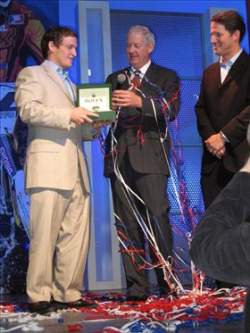 RC receives his fifth AMA Pro Racing SPEED Athlete of the Year Award
Chris Jonnum
So as you continue to digest turkey and relax with your family and friends, here's a look back at the Best and Worst of 2006, Racerhead-style.
2006 Rider of the Year (I):
In his last full season of professional motocross racing,
Ricky Carmichael
won his 10th AMA Motocross title and his fifth AMA Supercross title. He's the best there ever was.
Best Mud Rider:
While Carmichael's I-lapped-everyone ride at
Millville
was truly magnificent,
James Stewart
had the better, wetter year. James won a thrilling San Fran SX, then dominated a wet Seattle even after his practice crash, and won again at
Hangtown
in the mud, where he snapped Carmichael's 27-race winning streak after a thrilling first-moto duel.
Ageless Wonder of the Year (Part 1):
John Dowd
, 41 years old, won the Endurocross…. But more impressive was his sixth overall at the
Southwick
National.
Best (or worst) Crash:
We have a four-way tie for Crash of the Year, all offerings from the same charger.
James Stewart
's practice step-off at Seattle, his Daytona crash while leading, his
High Point
crash while leading Carmichael, and then his
Southwick
ejection when his bike seized make this a toss-up, though for sheer violence,
High Point
gets the nod. After all, it was the defining moment of the AMA Motocross Series.
Craziest Supercross:
St. Louis. RC cartwheeled in his heat race, then broke his shock in the main. Stewart clipped a Tuff Block, high-sided, then couldn't get his bike started.
Chad Reed
won and then raised the ire of both Ricky and James with his jersey tug.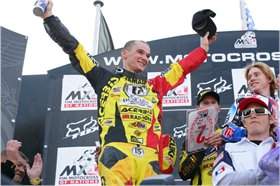 Rider of the Year II, Stefan Everts.

photo: Simon Cudby

Rider of the Year (II):
In his last season of professional motocross racing, Stefan Everts won his 10th FIM World Championship, then put the icing on his career cake with a 1-1 sweep of the Motocross des Nations. He's the best Grand Prix rider of all time.
Underdog/Surprise of the Year:
Ryan Villopoto
rode three pro races in 2005 and looked pretty good, but no one could have guessed at that point that he would never stop improving all year long. He's already getting compared to RC outdoors and MC in the stadiums—and he's only won a single supercross main!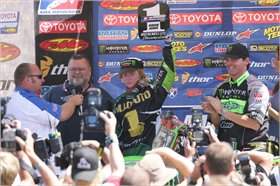 Ryan Villopoto surprised more than a few people in 2006; fans will be looking for him in '07.

photo: Simon Cudby

Couple of the Year:
We thought
Josh Demuth
and Leticia Cline-Demuth had a long on this after their post-Vegas SX wedding, but a pre-U.S. Open divorce opened the category to the fastest young couple on the planet,
Trey Canard
and Ashley Fiolek. Both made covers this year (Trey on Amateur MX, Ashley on Moto Playground) and both are riding factory Hondas now that Trey switched over to Factory Connection from Team Green. They have supplanted Jessica Patterson/Eddie Ray as the fastest boyfriend/girlfriend in motocross.
Trophy of the Year:
Hands-down, the Bentley keys that Red Bull's Dane Herron handed over to
James Stewart
at the U.S. Open for winning the FIM World Supercross title. That's as good as it gets.

Rider of the Year (III):
In his last season of GNCC racing in the U.S., 10-time FIM World Enduro Champion Juha Salminen added a second GNCC #1 plate, then capped his season by leading Team Finland at the ISDE in New Zealand with the individual overall honors.
Unfortunate Choice of Words: The TV folks had James Stewart say, "I'm the new king of Daytona."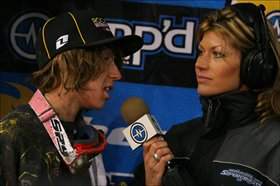 J-Law waxed poetic on the Seattle podium.

photo: Matt Ware

Even More Unfortunate Choice of Words: Jason Lawrence sums up being on the Seattle podium: "Dude… F**k, dude…"

Mystery Man of Supecross: Who the hell is James Reed?
Best Starter: Mike Alessi grabbed so many Progressive Direct Holeshot Awards in 250F supercross that they should have named it the Progressive Direct Deposit to Mike Alessi Holeshot Award. Then he nailed a bunch of Racer X Holeshot Bonuses in the nationals. But his best start of all was his dominant 1-1 performance at Hangtown to win the first round of the AMA/Toyota Nationals. Unfortunately, that was as good as it got for the 800.

Supercook: During a TV piece at the San Fran SX, Dunlop's Broc Glover told CBS' Krista Voda about self-cleaning tires, which led her to muse, "Boy, I sure wish my oven would do that."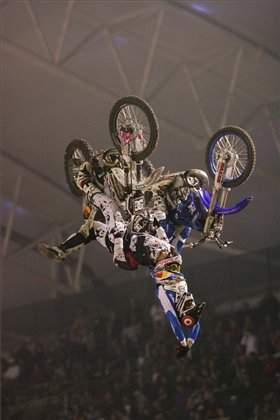 Travis and Nate put on a heck of a show at the Jeremy McGrath Invitational.

photo: Simon Cudby

Best Freestyle Show: While Travis Pastrana's double backflip at the X Games garnered the most media attention, the best show was arguably the one at the Jeremy McGrath Invitational, where Pastrana's and Adam's side-by-side back-flips were nothing short of amazing.
Best Moment of 2006: After winning the individual overall honors at the Motocross des Nations, Stefan Everts walked into the Team USA victory party being held in the Alpinestars' hospitality rig and was given a rousing standing ovation by Carmichael, Stewart, Tedesco, Villopoto, and the rest of the American contingent.


Worst Timing: The quest for 250F horsepower sent most teams pushing the limit on reliability—and sometimes they exceed that limit. Andrew Short spent weeks riding in Colorado to prepare for (and win) his home state race, but his CRF250 blew up just as he got into the lead in the second moto. A week later, Ryan Villopoto saw his homecoming at Washougal ruined when his KX250F ate a valve.

Ageless Wonder of the Year (Part 2): Bayville, New Jersey's Barry Carsten scored the Racer X Holeshot Bonus in the 450 class at Budds Creek.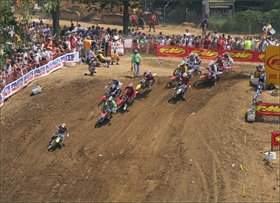 Barry Carsten is still getting it done.

photo: Simon Cudby

Life's Perfect Circle: Jeff Ward was the original Honda XR75 pilot, shaking the bike down and winning its first championships in 1972 and '73. Almost 35 years later, his son Brandon won the Premier Mini Championship at Troy Lee's Supermoto Duel at the Docks in Long Beach, marking the first major championship for someone on a CRF150—Honda's modern-day XR75.

Exchange of the Year: When the Fox family—Geoff, Greg, Pete and John—all got together with Everts following his MXdN win to congratulate him on going out on top, Stefan asked, "So why didn't you guys ever sponsor me?" Pete's reply? "If you race one more year, we would be glad to!"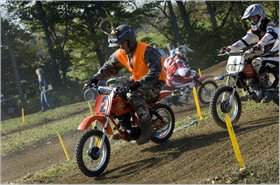 Luckily for Jeff Stanton, Larry Ward was nowhere to be found.

photo: John Hanson

Best Helmet 2006 (maybe ever): Six-time AMA Motocross/Supercross Champion Jeff Stanton showed up at the Red Bud Grass Track race in full hunter regalia, and then played both ends to the middle by also being the prey.
New Company of the Year: MX Clean. Just check out their commericial at http://web.mac.com/mbailey91/iWeb/MX%20Clean/video.html
The Place to Be: The privateer-friendly Toyota Zone offered privateers and their crew a cool place to relax, have lunch, catch up on email and laundry, and enjoy some motocross camaraderie.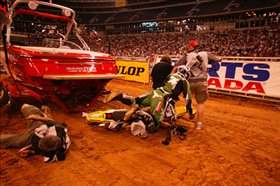 RC barely missed the Mastercraft, and Stewart barely missed the title.

photo: Ken Faught

Closest Call: Carmichael's near-collision with the Mastercraft display boat at the Dallas SX was as spectacular as it was untimely for the Makita Suzuki rider. Fortunately for him, James Stewart crashed a few laps later, costing him a shot at the win and three more championship points. He would lose the AMA title by two points.

Worst Surprise of 2006: Brock Sellards traveling down to Texas to get ready for 2007, only to find a pink slip for himself, Demuth, and Kyle Partridge after BooKoo pulled their sponsorship money from the Holigan racing team.
Best Supercross Innovation: The 30-second board girl "wiggle."
Excuse of the Year: We have to go out of moto to football for this one, as Bobby Bowden, the beloved coach of the Florida State Seminoles, caused this strange headline to run: "Bowden Blames EBay For Son's Departure." Bowden answered a report's question about why things didn't work out with his son Jeff by saying, "Because you all ignited it. You listen to eBay and e-mail and all that junk, and you all kept writing about it and that fans it and makes it grow and grow, and it becomes a cancer. That's why."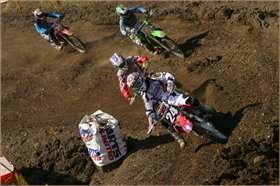 One of the best battles of the year happened in the 250F class.

photo: Matt Ware

Best Battle: While its hard to beat RC/JBS High Point fight, the four-way tilt in the second 250F moto at Unadilla between Andrew Short, Ryan Villopoto, Nathan Ramsey, and Josh Grant was truly one for the ages.
Worst Luck: It's got to be Team Honda, which saw pretty much every rider on the team get hurt this season—worst of all Ernesto Fonseca.
Best Trainer: Aldon Baker gets the nod for his work with RC and Moto GP champion Nicky Hayden.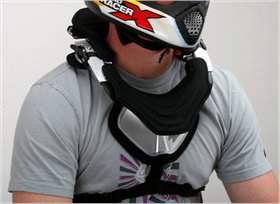 The Leatt Neck Brace.

photo: Matt Ware

Product of the Year: The Leatt Neck Brace.
Shortest Season: It was a toss-up between Josh Hansen and Ben Townley, with Hanny doing two SX races to Townley's two nationals, but then Li'l Hanny rode Steel City at the end of the season and the Jeremy McGrath Invitational, and Townley rebounded with the Motocross des Nations and U.S. Open. Add it all up and it's still a tie—for second. Because the injured Jeff Alessi never saw a starting gate.

Longest Season: Road warrior Jason Thomas raced in every corner of the U.S., both sides of Canada, all over Europe, and even down in Australia (with a stopover in New Zealand). JT$ races more in a month that some guys do in a whole season.

Best Spokesmodels: While Amp'd Mobile and Red Bull had great talent all season long, we still like the Monster Energy Drink girls—Christina, Valerie and Sylvia—as a complete unit. Canadian girls rule.
Rivalry of the Year: Red Bull/KTM and Monster Energy/Pro Circuit Kawasaki. This one grew out of the old Alessi-Villopoto rivalry (which had grown out of the old Alessi-Davi Millsaps rivalry of minicycle lore). There was name-calling, rumor-mongering, drug-accusations, and even a drunken bar fight that ended in a broken nose for one of the truck drivers. You can't make this kind of stuff up … unless you are the guy who wrote Roadhouse with Patrick Swayze!
Rider of the Year (IV): Okay, there's yet another 10-time champion we must mention: Red Bull-backed Geoff Aaron won his 10th career U.S. National Trials Championship this year.
Dis of the Year: Team Kawasaki's Mike Fisher was so mad about the AMA's flip-flop on the Ricky Carmichael fuel penalty that he tore up the AMA Rulebook at a supercross and left it on the table for everyone to see.
Most Political Moment: Somewhere along the way in the aftermath of the Ricky Carmichael Fuel Penalty Saga, there was a moment when AMA Pro Racing's Steve Whitelock was told that the 25-point penalty he had issued to the Makita Suzuki rider would be erased in favor of a cash penalty and an overhauling of the unleaded fuel rule.
Misfire of the Year: The Rockstar Suzuki team. Not only did the riders have their problems, but the bikes were constantly dying on them. Hopefully, an overhaul will make for a much better season in 2007.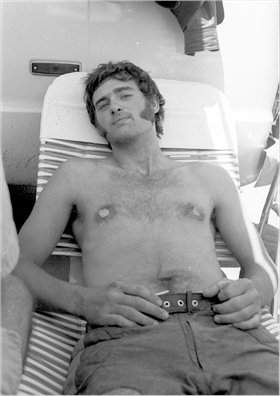 The late, great Jim Pomeroy.
photo: Dick Miller Archives

Saddest Days: Take your pick: The San Diego SX, when James Marshall got hurt; March 3, the day that Ernesto Fonseca crashed while practicing; the day that longtime East Coast privateer Kevin Crine was killed in a car accident; the day motocross lost Jim Pomeroy to a Jeep accident.
Harder Than it Looks: Jeremy McGrath found out how tough promoting can be when he held the first annual Jeremy McGrath Invitational SX at the Home Depot Center in Los Angeles. MC put on a heck of a show, but he missed it—he fractured his neck in a practice crash. The event was well-liked by the riders, but there weren't a lot of fans there to enjoy it.

Finish of the Year: Travis Pastrana's attempted backflip in his day qualifier at Daytona.

Upset of the Year: The French squad taking all of the first four overall spots at the Paris-Bercy SX, and with it the team championship over the Americans and the Rest of the World.

Farewell, Old Friend: To say that Denny Stephenson is a little upset about Jeff Emig taking over his spot in the booth for Amp'd Mobile Supercross '07 is like saying British fans were "kinda disappointed" that Ricky Carmichael couldn't race the MXdN.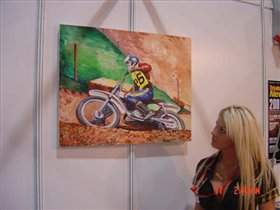 Rob Kinsey's tribute to the late Jim Pomeroy.

Photo Courtesy of Rod Kinsey

Best Replacement: Team USA's Ivan Tedesco gets the nod here for stepping up when RC went down and helping keep the Peter Chamberlain Trophy in the States for another year with a smart, steady ride under huge pressure in England.
Artist of the Year: Our old friend Rob Kinsey has painted a wonderful portrait of the late Jim Pomeroy at the historic Spanish 250cc Grand Prix of 1973, where Jimbo became the first American to ever win a GP. The print is available on eBay, as is another one of Kinsey's prints: The start of the 1978 Unadilla 250cc USGP. Check it out:
http://cgi.ebay.co.uk/ws/eBayISAPI.dll?ViewItem&item=140055700002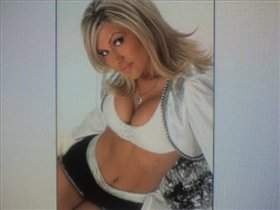 Raiders cheerleaders rule.

Photo Courtesy of Daniel Trevino

Roommate of the Year: Our old friend Danny Trevino wanted us to wish a belated Happy Birthday to his roommate Karen Benge, who spends her weekends as one of the Oakland Raiderettes cheerleaders! Danny says to look for Karen and some her friends from both Oakland and the Forty-Niners squad around James Stewart's pits at the San Francisco SX. (And if you want to see one of the San Diego Chargers' cheerleaders, see the Sobe/Samsung Honda pit,s where Josh Grant's girlfriend Cameron spends her off-weekends.)
Best Outdoor Innovation: The giant Jumbotron screens that Thunder Valley brought (with the help of Toyota) for the Colorado National. It allowed fans to see more of the races from the TV feed, just like they usually do in Europe (but for some reason did not feature at the 2006 Motocross des Nations).
Worst Traffic Jam: Speaking of the MXdN, getting out of Matterley-Basin on Sunday night after the race was a five-hour ordeal. Ridiculous.

Okay, we need to stop right here with the awards. Did we miss any? Send your suggestions to: Letters@racerxill.com and we will mention some of the good ones next week, when Racerhead comes to you from Toronto!
Last week, I mistakenly left off the pdf to "DB Dawg" quiet mufflers when I mentioned my friend Michael Rigdon's note.

And here's some news from Jason Weigandt, who just split for the GNCC banquet, which takes place tonight:

The 81st Annual International Six Days Enduro was expected to be one of the easiest and most fun events in the history of the event, but rain, rain, and more rain all week in the host city of Taupo, New Zealand, made it very, very tough indeed. The rain got so bad that by Friday, Day 5, the organizers had to cancel several of the special tests alogether.

Through it all, though, both through muddy trails and on high-speed grass track and even the final motocross test, there was no stopping current GNCC Champ (and multi-time World Enduro Champion) Juha Salminen. Juha has won basically everything in his career except the ISDE, as bad luck has always conspired to hold the fast Finn back at the Six Days. But this time his KTM 250XC-F four-stroke ran strong all week, Juha made no major mistakes, and he rolled to his first-ever ISDE overall win. Better yet, his team, Finland, romped to the World Team Trophy. Finland is to the ISDE and European enduro racing what Team USA is to the Motocross des Nations.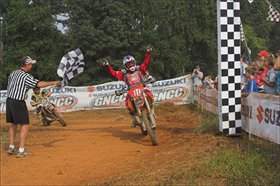 Juha Salminen didn't miss a beat in going back to European-style racing, resulting in his first ISDE victory.

photo: Ray Gundy
Juha was very humble about his win, of course, and said he even surprised himself with how quickly he got back into the groove of European-style racing and special tests after two years in the GNCCs. Right now he's on a flight to Pittsburgh so he can attend this weekend's Suzuki GNCC Awards Banquet in Cranberry (just outside of Pittsburgh).
American ISDE riders had something to cheer about this year, though, as the U.S. Junior Team of
Kurt Caselli
,
David Pearson
,
Ricky Dietrich
and
Russ Bobbitt
romped home as the World Junior Champions! In case you haven't heard, this is kind of a big deal. The U.S. has only won the Junior trophy one other time (in 1991), and they won the predecessor to that award, the Silver Vase, once, back in the 1970s. Sadly, wins for American riders at the ISDE are few and far between, so here's a major pat on the back to those three young riders for getting it done.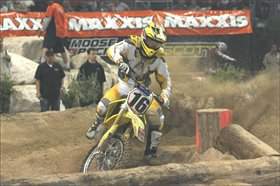 John Down received our first Ageless Wonder award, in part for his awesome victory at the Maxxis EnduroCross.

photo: Bjorn Ostby
Meanwhile on the other side of the planet, the third Maxxis EnduroCross was underway at the Orleans Arena in Las Vegas. Due to the ISDE, some of the big names from both the U.S. and Europe weren't able to race this year, but the action was still incredible all weekend long. The win came down to
John Dowd
and
Nathan Woods
bumping and bashing on the last lap, and then Woods tried to double over a big set of logs and telephone poles to get around JYD and get the win. But alas, he slid off the track and Dowd held on. The fans were going nuts. For more, check out TFS' Monday Conversation with Dowd and his EnduroCross Race Report, as well. And look out next year when all of those ISDE boys come back—a lot of people want to race that event.
For more on Sunday night's AMA Pro Racing banquet, check out our 5 Minutes with
Kerry Graeber
(LINK). And for a look ahead at the Toronto SX, stay tuned to Racer X Online as well as
www.racerxcanada.com
all week long.
Finally,
Ping
sent us these notes from the West Coast:
Okay, I know that Weege already touched on the Maxxis Endurocross last weekend, but he's more of an off-road guy, so he's a little biased about the racing in that event. Of course he's going to say it was amazing—he was the announcer at the event! I made my last visit of the year to Las Vegas last weekend to see what all the hype was about. I've heard from others who attended the event the past couple years that it was non-stop action and that there are a thousand lead changes, yada, yada, yada…. The truth of the matter is… they were right. You can't go in expecting to see supercross, as there aren't any big jumps to speak of. And the speeds around the course are much slower than what I was used to, which took me a heat race or two to grasp. But the racing is fun to watch.
The start is the one thing that is just like supercross racing, and all the riders are filled to the rafters with adrenaline by the time they hit turn one. At that point, somehow, the good riders find a way to settle down and ride calmly. As soon as you get excited and grab a handful of throttle, you will find yourself staring at the ceiling of the Orleans Arena. Ask the races inaugural winner,
Ryan Hughes
, who reverted back to his motocross mindset in his qualifier, crashed a baker's dozen times, and didn't make the main event. He wasn't alone, either. There were plenty of great riders who didn't make the final.
I'm sure you know by now that
Dowdy
won the race after a great last-lap battle with
Nathan Woods
. It was fun to watch, and if you really need a reason to go to Las Vegas, the Endurocross is as good as any.
This week here in Southern California has been pretty mellow. Most riders put in a few days at the test track early in the week and took the rest of the weekend off to eat turkey. On Tuesday, Richardson's RV held a private ride day at Cahuilla Creek for all of their motocross clients and friends. The Richardson's folks are big motocross supporters; they even have their own Supercross team consisting of
Logan Darian
and
Richie Owens
. They also have some pretty fast friends. Some names that showed up to hang out and ride included
Greg Albertyn
,
Billy Laninovich
,
Ryan Morais
,
Nate Adams
,
Brian Deegan
,
Twitch
and
Ronnie Faisst
.
Ryan Morais
is just getting back on the bike after breaking both of his wrists last month. The Yamaha of Troy rider said that things are healing up just fine, and while he still has some soreness, he should be good in a couple weeks.
Billy Laninovich
is another rider making a comeback after having his knee reconstructed—again. The Factory Connection/Sobe/Samsung/Honda rider has been back on the bike just a short time but says he feels great.
"I feel like I never missed a day of riding," Billy explained. Adding, "It seems like whenever I take some time off I come back feeling better than ever. I am just working on my fitness, but even that is pretty good right now. I've been working really hard with my trainer and doing a lot of cycling to get my knee strong again. So, I'm pretty pumped for the season. I'll be ready."
Billy is certainly one of the few guys who can win races this year. He led the West Region series for a while before losing positions to Langston and Andrew Short.

Brian Deegan is also on the mend. The Metal Mullisha leader did a whipped-back flip and came back down to the ground with the front end a little high. When the rear wheel hit, the bars yanked out of his hand and snapped his wrist in the process. Ouch.

That's it for Racerhead, thanks for showing up on a day off for most of us in the States. See you at the races—in Canada.