5 Minutes with ... Kerry Graeber
Last Sunday night, the AMA celebrated its season with a banquet at the luxurious Rio Hotel & Casino in Las Vegas. With that in mind, we contacted AMA Pro Racing VP Kerry Graeber to see how the party went, who some of the key award winners were, and also to check on the companies that won the AMA's annual honors for best advertisements.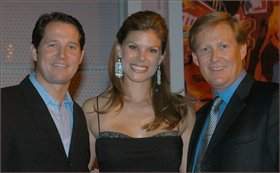 Todd Harris, Jamie Little, and Kerry Graeber
photo by Grant Parsons

Racer X: Kerry, how was the banquet in general?
Kerry Graeber: I'm very happy with how the evening turned out. We had strong attendance and everyone seemed to enjoy themselves. The evening ran on time, the award recipients were appreciative and gracious in their acceptance speeches, and there were also a number of spontaneous, funny moments that you can never predict.

Such as?
Well, Jamie [Little] had a running gag going with Jeff Ward and Micky Dymond about their age and how they're still winning races and championships after all these years. Wardy played off of it when he accepted his award for winning the AMA Supermoto Championship by saying he wished he had hair and a tan like Dymond. I mean, these guys have been competitors since the 1970s, so that was pretty funny.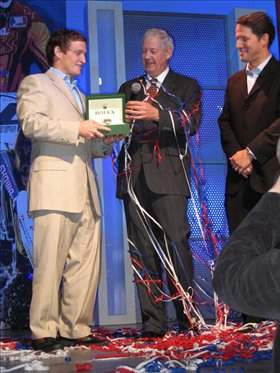 RC receives his fifth AMA Pro Racing SPEED Athlete of the Year Award from AMA Board Member Carl Reynolds, while Todd Harris looks on.
photo by Chris Jonnum

This was the second year that Jamie Little and Todd Harris teamed up as hosts. How's that partnership working out?
We couldn't ask for better hosts than Jamie and Todd. They're both complete professionals and take this job seriously. They also work very well together and play off of each other's personalities. Since they're so dialed in I don't have to worry about them and it allows me to focus on other aspects of the awards banquet.

There is a lot of planning that goes into an evening like this, isn't there?
It's huge. The amount of detail is unbelievable, and it consumes a few of us for the days and weeks preceding the banquet. Basically it's divided into administrative and production functions, and we staff it accordingly.

What does that mean?
Well, the administrative side of things includes booking the hotel, planning dinner, managing the invitations and RSVPs, and getting all the trophies ordered and delivered, among other things. The production side, which is what I work on, is basically anything you see on-stage. That includes the video production, staging, production of collateral, program design, scripting, and working with the hosts and presenters. Obviously, there's a lot more to it, but that's an overview of everything that goes into putting on the banquet.

Okay, shifting gears a bit, tell us about the Advertising Awards Competition. You oversee that too, right?
That's right. We began that program a couple of years ago to recognize companies that are doing good work, specifically in the area of race-win advertising. Advertisers or their agencies can enter, we judge the ads, and the winners are recognized at the banquet. We generally have an award for best ad and best campaign, and this year we added a special recognition category.

Tell us about the winners.
Sure. The Creative Works won for best campaign based on their win ads for Suzuki. In our opinion, their ads are consistently good, week-in and week-out. I joked on stage that it couldn't be that hard to make great ads for guys like Ben Spies and Ricky Carmichael, but of course I was just kidding—I know how difficult it is to produce good ads. We also recognized One Industries for an ad they produced that simply showed a series of number plates. I felt it was highly effective in its simplicity.

I was stoked to hear One Industries get a nod, because Marc Blanchard designed the original Racer X magazine when we went from a newspaper to what we have now.
I didn't know that, but it doesn't surprise me. Like I said, the reason we chose that ad was because of its design simplicity. It's clean and effective without hitting you over the head. Those are the kind of ads that I find to be the best.

I agree. What about the special recognition award?
It was the ad entered by Honda's advertising agency, Dailey & Associates, for Ernesto Fonseca. I was knocked out by it when I first saw it and was glad to see it get entered into our competition. Like I said at the banquet, it's simple but communicates a powerful message for Ernesto and, really, anybody.

Looking ahead to next year, how can companies get their work nominated?
It's very simple. Just go to www.amaproracing.com and find the Ad Awards icon. Anybody wanting to participate can download the rules and an entry form. There's no entry fee.

So wrapping up, was there a high point of the evening for you?
No doubt. It was when RC won his fifth AMA Pro Racing SPEED Athlete of the Year award. Beyond his amazing on-track success, Ricky continually impresses me with his class, and this was no exception. He thanked all the right people and gave one of the most poignant speeches I've ever seen by a rider. It's always difficult choosing the athlete of the year, because there are so many worthy candidates, but I'm confident that Ricky Carmichael was the right choice again.

Okay, thanks, Kerry.
Thank you, Davey. Enjoy the holidays.