5 Minutes With ... Ryan Sipes
November 16, 2006 10:16am
In 2006, Ryan Sipes of the WBR Suzuki team placed 34th in the AMA West Region Supercross Series and 23rd overall in the 250F National Championship title chase. For such a young, talented and promising rider, not exactly results to write home to Louisville, Kentucky about. But Sipes' season never really even got off the ground. After breaking bones across the top of his foot during practice at Anaheim II, the 22-year-old was plagued by one injury-induced crash after another in '06. Yes, there were flashes of what Sipes is truly capable of, but they were few and far between. But all is well that ends well; in the waning months of summer, Sipes was invited to join the Honda-backed SoBe/No Fear/Samsung/Factory Connection team for the 2007 season.
Racer X: Ryan, are you back East or here in California?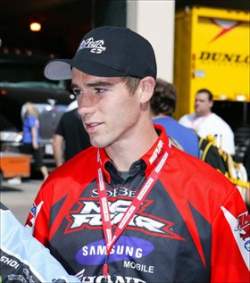 Ryan was sporting his new team colors at the 2006 U.S. Open of Supercross
photo:Steve Bruhn
Ryan Sipes
: I'm staying in California. I've been staying here in Corona since September. I'm trying to do a lot of testing and get my bike ready for the new season coming up.
How is you health? Have you gotten all the injuries from 2006 behind you?
Yeah, I'm feeling really good. It just feels good to go a little while without an injury. That's helped me a lot and given me a lot of confidence.
When did you first begin riding the Honda?
During the first week of October.
Did you like the bike?
Yeah, I really liked it! Factory Connection provided me a Honda with the practice set-up on it and had me begin riding on that bike. I really liked it right away. I just liked the way it felt. The frame felt right and I liked how it handled. Right away I knew the bike suited me better.
The end of the 2006 AMA National Championship series was pretty tumultuous for you, wasn't it?
Yeah. I did Binghamton and that went well. Then I crashed out of a moto at Steel City. Then, at Glen Helen, I broke my left foot on the last lap of the first moto and couldn't ride in the second moto. It was a tough year. I'd heal up, and by the time I would get going and get my confidence again, I'd crash and break a bone. It was frustrating. I was trying harder and harder and training hard — like I have all my life — and it just was not in the cards. So I did not race a lot in 2006.
You went 6-7 for fifth overall at Broome-Tioga. That had to be an encouraging result for you.
It was all right. I mean, I planned on doing a whole lot better this year. Broome-Tioga was a good race. I went out and rode good. I was able to go out and ride and not get killed. I rode up front with everyone and didn't crash and get hurt. I just rode, stayed up front, and did well.
What do you attribute all the crashes and injuries in 2006 to?
Trying so hard. I think that's what happened. I just tried too hard.
How did you end up with the Sobe/No Fear/Samsung/Factory Connection/Honda team?
Actually, we approached them. Bob Moore (of The Familie/Wasserman Media Group) started working with me over the summer. At one point he asked me, "What team do you want to be on?" I said, "Well, I'd like to be on Factory Connection." I guess they knew what was up and were already interested in me being on the team. So we talked, they thought about it, and then said, "All right, we can work something out." It was an awesome feeling for me. I just had the worst year I've ever had, and they also realized I had a bad year. They thought I had potential and they were willing to look past my results.
Although you're relatively new to the team, do you have a good feeling about it?
Everybody on the team is super cool and works super hard. I could see it right away. I could also see it from behind the scenes. When I looked at the shop, the practice track and saw all the good people, I knew why they were such a good team. There were reasons for it.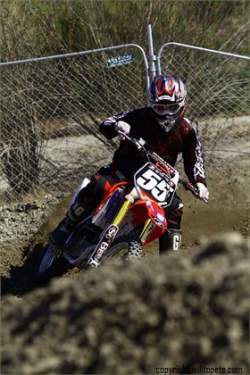 Sipes has been putting in countless laps on his new Honda CRF250R

photo: Will Topete

We're getting close to the month of December. Do you have a plan for the next month?
We're going to do the second Canadian round of the World Supercross Series [B.C. Place stadium in Vancouver on December 9, 2006]. And as far as the Supercross Series, the plan right now is for me to do the East Region, but nothing is for sure. I really have no preference. I've never done the East, though, so I wouldn't mind checking that out. But from what I have heard, the East is going to be more stacked than the West—I guess everyone is running away from that Villopoto kid. All I know is that there are going to be a lot of guys trying to win. I think there will be five, six, seven people fighting for wins. It'll be fun.
What are you objectives for the 2007 season?
This year I want to be consistent the entire year. I know I have the speed; I just need to stay up on the bike and be consistent. If I can do that, I think I can be right there in contention for the championship. I need to stay on the bike all year and just be up front. You can't win unless you're up with the leaders and in the hunt. I'd really like to get a win or two and be in contention for the title.
How about for the outdoors?
I'm really looking forward to racing the outdoors on my new bike. I don't think I'm going to have to go as fast as I did on my other bike. I love the bike I have now for supercross, so I can't wait to see what it's like outdoors. Again, if I can be consistent, I know I can run at the front and pull off moto wins. I look forward to being up front; staying up front, and running with the guys I have followed the past few years.
Who might those guys be?
[Ryan] Villopoto will be fast. Josh Grant will be fast. [Tommy] Hahn has a good bike and is going to be good this year. There's a lot of people. It's going to be cool.