Rev-Up: BooKoo Arenacross
Hello, everyone, and welcome to the Rev-Up. This week, the message boards lit up like a pinball machine, which can only mean one thing: we're back to racing, baby! Last weekend saw two separate arenacross series get up and rolling. Both appear to be off to strong starts, and both already have some great stories surrounding them. I've read some interesting arguments in regards to which series is better. Why does this series do this? Who has the fastest riders? I just don't get it. With so many positive elements streaming out of both series, why aren't people arguing and asking more intelligent questions like "I wonder who would win between Ashley Phillips and Erin Normoyle in a mud-wresting match?" I mean, let's stick to what's important, guys.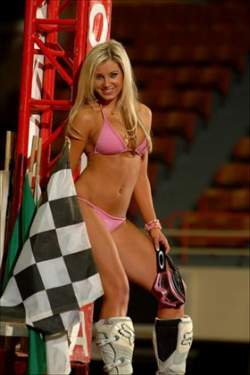 Miss BooKoo Arenacross, Erin Normoyle
Last week I did my best to get the AMA series up on the rev limiter, so this week I'm going to try to twist the throttle on the BooKoo posse. I tell you what: only a Texan would come up with a name like BooKoo! Let's talk a little about Mike Kidd's attempt at going big conducting his version of bullring ballet.
Some of the hot talk surrounding the BooKoo series is the pro debut of Kyle Cunningham and Tyler Bowers. I really lean toward the new kids hitting up these arenacross races before jumping into the supercross meat grinder. I've known the Cunningham family for a long time, and when Kyle's mom told me that young Kyle was looking to go pro, I cringed. When I saw that he was listed to do the arenacross series first, I felt much better.
Arenacross tracks don't help a new rider very much, but the environment and travel experience helps exponentially. There is a pretty substantial gap between the pits at Loretta's and the pits at Anaheim. A kid can learn some life lessons and do some growing up rolling with the arenacross caravan. The arenacross gig is big-time enough that it puts a little pressure on a rider to perform, while giving a rider a feel for what it takes to place well in a series, which is a major thing missing from amateur competition, and a big reason why a lot of big-name phenoms come out guns a-blazing, then crash out of their first tries at the supercross series. Kyle and Tyler will greatly benefit from their arenacross experience.
I really give a lot of credit and respect to Mike Kidd for always pushing the limits of what can be done with an event. Look at all of the new things that have come from his series the past two years. We had Tony Scavo's "strobegate" manifest out of the 2005-06 series. I'm sure that wasn't the first time strobes had been used to shoot motocross, but it was the first time I had seen it used in great detail. Some of the coolest shots I have ever seen came from last year's BooKoo series. As 2007 gets underway, the BooKoo series is offering live internet feed, a 150cc class, and a gigantic purse. I raced Mike's series for several years, and one thing I always liked about him was that he would actually listen to us, the riders, and was willing to make changes. Mike is kind of like one of those sheep on the new Harley-Davidson commercial—the black one. But I think he likes it that way. Some of his moves may be controversial but, hey, whatever works.
It's been a big week, guys. Actually, it's been an incredible week! Some of you out there need to stop looking at who is faster or which series is better and begin looking at how many guys are making a living riding dirt bikes! There has never been a better time to look at our sport and ponder getting your family involved. I struggle to find a better way to spend time together as a family than amateur motocross. And once you have moved through the ranks, there are two series in which your boy or girl can go on to make a real living. And if they want it bad enough, the bright lights and big cities of the supercross series will be waiting.
The AMA and BooKoo arenacross series are great reasons to believe that some good people are holding the light at the end of the tunnel. It isn't a perfect system, but it's getting better, and I think we'll be there, wherever "there" is, before we know it.


Thanks for reading, see you next week.