5 Minutes With ... Robert Hansen
Halloween has just passed, and that means one thing: arenacross is right around the corner! This weekend is the season opener of the 2006-'07 Toyota AMA Arenacross Series, which is kicking off in Des Moines, Iowa. Live Nation and their crew have been working endless hours in preparation for this series, which has undergone a slew of changes. We talked to Live Nation Director of Arenacross Robert Hansen today to get up to speed on what riders and fans can expect this season. For more information, visit www.arenacross.com.
Racer X: You have a big weekend coming up, Robert!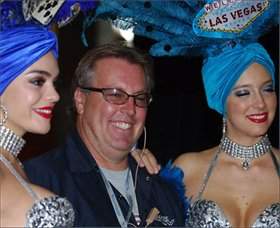 That's Robert, in the middle.
photo: Steve Bruhn
Robert Hansen: Yes, we sure do. We got a lot of entries. We're actually up 25 percent more in online pre-entries right now, compared to last season.
That's great. The online pre-entry is something you're really pushing this year in arenacross, isn't it?
Yeah, we're trying to make that better, as well as the Lites class. My pet peeve right now is trying to get the local kids out to race arenacross.
Throughout the past two years we've seen some major changes in arenacross. And from what I've been hearing, there's a few more for this season, right?
Well, our first big change last year was, instead of going for the points championship with two bikes, to cut costs and to keep these pros on the road, we went to the one bike in the Arenacross class. But what we've seen there is that we also changed the tracks a little bit. We made the corners a little flatter to accommodate the 450s. And with seeing how good everyone is doing on the 450s, I don't think we're going to see very many 250 two-strokes this year. That was our first change. Our second one was bestowed upon us by the AMA, and that is the progression to supercross. Basically, they didn't want riders showing up at Anaheim with no previous experience, trying to qualify. So we're going to weed that system out through the AMA, and they're going to have a point and tracking system so riders can move up through a progression situation racing the Arenacross class. Thirdly, we didn't want some of the pros who race arenacross all the time to jump down in the Lites class and take the money and contingency away from the local riders. So we bust up the United States in to four regions to accommodate these Lites guys, so you can actually get a title and not travel the whole circuit.
Is it a pretty big deal if a Lites rider gets a title this year?
Well, we're trying to push it. First of all, the AMA will give them a #1 plate that'll say "Arenacross Lites" on it. And the big thing is that it's still a contingency class, so all of the manufacturers recognize the Lites class. They'll get contingency for that particular race, not the overall. But we're working on that for next year—to possibly get contingency for not only the race itself, but actually for the overall series. And then we're going to give each champion complimentary entries for the entire next season, which is probably about a $1,000 value.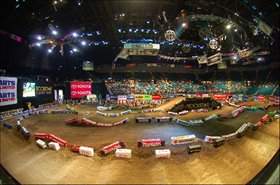 For amateur AX participants, the goal is to qualify for the U.S. Open Amateur AX Finals inside the MGM Grand Garden Arena

photo: Steve Bruhn

Can a Lites rider also race the Arenacross class, and vice versa?
Yes. There are going to be guys, and I'll name them because I love them so dearly—Jim Chester and Jim Neese—those guys will bounce back and forth. They have special contingency programs based on their rides. But the big thing is this: last year, we wouldn't allow AX riders to drop down if they were in the top five, so that kind of kept the Lites class a little more competitive for locals. Well, we went down three more spots to the top eight, so now you're maybe going to see a rider racing the whole series in both classes, but you won't see the Chad Johnson or Greg Schnell or whoever riding both classes. You'll still see the top guys racing each week in the AX class, and then you'll see the local guys in the Lites class, and that's what we're really trying to push. Another thing is that you're going to have to declare what region you're going to race, so you're only allowed to get that one title. You're not allowed to get three and four titles, which some of these guys would probably try and do. The whole thing is just trying to keep the cost down for these guys, give them some incentive to race a few races, and get some confidence built up. And then maybe the following year they will move up and race the entire Arenacross tour.
This new format definitely seems encouraging for a Lites rider.
And that's what our goal is. Because we'd come into towns a few years ago, and the traveling pros would be running two classes, and they'd be lucky if a local kid would make a main event. And what happened that really opened my eyes up was, last year we were in Denver, and a local kid got third on Friday in the Lites class and then won it the next night against some of our regular guys, and the crowd just went crazy. And I said, You know what? There is definitely some value here. We've got to really pay attention to those local guys. There could be local pros saying, "Oh, I don't want to go there—it'll be stacked."
From my personal standpoint, I'm looking in to maybe doing the Eastern Series, and competing in those four races looks a lot less intimidating then trying to do a ten-race series across the country.
Exactly. You just hit it on the head. You can spend a little time and energy instead of a whole lot of money, and you can get a title, which the AMA will recognize. We're going to post it on our website, and you have a chance at winning entries for next year, too! And maybe next year you could ride the whole tour. We're just trying to keep these guys going.
After you made the change last year limiting the series to one main class, what was the response from the racers?
I talked to a lot of guys at first, and it was probably a 50-50 split. But halfway through the season they were relieved, and the team owners were ecstatic. It makes it easier concentrating on only one class. And the other issue, which I talked to Chad about this, is he said, "You know what? You can screw yourself up switching classes." And the whole level of racing went up, because no one was holding back. In the past, a guy may not have done so well in one class, so he'd kick it up a notch in the other class. Well, now you have to kick it up right away. I think it worked out really great.
Arenacross has proven that it's a great feeder system for supercross. Give us a few examples of some riders who utilized arenacross as a stepping-stone in to supercross.
I think Justin Brayton is an excellent example. He has rode arenacross and now he lives and trains out West. He rode an arenacross in Reno last year, and I think he won all four main events. He has honed his craft through arenacross. Another rider is Jake Weimer. He chased Jeff Willoh all year long in the regional series two years ago, and bam, he got picked up right away and didn't have to race the National series. And that's the other change. Everything is under one blanket now—there's no regional or national distinction. That's why we divided up the Lites class in to four different regions.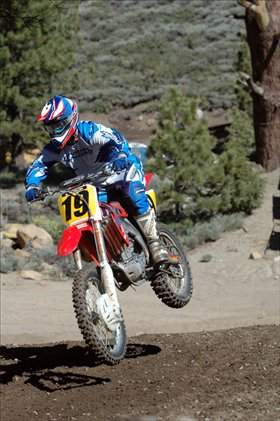 Robert took third in the Plus 50 class at Mammoth last year

photo: Courtesy of Hansen

When was the last time we've seen such monumental changes with arenacross? It's probably been a while, hasn't it?
You know what, I think it's been business as usual for 20 years until we made those changes in the past two years.
I understand you race yourself.
Yes, I just turned 50, and I race Baja a lot. I try to ride Baja and race Mammoth. I actually got third there this past year in the Senior class.
How long have you been involved in motorcycling?
I've been racing bikes one way or another since I was ten years old. My dad used to race in the desert in Southern California. And how I got into the promoting business was, Jim Holley was wrapping up his career, and he said, "Hey, I've got to go make some money before I'm finished." So he went overseas and I tagged along with him for a year or two over there. I talked to some promoters and we came back and bought a race track in Carson City, Nevada. And then I started doing arenacrosses, and the next think I know, I'm working for this company.
Are you based out of Live Nation's headquarters in Chicago?
I work in Chicago during the season, and then afterwards I go back to Carson City, Nevada. And then I monitor and get things ready for the following season. I'll fly back through the summer as well.
I know you have a busy weekend ahead of you in Iowa, so I'll let you go, Robert.
Yeah, actually, I'm waiting for Miss Arenacross to show up here this afternoon, and then I'll get out of here first thing in the morning and head over there.