Between the Motos: Troy Lee
The busiest man in the motorcycle industry this week might by Troy Lee. The artist-extraordinaire is running Troy Lee Designs, getting ready to race the final round of the 2006 AMA Supermoto Series, and organizing the final race itself—a one-of-a-kind race/festival next to the Queen Mary in Long Beach! We somehow tracked him down on the docks for a quick Between the Motos interview!
Racer X: Troy, I know this has been a long-time dream of you and the whole Troy Lee Designs crew of putting on this big shindig next to the Queen Mary. How is it all coming?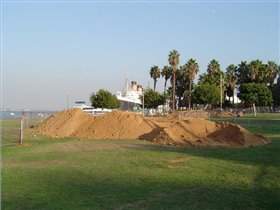 The Queen Mary serves as a backdrop at the final round of the AMA Supermoto Series this weekend
photo: Bob Weber
Troy Lee: It's going good. Right now it's going smoother than I thought. It's good to finally get my fingers dirty. It was tripping me out not being able to do anything, wondering what I was forgetting over the last four months. But we're finally putting the fence in and sweeping the tunnels and laying out the track. It's a dream come true and I'm really enjoying it. It's something I needed to get out of my system, and hopefully we get 10,000 people there on Sunday. This is something amazing for the sport and all the riders, so no matter what I feel really good about it.
Well, congratulations on fulfilling a dream. I know how that can go. Tell me a little about what's going to make this event more special, other than the fact that one of the biggest landmarks in the United States—the Queen Mary—is sitting right there as an outside berm.
Yeah, there are just so many good things about this thing. Just working with Gavin [Tripp] has been amazing. The more I work with the guy the more I realize how nice it is to have his expertise.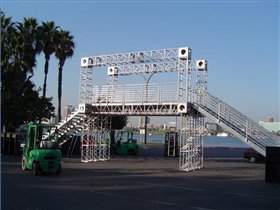 photo: Bob Weber

Gavin, of course, was the promoter of the Carlsbad USGP as well as the founder of the original ABC Superbikers, which became Supermoto.
Yep, so it's cool to have him involved. I think he's just as proud, also. Bob Weber and my crew at my shop, I have to thank all of them. And my wife and kids, everybody is just coming together on it. But I think we have the biggest bridge that has ever been built for going across, because of the semis and buses. It's like 30 feet high by 120 feet wide. I'm a little scared of all the amateurs going across it, but it's a sight in itself. We have the Urban Cross, and we race down underground. It kind of has a Monaco feel—like the Monaco F1 race. We graffitied it with Red Bull and Oakley. So it's cool for the fans to see them go out of sight for awhile and then come back up. It's also going to be an amazing experience on a motorcycle, as well.
It sounds like you're using this nice sized chuck of real estate in Long Beach as a palate for a dream race—kind of like Jeremy did a couple weeks ago, only with supercross. As everyone knows, you've become a real disciple and mover and shaker there in supermoto.
I really believe in it. I think that's the segment of motorcycles that is missing on the street right now, and that's what they're building in Europe and it's just starting to take off over here in the last couple years. So, it kind of branches out between the scooters and the 1000cc Ninjas. The freeway ends there, and the city of Long Beach has just been amazing. We're racing next to the ocean. It's cool. A giant ship that has so much history behind it—the setting is just amazing. We got one of my guys down there shooting pictures of the tunnel and the palm trees and the boat and the track being all set up. Another thing that has been really good is everybody has been really supportive. We're right here in the hometown of all of the OEMs, and everybody from Oakley and Red Bull to Hotwheels is here. Hotwheels is doing a whole kid's section where you can drop your kids off there and they can play with cars and toys and they have babysitters, juice and water.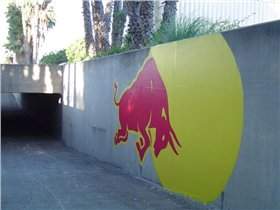 Red Bull is on board as a sponsor
photo: Bob Weber
Everything is just going the right direction. We're doing guitars for first place from Fender, because they're one of the clients we work with. And Felt bicycles are giving cruisers away for second place. The VIP tickets are really cool and come with a little medallion on them like when you go to the Indy 500, and there are five hospitality areas there. The weather looks good and I think we're going to have an amazing event and I'm excited about it.
Nice. Well, everyone who knows you knows what a workaholic you are. What have your hours been like the past couple weeks, because you got a pretty big business you're also trying to run with Mr. Weber. No rest for the weary, is there?
I'm just trying to delegate and hire people that can do a better job than I'm doing. I hired Kenny Alexander to help run the thing, so he's coming in. We got people from the movie studios and we're just trying to use a bunch of good resources, you know? And we have had four or five months to plan this thing, so I think everything is pretty much falling in to place. Even all of the riders have been amazing. We got half the riders down there helping to stack haybales and everything else. So, that's almost something that brings a tear to your eye. Everybody is just excited as I am.
This weekend Troy Lee is part racer, part promoter.

photo: Simon Cudby

How stoked are you to finally get out there and take a lap? Because you have to race this weekend, right?
Yes, that's the plan. I definitely want to. I think I can. I think I got all the right people here behind me so I can jump on my bike and ride too. That's always the coolest part about it. That's like the filter for me. When you get out on the track you don't think about anything else. But I just talked to Jeremy McGrath about that, and he said, "Dude, be careful man. It was hard at my race. There's so much on your head and you get out on the track and you're still thinking about things that are bothering you." He told me to be really careful and to just think of the track and nothing else when you're out there.
As far as the riders go, you have Jeff Ward, who is leading the series; Doug Henry, Josh Hayes is coming over from Superbike, and Li'l Hanny and Ronnie Renner. Who is that heavyset, underappreciated over paid journalist?
Pingree! He still goes fast, and it's nice having him in the sport.
Well, get his ass out there and make him carry some haybales. God knows he doesn't do it at my races.
[Laughs] We'll push everybody. It's a good community and it's cool to see how many people really wanted to do this and weren't able to. Tommy Hayden and Roger Hayden and Grant Langston, they all want to come out and do it. That makes you feel good. It's one of those things where everybody could go pretty fast at it and have a good time. I feel that the sport is fairly safe, and we're using all sorts of urban elements, which is really cool.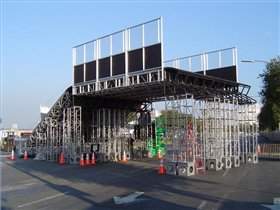 photo: Bob Weber

What's the schedule for the weekend?
Friday is press day, from noon till 5:00 p.m. We're just getting everybody out on the course and getting their feet wet a little bit, especially some of the freestyle and motocross guys. And the Saturday from 8:30 a.m. till 3:00 p.m. we do amateur racing, and it's the amateur national championship. And also on Saturday, from 3:00 – 5:00 p.m., we the pros get on the track. And then Sunday the gates open at 8:00 a.m. and the opening ceremonies are at 1:00 p.m., and hopefully we win a couple championships with Cassidy Anderson and Jeff Ward. We're leading right now, so we just need to have some good luck and to keep it upright with those two guys. And Fillmore is running third right now, so I don't think he can catch Doug Henry, but we're just hoping for some good racing this weekend.
I wish you luck this weekend, as well as safe racing and great watching. And give Sean Beaucaire a raise!
Thank you so much.
For more information on this event, please visit www.troyleedesigns.com.