5 Minutes With ... David Vuillemin
One of the most charismatic riders in the supercross pits today is David Vuillemin, the Frenchmen-turned-Californian who now rides for the MDK Honda team. "DV12" has been on a nice run through the month of October, capping it off with a win at the Sheffield SX in England last Saturday night. I caught up with David on Halloween as he was headed home to give out some candy with his family—and he swore he wouldn't eat a Kit-Kat last night!
Racer X: Welcome back home and congratulations. It looks like you got yourself a pretty nice trophy from Sheffield.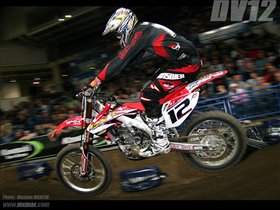 DV on his way to winning the 2006 Sheffield SX
photo: Maxime Martin
David Vuillemin: Yes, it was actually a really nice trip. It's always fun to go to Europe, especially for me, because I don't really have a chance to race there a lot. The European fans are always really nice. It was a long trip, but we had fun with the Alessis and
Jason Thomas
. It was a good track. Dirt Wurx did a good job with the dirt that they had, because they were running a little short with dirt. I'm glad to be back. It was great to see my kids and now I'm getting ready for another one.
Was the track similar in size to the U.S. Open, or even smaller than that?
It could've been bigger than the U.S. Open. I think the floor is pretty close to the U.S. Open, but they wanted us to go a little outside, but they didn't have enough dirt to do all of that. They had really fun whoops, which were kind of on the easy side. But I had fun on the track. It was a good race for me.
Between Jeremy's race, the U.S. Open and the trip to Sheffield, October makes for a nice payday if you put your head down and do the racing.
Yeah, it's very good! We don't really race for money, so it's a good thing when you race, like, at McGrath's race I made $26,000—that was a lot of money for only one race. But those were fun races. McGrath's race with the ramps and with the race format, but I have to say, I have nothing against Josh Grant. Everyone said, "Oh, DV is pissed off or whatever," but that was the game [when they banged in the one-on-one racing]. You had to take people out, basically. I kind of stuffed him on the start and he paid me back with a nice move on the last lap. It was fine with me, and I was a bit mad at myself because I opened the door. I thought I closed it, but I guess it was a little open still. [Laughs] The U.S. Open, it's a small track, but there are so many good guys that it makes the racing really intense. Racing for me, with a new team and new bike, it's always great practice. We went to Sheffield, and I won over there. We're then going to Mexico this weekend, and Bercy and Barcelona. So, November will be pretty busy.
What are you doing in Mexico?
There's a supercross in Tijuana on Saturday, so I'm going down Saturday morning to race that thing.
Can you find us more information? I need to maybe get Simon Cudby down there.
Yeah, you can go to www.tjopensupercross.com. Everybody is really scared, like, "You're going to Mexico?" I'm like, "Man, there are races all over the world. It's okay! it's five miles from San Diego!"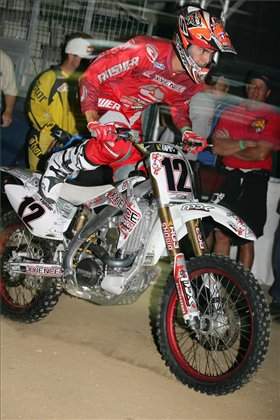 DV is headed to Mexico this weekend

photo: Simon Cudby

Do you know of anyone else who is going?
I know Sorby is going if he gets a bike this week. I don't really know any other guys going, but this year I think the Johnson's from New Mexico are going, along with a few other guys.
Back up to the Jeremy race. How loud was Josh Grant's bike when you were behind him?
Ah, it was loud. Even Kevin's bike was loud. I don't know what it is. We were touched by it because we were standing by the start for all of those head-to-head races, and I was talking to somebody, and was like "Dude, those bikes are so loud!" But it's okay, I don't really mind. I'm trying to get a loud bike for Bercy. [Laughs]
That reminds me, you've been the King or Prince how many times?
I think I've been Prince twice and maybe King four times. And I had two grand slams two years in a row. So yeah, I've won a bunch, but this year might be the toughest race ever for me, because it's not my class, it's not my bike. We're trying to do some testing on the bike, and MDK are doing a great job trying to make the bike as good as they can. But I'll be racing with Josh Grant, Alessi, Tommy Hahn, the Pourcel brothers—there's a lot of guys that know their bike and have good equipment. I think it'll be a really tough race, and I think it's a big challenge and it's always fun to race there. I'm glad I got the opportunity to do it this year, and hopefully it'll go well.
Has the Pourcel brothers [Sebastien and Christophe] talked to you at all about coming to America or ask any questions or advice? Or are they kind of like the Alessi's and stick to their own program?
Actually, we talked about that. His agent called me this morning. I was riding on the 250F and he left me a message. He was with Christophe in the U.S. and was wanting to ask me something, but I figured I'd call you first.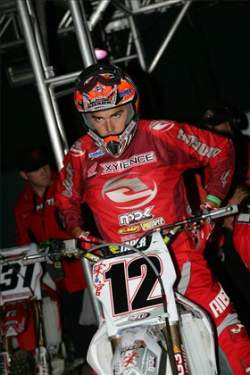 photo: Simon Cudby

Well, thanks for calling Racer X first! [Laughs]
Yeah, but, I don't really talk to them. I talked to them a couple years ago because some teams were interested for them to come to the U.S., but it did not work out. I guess Christophe is coming. He's in the U.S. right now, just getting ready for Bercy, and he'll be here full-time the following year. But I don't really talk to them a lot; I've known Christophe since he raced peewees, but I don't really know them that much because I've been here for seven years.
With Stephane Roncada now designing video games, and Sebastien Tortelli's career maybe over, and Mickael Pichon already pretty much done; you, of all of the French guys in that group, you made the biggest impact in American and won the most big races—and you are still here in the top five or so. Do you feel satisfied with how the past six or seven years has gone?
Yes, because even though I did not accomplish what I wanted to—which was win a 250 supercross championship—I'm really happy with what I've done. I will never win [a supercross title] again, and I know that, but I was really close. It was a bummer that I got hurt in 2002 because I was really prepared, sitting great leading the series, but you can't change the past and I'm really happy about how I've done. I got a lot of podiums and when you think about it—and I think my Texas experience made me realize that I'm still a good rider—I just need to get back on good equipment, which I think I am. I need to get on a good program to still race and have fun with the results that I get. I know Bubba, Ricky and Chad—they're ahead, but I need to focus on myself, on getting ready, and to get better results that I'm happy with. After a race, when I get to the hotel, I want to say, 'Hey David, you did good tonight.'
When I look back at all of those years, I made some mistakes and some bad decisions, but I still got some great results here. And I like all of those guys. Mickael is a great guy, but he's misunderstood a lot, sometimes. And Sebastien is different [than Mickael], but he was a great rider. And Stephane was maybe the most talented of all of us, and I'm just happy that whatever decision they make, I hope they can look in the mirror and say, "Hey, we did great in motocross and now it's time to move on." I was almost there—almost time to call it quits and move on—but I did a lot of thinking and decided to give it another try and give it 100 percent and get on a good team with goals and skills to make a good bike and get good results.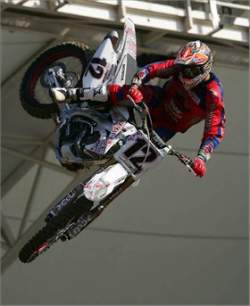 photo: Simon Cudby

My last question maybe relates to something that has been a great satisfaction for you since coming here: What are your children going to dress up as for Halloween? I mean, you have a great family that you may not have had if you didn't come here.
Yes, I'm really happy about that too. I think Erica is really supportive in the great moments and the injuries. My kids, they're insane! My daughter is running around everywhere and she'll be Sleeping Beauty tonight. And I think David will be Elmo. He loves Elmo. But I'm trying to teach them to play soccer. I'd like them to play soccer, but my son is starting to say "bike" and "moto" in French. He loves to watch videos online of motorcycles, which I don't really like him to do! I don't know if I want him to race or to try and ride.
As parents, I think we're all in that boat.
Yeah, one day I'll think it's cool if he races, but on the other hand I don't want him crashing. But they put smiles on our faces everyday. When I get home everyday I'm happy. When the day is over and I have my kids, I'm very happy.