5 Minutes With ... Jake Weimer
Just as SoBe/Samsung Honda's Jake Weimer was gaining momentum in the 2006 Supercross Lites series, a traffic accident just before the Dallas Supercross forced him to sit out for several months with severe facial fractures, which requiring four plates and numerous screws. Weimer made his return to racing in the AMA Motocross Lites Championships at Budds Creek but was off the pace. Now with a new trainer and an impressive ride at the 2006 U.S. Open, the Idaho native is ready for 2007.
Racer X: First, Jake, great ride at the U.S. Open. Let's hear your thoughts on how the weekend went down.
Jake Weimer: Overall, it was a good weekend, both for me and for the team. Friday night began a little rough, as I rode a bit tight and nervous, but Saturday night I calmed down and got some good starts, then rode a smart and solid race. So it turned out to be pretty good. I'm happy with my results, and I'm happy for the team.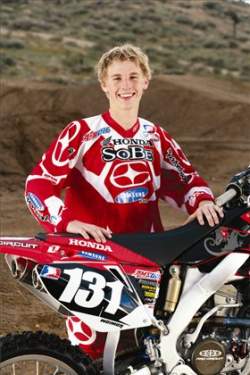 Idaho's Jake Weimer

photo: Courtesy of Vreeke and Associates

Isn't the U.S. Open where you made your pro debut last year? You did pretty well there too.
Yeah, you're right, Jim, I actually felt pretty comfortable there last year as well. I think a lot of people thought I would choke because I did have some pressure on me with it being my first pro race. But I really didn't feel pressured, it was only my first race, and I just went in there hoping to do well. The first night I won my qualifier. I don't remember what I got in the main event, but I know that I fell down and got seventh or eighth. Then the next night, I ended up getting third in the main event, so I did okay there last year.
What is it about the U.S. Open that you like or that suits your style?
You know, I don't think my success this year had anything to do with it being the U.S. Open. I think it had to do with the really, really rough AMA motocross season that I had. About a week before Glen Helen, I hired a trainer and he put a really good program together for me. Just after Glen Helen, I took a week off, and then we started hitting the Honda track hard and hitting the gym. This year my success [at the U.S. Open] was from working hard. I worked very hard for the U.S. Open this year. I felt comfortable, but I think a lot of my performance had to do with the amount of work I put in, specifically before the U.S. Open.
You mentioned having a rough motocross season. Was that due to that car accident you had during the supercross series?
Yeah, like you said, I think the biggest thing was being involved in the car accident. I healed up from the accident, which required surgery and all that, so I did take a good amount of time off the motorcycle. I got back on the bike and thought I was okay, but I was not ready at all. I didn't feel right on the motorcycle. Physically, I felt okay, but I know now that my balance was not what it should have been. I think I just rushed into the outdoors a little bit too soon, which was my fault. I could have told the team. Nobody was pushing me to do it, but I just wanted to race so bad from sitting around for so long. I had never ridden an outdoor national before this year, so I really didn't know what to expect. The first couple rounds went pretty rough, and I was just getting mentally beat up and couldn't get it together. It's really tough to get back in shape in the middle of the season—it was just kind of a snowball affect. After Glen Helen, I just basically scratched the motocross series off and said, That was that, I'm now starting a new year.

So your second overall at the U.S. Open was at least an excellent way to wrap up the year.
Exactly, but the U.S. Open for me was more like the start of my next year. That's how I was looking at it. I really wanted to go in there and do well and get things rolling on the right foot, and that's exactly what happened. So I'm pretty excited about it.
Switching back to your early racing days, Idaho seems like an unlikely place for a "factory pro" to grow up.
Yeah, I know exactly what you're saying. It's kind of weird. It's not exactly common for a motocrosser to come out of Idaho and made it to where I have—it's kind of unusual. There haven't been very many people that have done it, but there are quite a few people that ride in Idaho. I think the only thing that saved me was my dad. When I was at a young age, like eight years old, he took me to California in the winters. I would basically get smoked there, and then I'd go home during the summer and wax everybody at the local stuff. What motivated me was going to California and saying, "Okay, well, obviously we're not near as fast as they are down in California, so I need to step it up." Just traveling and riding different places and going to the amateur nationals really helped. As far as growing up in Idaho, I think it was good. You can get away from everything. There's not much to get distracted by [laughs].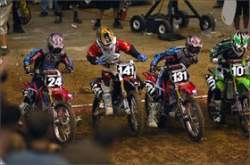 Weimer was a strong starter at the U.S. Open

photo: Steve Bruhn

With you now riding for the SoBe/Samsung/No Fear team, does your dad still play a pretty important role in your racing?
My dad still plays a huge, huge, huge role in my racing. He did back then, and he still does now. I know a lot of people say this, but I can honestly say that if it wasn't for him, I really wouldn't be here. He is the one that got me here. For that, I have to thank him. He doesn't need to be working on my bikes and getting ready to go to the races and stuff anymore, but as far as stuff that I don't have time to deal with, he does a lot. When I was just in California for a month getting ready for the U.S. Open, he was at home in Idaho rebuilding my supercross track. He really does play a huge role in my racing.
Talk for a minute about how your deal with SoBe/Samsung/No Fear Honda came about.
It's been incredible. They are a great team with a lot of great sponsors and a lot of great people. When I was about 14, I rode for Honda of Houston, which plays a huge part in Honda's amateur program. Then when I was 16, I actually went and rode Suzukis for two years. I was part of their amateur program. But while I was on Honda of Houston, I met some people from Honda. I am also very good friends with Josh Grant, and when my amateur days were ending, I talked to him. He talked to the team for me, and I ended up calling and talking to them. They originally told me no, that they weren't going to have a spot for me. Then Josh got hurt and he was going to miss the West Coast supercross, so we called the team back and talked to them some more. I went to Glen Helen last year and watched the race, and that following week I went out to the Honda track and was riding one of their bikes. I ended up signing a contract a couple days later—it was pretty intense. Josh Grant played a huge role in getting me on that team. He definitely deserves some thanks.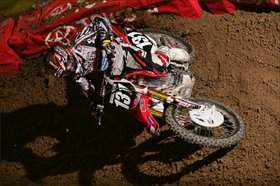 photo: Simon Cudby

How has it been to ride with everyone while testing? Have you learned a lot?
Yeah, of course! Last year, LaRocco helped me out a ton. I need to thank him for that. He gave me pointers and let me know what he thought I needed to do. As you know, he's retired now, but still he helped me out this past summer—I went and stayed with him during the motocross series. So he's taught me a lot, and so has Kevin Windham. I struggled with starts all summer, and the week before the U.S. Open, Kevin helped me, and I got some great starts there. So I have definitely learned some things from everybody on the team.
When we first started talking, you talked about how you consider the U.S. Open the start of your new season. Based on your great ride there, where do you see for yourself in the 2007 Supercross Lites series?
I want to finish top-three overall for sure, and I also want to win some races. A championship would be great, but my ultimate goal is to finish top-three and win some races. I would be happy with that.