In today's press conference inside the MGM Grand Garden Arena, defending U.S. Open winner Ricky Carmichael had a special announcement to make regarding his future. He was joined by Kent Atherton of Ginn Sports Entertaiment, and here's what they had to say:
Kent Atherton, Ginn Sports Entertainment:
Welcome everybody. I'm here on behalf of Bobby Ginn and Ginn Sports Entertainment and our NASCAR team, MB2 Motorsports. We're thrilled to be making a second major announcement in less than a week. Last week it was welcoming Mark Martin as the newest member of our race team, starting January 2007. He'll be driving our #01 Army car. This week we felt it was particularly important to come to Ricky's house and as you all know, he is the most accomplished racer in his sport, and he's ready to move to four wheels. And it gives us great privilege and pleasure today to announce that he is the newest member of our MB2 Motorsports race team, so congratulations Ricky!"

On the details of going NASCAR racing:
Ricky Carmichael: Yeah, it has been a long process and some people knew, but we've been working a long time on this deal. My management company, Sports Link, knew Bobby Ginn, and that's how this all came about and having the opportunity to drive for MB2 Motorsports. And one thing led to another. I've did some testing with some other teams and everything, and it went good, and we had some talks, but this deal felt right for me. They're making a huge commitment and are really doing things to help me and everything, and a lot is focused around myself and teaching me and developing me to someday be in the Nextel Cup. Obviously that's our goal, and I'm just really, really excited about it. This is something that's been a dream of mine, and it's a fantastic challenge. I'm very optimistic going into it. The times that I've tested—it's very hard—but it's something I think I could do and I'm just going in there with the attidute that, Hey, I have a great opportunity to do it and I'm going to make the best of it. If it works out, great, if not I know that I had the best people behind me.
When we'll see him in this car:
RC: Well, I signed a multi-year deal—it's a three-year contract. A limited schedule next year of 15 races, starting out in some late-model asphalt racing, which, for some of you who know, it's more of a local stock car racing level. Defending on my progress and how I do we'll then go in to some ARCA races. And then depending on how I do in that, we'll then do some Craftsman Truck Series races also. But starting out at the late model local level racing and doing some ARCA testing and stuff like that. But I'm scheduled to do 15 races next year, and then the following year it bumps up to 25 or 30. And then obviously in '08 it's a pretty full schedule. I think it's a great program marketing-wise, and it's a great story. If I could hold my end of the deal up on the driving side and really progress the way that I'd like to and the way they think I can, it'll be really fun. I think it's going to open up some new avenues to the guys in motocross and supercross. I think it could bring some of the fans from NASCAR to there, which is important and great for the sport—the sport that I love, that has made me and which is really the only reason that I'm here today and have this opportunity with MB2. And, it's definitely very special.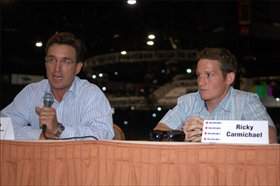 Kent Atherton and RC

On the decision to sign Ricky:
Kent Atherton: Well, there's really no better time to bring Ricky to our team. We have three veteran drivers and the signing of Mark Martin last week, he wants to continue to race in cup, but he's a great mentor and he's excited about Ricky coming on board, and having a chance to be a teacher as well. Ricky's record speaks for itself. There are very few athletes, if you look across all of the major sports, both in and out of racing, and Ricky has achieved success at a phenomenal level. I mean, he's has set records that will probably never be broken, and it's rare to find that kind of athlete who continues to strive and do his best, even after all of that success. His determination to compete, you guys heard it here today, he's excited to be here. He's not sure why, but he's going to go out there and rock, I know it. I think we're going to see the same from him on our track. No surprise to this audience, he has tested extremely well against some veteran drivers in this car here. So, we are going to bring him up slowly. We want to do the right thing, give Ricky the time and the coaching and give him every opportunity to succeed, which we know he'll have the opportunity to do that, so we're excited.
On maintaining his #4 in car racing:
RC: That's the plan. Actually, for those of you who don't know the numbering situation in car racing, the teams actually own the numbers, and we're working on trying to get the #4, and marketing-wise I think it'd be great. We're going to try and do it. I know he's trying to purchase that number and hopefully it'll work out. It would definitely seem weird without #4 on my back, but I'm not going to be picky at this stage. I'm just thankful for this opportunity.

On how he'll handle losing:
RC: That's a great question. One thing I've learned from the 10 years as a professional at this, and especially in the last five years when I started racing with Jeremy in '01, and even with Jeff Emig—I just learned to have patience. I know sometimes it don't look like I have patience on the track, but I really do. That's one thing that I'm going to try to bring to his in racing and learning, as well. Just, you have to have it. You watch these TV shows and you hear the guys, and they're pumped to have a top 10 car, and sometimes that's all you have. The cars make a big difference in this sport, just from the little bit that I've driven, and I don't claim to know anything like the Cup guys do. But from what I do know from driving, it's very tough and I have a lot of respect for the guys.

Kent Atherton: I would say this. Ricky is going to have a great team behind him. Anybody that knows anything about Bobby Ginn, he is committed to getting this team up front. He is going to invest the resources to do everything possible to give these guys the support they need to win. It is a very competitive sport. Often times just making the top ten is considered a win in Cup. First place gets traded every week and there's really no one that is dominant any more. With the car of the future coming, it was also Bobby's feeling that it was a good time for us to enter as a team owner. We're going to three cars in Cup next year, so we think there is more parody. It's certainly a team effort, unlike the two-wheeled version Ricky is accustomed to. It's the biggest spectator sport in the world. It's 75 million strong, and whether you're first or 31st, the fans are there to support these guys in a big way week in and week out. That's one of the great things about NASCAR. We think there will be a lot of crossover from Ricky's fan base to NASCAR, and we're excited about that.
On how he will measure success in the future:
RC: I think if I could become as established drive and be in the Nextel Cup Series, that would be awesome. Obviously, I think that will be my first goal. I want to be good enough to race those series', you just can't sign up and go race a Nextel Cup race or a Busch race—you have to have some credentials. So, if I could come out and do well in late model and go to ARCA and do well, each time I could progress forward I think that's an accomplishment. So, as far as winning and stuff like this, obviously I want to win, but I have to realistic, and my realistic goals now are doing good in each chapter of car racing that I'm in.
On the where and when will be the first race:
RC: Well, I'm not sure where my first race will be. Jay Frye, our CEO of MB2 Motorsports, he's kind of the guy that I'll be dealing with. He'll be the Roger DeCoster, if you will. He's kind of the guy that's going to have a lot of influence on when I'm driving and when I'm racing, and this and that. But I don't know when my first race will be, probably sometime next year I would imagine. But I'd like to think that I'll start driving and testing here in the next couple months. But, they've been very gracious of my motorcycle contract with Suzuki. They know that's what made me and they're very flexible and it's working out good. But I don't know where the first race will be.
On the learning process:
RC: Probably learning different tracks and learning the car and how it works and trying to apply what I've learned in this sport to that. Really just listening to other drives. I think it's great that Mark Martin has joined us. I never even knew that when I signed my deal. I did a press conference this morning, and they asked me if that had any effect on my signing, and I told them I didn't even know it till I saw it on Speedvision. But, it's going to be tough, and I'm just going to be there with open arms and willing to learn.
For more information about Ginn Racing, check out www.ginnracing.com.