5 Minutes With ... Eric Peronnard
"Look at how big this stuff is," said Kevin Windham on Wednesday morning, walking into the Home Depot Center and looking out at the racetrack that will play host to the Jeremy McGrath Invitational Supercross this Friday and Saturday evening. "Look at how big the jumps are back there. Look at the berms. The berms are like mountains!"
A few hours later, Windham, along with Jeremy McGrath, Josh Grant, and Josh Hansen, was racing around the track and hitting the metal freestyle motocross jumps, flying as high as a small office building. We got a long look at the McGrath Invitational circuit on Wednesday, and what we saw was an impressive, highly evolved hybrid of supercross, motocross, and freestyle motocross.
Helping McGrath and event promoters Wasserman Media Group, LLC, piece the event together is race promoter Eric Peronnard. A longtime veteran of the Paris-Bercy Supercross and originator of the U.S. Open, the EnduroCross, and more, Peronnard's experience in race promoting leaves the McGrath Invitational in good and capable hands. At Wednesday afternoon's press conference, we spoke to Eric about the race and what it has taken to bring it to life.
Racer X: Eric, some people many not be aware of the fact that you kind of set the precedent for the standalone supercross when you created the U.S. Open of Supercross—as it was originally called—in the October of 1998. How did you wind up involved in the premiere Jeremy McGrath Invitational?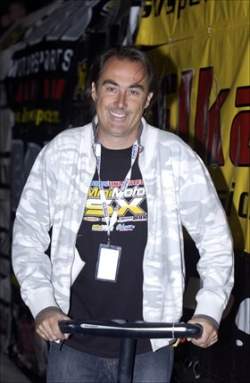 Eric Peronnard
photo: Kinney Jones
Eric Peronnard: First off, it was much easier for us to do a supercross ten years ago than it is now, because we were the first one. When you take a situation by surprise, you definitely have to have luck involved. As far as this race, Jeremy and I, we've been good friends forever. I was with him in the same room when he won his first 250 supercross victory—it was in Paris in 1992. He won it in the Parc de Princes [a 45,000-seat stadium located in the Bois de Boulogne are of Paris, France. I was the producer of the Parc de Princes event for two years. Jeremy had just been hired from Team Peak Honda [the precursor to the Monster Energy Kawasaki team] by American Honda to ride the 250cc class. It was his one of his first 250 SX and he smoked everybody: Jean-Michel Bayle, Jeff Stanton, Rick Johnson—everybody. So we've had a great relationship over the years. When Jeremy came to the MiniMoto SX in Las Vegas this year [which Peronnard promotes], we talked about it, and he was very happy to enlist us as the race producer. How can we say no to Jeremy? He's the best supercross rider ever.
Here we are now in 2006. How did you first begin planning and organizing this race?
As soon as you get our of the norm and create a maverick event, as I would call it, you begin facing a lot of political difficulties, politically speaking. I think Jeremy got his share of that, without getting too in-depth. So when we began, we basically tried to out to things together with a crew that has never done a supercross. They're all talented and experienced people, but we have brought the experience of running a race into the picture. We are the link between all the good people trying to make the race happen and trying to create a quality supercross show.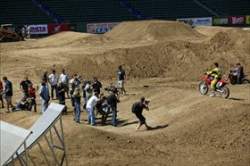 MC is not only the promoter, but also a competitor

photo: Steve Bruhn

Has Jeremy had a big role in executing the vision of the racetrack and event itself?
Yes, Jeremy has been very involved in the creative side of it. He's been involved in making the track with builder Randy Mennenga. In fact, he's told me about this concept for years. The idea of this race has been in his head for a long time.
How does the track below us compare to a traditional AMA supercross track?
It is most likely one of the biggest supercross tracks ever. I'm not a data guy, but it seems we've got more dirt in here that's ever been brought in for any supercross track. We have 900 cubic yards of dirt in here. Also, the metal ramps are a big plus; they bring a freestyle element into racing. The metal ramps are made for people like Travis [Pastrana] or Jeremy who enjoy big jumps. It's a big track. It's wider, it's longer, and the jumps are higher. This was all Jeremy's idea. For some reason, he's always dreamed about building a big track like this. It's very impressive to see something this big. Between the track and the purse—the purse is $500,000—we elevated the bar, just as we did with the U.S. Open.
What's your opinion of the rider lineup for this race?
I think the racing is going to be fantastic. We don't have the killers we may have had. I'm not sure if Ricky could have raced, considering his physical situation; Chad Reed is in Australia recovering from an injury. The only person who could be and is not here is Bubba. That's too bad. But then again, having Bubba here might kill some interest [as the racing might not be as competitive],
There's been some talk about the size of the crowd. Can you elaborate on that?
I have absolutely no idea. We left that to the production people. Honestly, I don't know.
As far as crowd size, what would you be happy with?
It's a two-night race and we're not Las Vegas. I would say we'll have a really good crowd on Saturday night, and I'd say we'll have an average crowd on Friday. Friday is a always weak night for anybody, even in Vegas.
What do you think of the Home Depot Center?
It's beautiful. It's really a perfect place. It's not too big. The spectators the farthest away from the track will still be really close. It kind of reminds me of Sam Boyd [Stadium, in Las Vegas] before it was redone. Not in quality, but in pattern.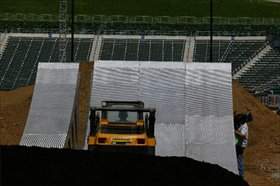 Ramps are incorporated into the track!

photo: Steve Bruhn

You invented the U.S. Open, and now here you are, nine days prior to the 2006 version in Las Vegas, competing against it with this race. How do you feel about that?
I feel like this race is creative and that it's good for the sport. I'll always be involved in something good for the sport, as long as I'm invited to be. There's no political twist in this. As long as it's good for the sort, I'll be a part of it. And I think this race is good for the sport. We have a multi-year contract with the building and the TV channel. It should be here for years to some. It's good.
Can this evolve into a great race?
I think it can. I think it gets supercross out of the box. I'm not saying it's needed, but it's always good to get out of the box—and I don't want to offend anybody by saying that. I'm just saying that it's good to have a race that is not like the others. That's what we tried to do in 1998, and I think Jeremy has that in mind with this race. He just wants to try something new and different.