5 Minutes With ... Scott Summers
September 29, 2006 12:03pm
Scott Summers will always be the role model for off-road athletes. He became an icon with his professionalism, his enthusiasm to produce results and promote woods racing, and the wall of AMA National Championships that he has at his home in Kentucky. One thing us motocross folks tend to forget is that Summers was racing and winning on Honda XR600 four-bangers eight years before Doug Henry showed up on one at the '97 Gatorback National. Now Summers is managing his own team in the Suzuki GNCC Series, with a very talented young New Zealander under his capable wing.
Racer X: Scott, how are you doing?
Scott Summers: I'm doing well, thanks.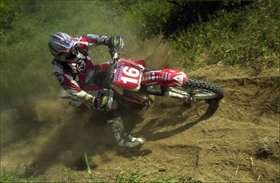 Scott Summers on a CRF450R in 2004

photo: Jason Weigandt

You have approached the GNCC season and off-road in general in a whole new capacity this year, haven't you?
Yeah, this has been a different year for me, even though going to the races is something I've done for years. This is kind of a new role that I've played as team owner and team manager. It's been fun—kind of a new, different challenge.
Tell me how you found Paul Whibley—a guy all the way from New Zealand?
Well, I've been friends with Geoff Ballard for years, from Australia. And he was a National Hare Scrambles Champion here back in the 80s, I believe.
Yes, and he rode a Can-Am and wore Go-The-Rat riding gear!
Exactly. Anyways, Geoff and I remained friends, and Geoff told me about Paul, and that he was very talented and he was a Honda guy and younger than me. And that was something we needed for my team—someone like me that wasn't so old and more skilled!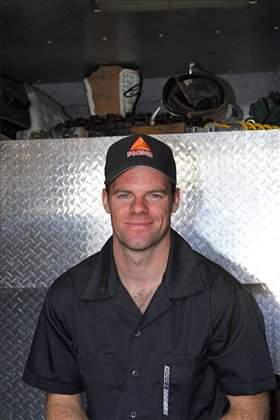 Parts Unlimited/Moose Honda's Paul Whibley

photo: Ray Gundy

Don't sell yourself short there Scott. As someone with five GNCC titles, did Paul know who you were?
Yeah, I think so, just from reading magazines and being involved in the sport for years. So, it was just kind of a perfect scenario that Paul could come over here. It just worked out that he had been riding the World Enduros for a couple of years, which I think is a great training ground for the GNCCs. Now that the GNCCs are a little more open then they used to be, having learning the good cornering speeds that you pick up, I think, from riding World Enduros, that was good that he happened to have that on his resume.
How did he adapt to the American woods?
To be honest, it was a little bit of a struggle at first because of the tight woods. In New Zealand where they race, it's typically a little more wide open, so he was more used to third and fourth-gear stuff, and less used to first and second. So, it was kind of a shock for him at first, but I can really see his improvement from when he got here back in March till today. He got 17th at that first round in Florida and now he's kind of knocking on the door for a podium spot. And riding here and living with me in Kentucky, my trails are all pretty technical, so I think that has helped him too. During the week he's riding in the stuff where he needs improvement. Out there in the open stuff, I think he's right there with Juha [Salminen] and some of the world's best at cornering speed.
When it comes to race day you guys are always talking and conversing about strategy, but when he pulls into the pits, how does it feel to be on the other side of the quick fill?
Well, it's really funny; that's when you get your adrenaline and you get your thrill. You're so worried about doing something wrong, and you have so little time to do things right. I used to get nervous on the starting line; now I get nervous prior to Paul pulling into the pits. It's kind of a rush, and I think everybody who ever pitted for somebody would agree with me that it's exciting and fun to be a part of the race. Although it's a small role that only lasts a few seconds, it really is a rush.
How far do you want to go with the Summers Racing Honda team? Is one rider enough, or do you want to expand?
We actually helped another rider this year a little bit; Charlie Mullins' little brother, Ryan, we supplied him with a 250X this year. So yeah, I think down the road, it's really up to Honda, whether or not they're happy with what we've done this year, but it's up to them where the program goes. I think Parts Unlimited and Moose and a lot of the other sponsors were happy with what we've done and I can't help but think that Honda would be happy too, because it was kind of a trial year, similar to back in 1989 when I didn't have any support from Honda and I had to kind of go out and prove myself. We bought a truck and put Honda on the side, and I ended up winning a championship. From that point forward Honda was very thrilled to be involved, and it was a great relationship because they didn't put a lot of restrictions on me. They said, Hey Scott, we really appreciate what you've done. I think that they could document that there was a difference we had made in sales, and it made good sense for them to support my program. So I was thrilled back then at that time, and I'm kind of hoping that we prove to them this year that we're capable of getting results at the highest level so that I can start all over again, but I'll just be in a new role and Paul will be twisting the throttle.
Did you ever think back to those days in the late 80s where, I think one time I jokingly said that you were riding a unicorn, because you were the only guy out there with a four-stroke.
Well, it was just something I really believed in and it didn't affect me every time somebody told me, Hey, how well do you think you'd do if you were riding a real bike? I felt that I was riding a real bike and I knew that I had learned to ride a motorcycle primarily on an XR200, and there were things about that power character that I thought were unmatched by anything out there. So it was just a natural thing for me to come to the defense of the four-stroke power character. So, it's really amazing to me how far four-strokes have come today to where they were then. But it doesn't bother me and I appreciate the fact that you nominated me for that AMA award—that was very cool.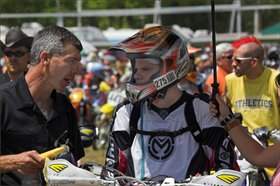 Summers' many years of off-road racing experience is a huge benefit to a GNCC-newcomer like Whibley

photo: Ray Gundy

I've got to go to the Hall of Fame ceremony next week to introduce my hero growing up, which was Heiki Mikkola, but I will go with a message saying that Scott Summers belongs in the AMA Motorcycle Museum Hall of Fame.
That's very cool. We, as woods riders, our just used to getting less respect that the motocross community. We're woods riders, and I don't expect a whole bunch of accolades. I did what I did because I wanted to and it was fun. I had a great career and I'm not looking for anything else from anybody. But I thought that was real nice.
I said it before and I'll say it again, but I think Malcolm Smith and maybe Dick Burleson might be the only racers who have done more to make that sport of off-road what it has become then what you did, Scott.
It's been a fun ride.