5 Minutes With ... Trey Canard
September 28, 2006 7:43am
Although it took years of trial and error to get it to happen, Trey Canard was, figuratively, the overnight sensation of the 2006 American amateur motocross community. Beginning with a six-championship, 17-for-18 moto sweep at Ponca City and ending with a perfect six-for-six moto score at Loretta Lynn's for two AMA National Championships, Canard was scouted by the Sobe/No Fear/Samsung/Factory Connection race team in Hurricane Mills, TN, and just a few weeks later flown to California to test ride one of their Honda CRF250Rs. How did it all materialize? How did Trey Canard go from a somewhat unknown B rider from Oklahoma to the latest member of the factory Honda-backed Factory Connection race team? Read on.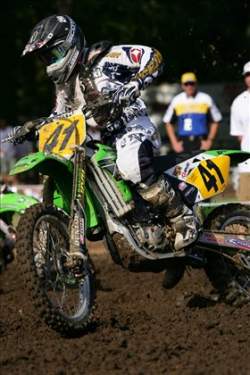 Trey won all six of his motos at Loretta Lynn's

Racer X: Trey, congratulations on the new ride…
Trey Canard: Thanks.

How did the Factory Connection team first approach you?
At Loretta Lynn's I met with Ziggy [Rick Zielfelder] and some of the other members of the Factory Connection team. They told me they liked the way I rode and we started talking about what I was going to do in 2007. Then after Loretta's, I went to race at Millville. While there, we went to dinner with J.C. Waterhouse, Jeff Majkrzak (team co-owner) and Christian Kibby (crew chief) and we kept in touch from there.

Did you ride the Honda before finalizing the deal?
Yes. I came out to California to ride the bike. I rode at RaceTown. It was the only track Honda could rent out. It was so good. They don't have tracks like that where I'm from in Oklahoma. It was fast and kind of hardpack and there were ruts in it.

Obviously you liked the Honda…
I had a blast on it. I didn't want to stop riding, but it was their bike.

From what I'm told you rode both the Honda and the Kawasaki when you came out to California in late August. Did it come down to choosing between the Factory Connection and Monster/Kawasaki team?
It did. Man, I have to tell you it was the hardest decision I've had to make in my life, so far. It took me a good month to make a final decision. In fact, when I first got back from California after riding the two bikes, my mom and I sat down to make a pros and cons list for both Honda and Kawasaki. We couldn't find cons for either side.

When did you make your final decision?
I signed a letter of intent with the Factory Connection team on September 11.

So where do you go from here?
Train and get ready for the Mini Olympics. We decided that the Mini Olympics will be my big debut race with Factory Connection. I'm going to go to California right after the U.S. Open to begin getting ready.

As far as racing, do you know what events your program will entail in 2007?
Right now I plan on doing Lake Whitney and Oak Hill, Texas and Las Vegas. After Las Vegas, I may turn professional. If not then, I'll race Loretta Lynn's and then do the last four Nationals. Either way, I'm happy because Factory Connection has given us a lot of freedom in regard to when we want to make the decision to turn professional. After Las Vegas, Honda, my mom, and I will make that decision.

To many people, you have been the revelation of the 2006 amateur scene. How did things go for you in 2005?
After the Loretta Lynn's race in 2005, I had a horrible time. The whole year was awful. I was not in good shape at all. I was not doing what I needed to be doing. Then things changed and I set out to do what I wanted to do. I had an awesome race at the Mini Olympics and won four championships there. I won everything there — I won the Pro Circuit Platinum Pipe and the Scott Golden Goggle awards. Lake Whitney didn't go well, then I had bad luck and crashed and got a concussion and broke my wrist at Oak Hill, Texas. After I healed up, I worked as hard as I could to get ready for Ponca City and Loretta Lynn's. I wanted to go to those races and open eyes and show people what I could do.

What did you do to get ready?
I started working with my trainer, Greg Direnzo, after Oak Hill. We did a lot of cardio stuff and a lot of bicycling and sprints. He also worked with me on my diet and mental preparation. It was the whole nine yards. He played a major role in my success this summer. I'm in 10 times better shape now.

How do you think you'll do at Gainesville and the races thereafter?
I'm not going to say I'm going to dominate, but I'm going to do my best and give 110 percent. I've been given this awesome opportunity and I want to use it the best I can. I want to do my job and have fun and win races.

Do you look at what you're doing now more as a job?
Well, riding is never a job. It's always fun. But what I'm doing now is more of a job. It's more about these people who are putting a lot of time and effort into me. I want to give them results. I want to work as hard as I can for them.

How has the amateur racing community reacted to your new career opportunity?
I have not told too many people, but I know it's been in the rumor mill that Honda has been looking at me.

Not long after he won the 125cc Modified (12-15) class at Loretta Lynn's last year, Ryan Dungey was sought out and signed by Suzuki. Still a B rider at the time, his signing was unexpected if not downright shocking to some people. What's your take on what went on there?
People say what they're going to say. When Ryan Dungey got that Makita ride, a lot of people started talking because a lot guys wanted that ride. People were talking a lot of smack and it was crappy, but that's how it goes. So then I get the opportunity to ride for Factory Connection and Honda. I'm not going to turn the opportunity down. You have to take it while you can.

Dungey, Josh Hill and a few other talented Pro-Am riders were able to ride Nationals this summer. Did you keep an eye on those guys, and if so, can you see yourself amongst them?
Josh Hill and some of my other friends that have turned pro, I have seen what they have done, but I can't really put myself in their circumstances. I mean, I can't say I'll do better, the same, or worse than them. When the time does come for me to race my first National, I won't be out there all by myself. I'll be racing against guys I've raced against all my life: Wil Hahn, Ryan Dungey and Josh Hill.

Now onto the big leagues, huh?
Yes. You know I'd like to say thanks to Dave Gowland and everyone at Kawasaki. I've been with Kawasaki pretty much my whole life and they treated me well. They took care of me. I also want to thank my mechanic, Brent Presnell. He's been a big part of my success. So has Shane Niday, who has been helping me with my training and riding form for years.

For kids all over the nation, the opportunity you have been granted would be a dream come true. Is that how you feel about it?
Yeah, I'm really hungry. I'm happy. My dream is starting to come together. It's the start of a long dream and I'm only at the beginning. I'm pumped. Not many people get this opportunity and I want to make the best of it. It's really nice to know I have a place to go when my professional career begins. I sure want to do good when my professional career begins this summer, but it's a little more relaxing to know I don't have to cram my whole season into just one year. I'll have four or more races to get ready this summer and then I'll have plenty of time to prepare and get in shape and try find some more speed to be ready for my rookie year. I'm ready and I really want it. I'm hungry.