Welcome to the Shift Number Cruncher. This is one of the biggest weeks of the year for motocross. With this in mind we decided to drop back into the shotgun position and go for a big play. I think it is time for the Number Cruncher to hit a climax and really get to the core of what racing numbers are all about.

When Ricky Carmichael won the 1999 AMA 125cc Motocross Championship for the third straight time, he was faced with a fairly strange predicament. The sport was changing and was scratching and clawing its way into the mainstream. A marketing mindset swept over the industry and we began looking at different sports genres for clues. Stick and ball sports learned a long time ago about the revenue possibilities of using numbers to I.D. their athletes. Throughout the '80s and '90s, for instance, the #23 was synonymous with Michael Jordan. The same could be said for #80 for Jerry Rice or any other top player. Millions upon millions were made by merchandising companies. Other motorsports had also heavily invested into the concept of attaching a permanent number to their drivers, like the #43 with Richard Petty or the #3 of Dale Earnhardt.

The AMA decided to bring that thinking to SX/MX. With more titles than any still-active rider, Jeremy McGrath chose first, taking #2 (when he wasn't wearing #1, which was reserved for the current champion). Jeff Emig was next with four titles, and he took #3. RC chose #4, the digit he would wear to win his first 250 SX, at Daytona in 2000. Coincidentally, it was also the first number he had ever raced with.

Now, #4 is calling it quits, more or less, with fifteen championships, two perfect seasons, and more than 140 wins. The MX world will forever recognize this number as the one the GOAT wore; it is doubtful they will ever allow an AMA pro motocrosser to wear it again. But while Carmichael will always be known as # 4, there were also some incredible men who wore it before him.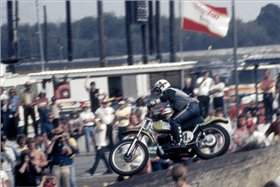 John DeSoto
This was the earliest #4 we could find—John DeSoto ran it way back in 1973. That's the Flyin' Hawaiian on a Kawasaki dinosaur at the Daytona "Motocross."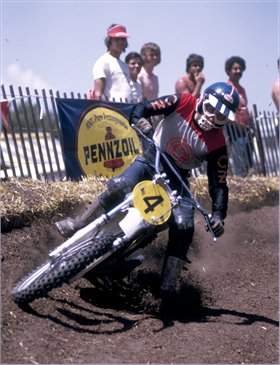 Jaroslav Falta
This is Jaroslav Falta, the ill-fated CZ rider who basically had the '74 FIM 250cc World Championship stolen from him by the Russians (and that had to be the baddest jersey available in 1974).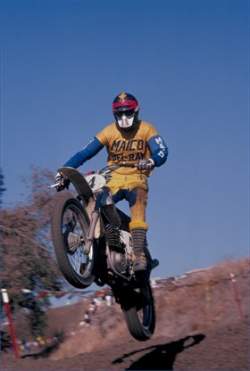 Steve Stackable

Steve "Short Stack" Stackable was famous for being able to ride pretty much anything (including Maicos after almost everyone else switched to Japanese bikes) and his incredible physical fitness.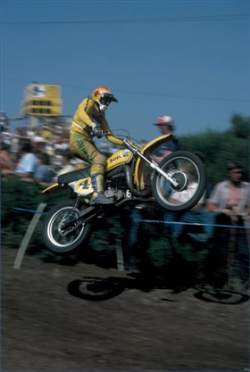 Gerrit Wolsink
Ricky wasn't even born when Gerrit Wolsink wore the #4 at the 1975 Carlsbad 500cc USGP. The Dutch dentist would win that race five times!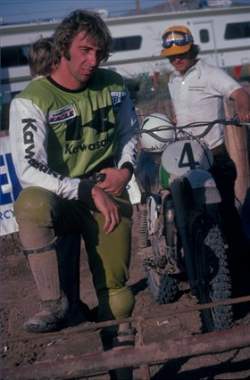 Jimmy Weinert
Although he looks pretty serious here, The Jammer, was one of the most colorful personalities in the sport's history. He wore #4 in the '76 250 Nationals.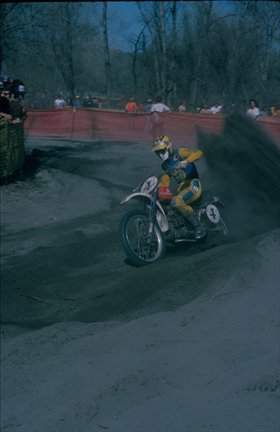 Kent Howerton

Being from Texas, Kent Howerton was one of the best sand riders of all time, and he basically invented using the clutch around the track. Here he surfs the soft stuff in 1977 at the old
Hangtown
track on his 250 Husky.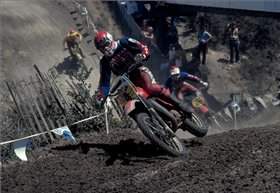 Brad Lackey
"Bad" Brad Lackey was #4 in the world when he rode for Team Honda at the 1977 Carlsbad 500cc USGP.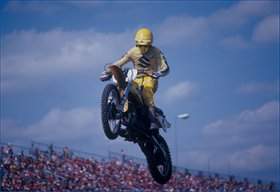 Kent Howerton
Here is the "Rhinestone Cowboy" Howerton sporting the # 4 again, this time at the 1980 Daytona SX.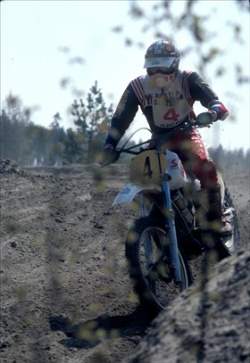 Andre Vromans

Andre Vromans, 1981 Swedish 500cc Grand Prix…. Wow, the Dick Miller Archives go deep!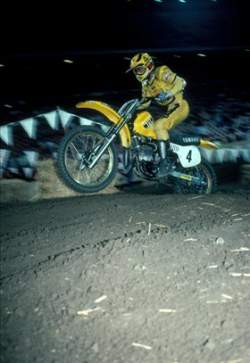 Bob Hannah
It's only fitting that the Original King of Supercross, Bob "Hurricane" Hannah, would race with the #4. For the better part of motocross history, Hannah was widely regarded as the best ever. By '82 he was two years removed from his sketchy water-skiing accident (where Marty Tripes was driving the boat) when this picture was taken. Hannah lost almost three full years recovering, then returned to his winning ways in 1983 on a Honda, only to keep getting hurt. But man, was he fast!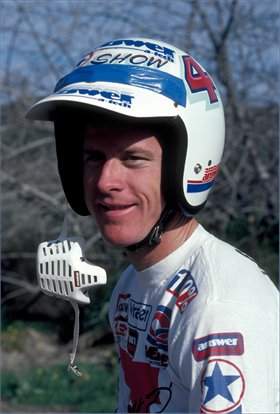 Johnny O'Mara
Check out the O'Show in 1983! You know he just hated that duct tape, but he did bag the AMA 125 National Championship that year.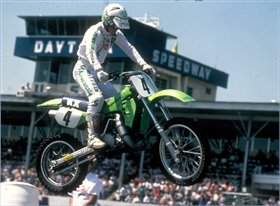 Jeff Ward
Jeff Ward was one year away from winning the 250 SX and MX Nationals when this picture was taken at Daytona in '84. Ironically, Daytona was one race he never won.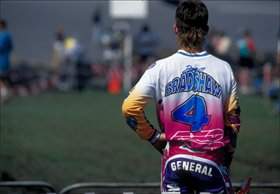 Damon Bradshaw
photo: Fran Kuhn
With apologies to Guy Cooper and Mike Kiedrowski, each of whom wore the #4 to titles in the early 1990s, the man most attach #4 to in that era might be Damon Bradshaw. Unique in almost every aspect of his career, nobody carried as much mystic and hype than the Beast from the East. Typically sporting snakeskin cowboy boots, sleeveless shirts, and a nasty disposition, B'Shaw was a true bad-ass on and off the motocross track. It is a tragedy that Damon never put it together and won a 250 title; his wins were legendary, but he left the motocross world wanting so much more.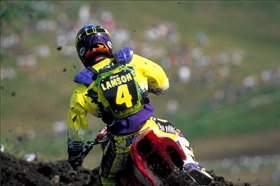 Steve Lamson
photo: Fran Kuhn
Serpico, as he was known to his native NorCal fans by, ran the # 4 during the 1994 125 Nationals while riding for Team Honda.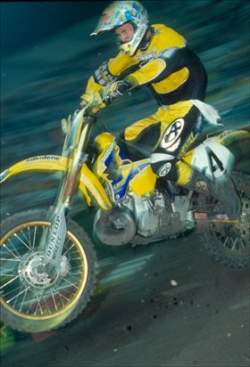 Larry Ward
photo: Jim Talkington
Larry Ward raced almost every bike made from 1987 to the present time. He has also worn almost every kind of riding gear. Here he rides a factory Suzuki wearing Answer, running the #4 toward the '98 Tampa SX win (before it got really muddy that night).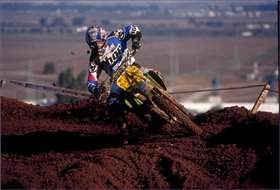 Jeff Emig
Jeff Emig is one of the most patriotic American motocrossers of all time. Fro has cried tears of joy and defeat in during his many campaigns for Team USA, which stretched from '92 through '97, with three wins and three losses. Emig answered the call in '96 when Uncle Sam came calling for a 500cc rider. Even though he had never raced a 500 before, he stepped up to ride the KX500 as McGrath, his main rival, rode the 250 class. The bike was a monster, but Emig rode the wheels off it in Jerez, Spain, and led all 500-class riders in both motos. With MC and 125-class rider Steve Lamson also having perfect days, Team USA won by miles.
Here we have RC racing 250cc supercross at the 2000 U.S. Open. This would go on to become the most feared gear color of all time. When he won the epic Anaheim 3 battle with MC the next January, he stayed in the orange gear for the rest of supercross and won out the series. (Another unique aspect of this picture is the #4 itself; after running this standard digit in '00, he and his crew came up with the stylized one he races with to this day.)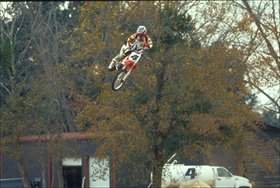 RC on Honda

photo: Simon Cudby
When RC made the switch to red after winning the SX title on green in '01, Johnny O'Mara said, "Just wait till people see how fast he is on a Honda." Well, in Ricky's first season aboard the big red machine he won a downright nasty twenty-four straight outdoor motos, as well as the AMA supercross title. But that season didn't get off to a very good start. First, he was soundly booed at the U.S. Open when he let the promoter talk him into wearing a cape and crown during opening ceremonies. Then he suffered a horrendous endo at Anaheim 1. He would recover to win the supercross title, and then again before sitting out the '04 winter with a knee injury. Then he came back and won twenty-four in a row again outdoors!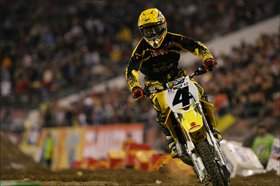 RC on Suzuki

photo: Simon Cudby
In 2005 Ricky took the #4 over to the big yellow tent at Team Suzuki. While he didn't win twenty-four in a row, he did win every single overall in the outdoor season to accompany his 2005 supercross title. He then closed out the final full season of his career in 2006 by again winning both championships, cementing #4 as the greatest number in motocross history.
Respect the 4.