5 minutes with ... Broc Hepler
September 19, 2006 4:11pm
Out of nowhere, word surfaced yesterday that Makita Suzuki factory motocrosser Broc Hepler was racing the GNCC this weekend at Unadilla. Turns out it was true, and John Dowd will be racing it, too! We gave Broc a call to get the inside scoop on the first racer to ever win an AMA Motocross National and compete in a Suzuki GNCC event in the same season.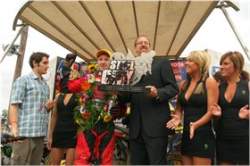 Broc won the Steel City National in Pennsylvania on Labor Day Weekend.


Racer X: So it's true. You're racing the GNCC at Unadilla this weekend.
Broc Hepler: That's the plan
So what brought this on?
I wanted to do it last year, and I just didn't look into it enough. Last weekend I went to Baja and did some riding off-road, so now I'm getting into the off-road riding. So I want to try it out.
So how much experience do you have in this stuff?
Well, I've ridden the woods since the 50 days, and I've always gone trail riding behind the house. So I grew up on it
You hit trails now, or do you just moto only?
Actually I went on some trails a few weeks ago. You know my dad and some of his friends, they like to ride trails. You know those older guys, they don't like to jump and stuff. So I still have to put the bark busters on sometimes and go out riding with them.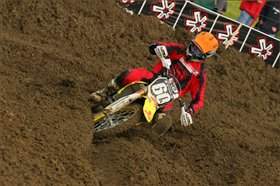 Broc knows a thing or two about riding in mud and ruts.


So you've even ridden with bark busters! And I know you can handle mud.
Oh yeah.
So did I hear you'll be racing an RM250 two-stroke?
Yeah. I could have ridden one of my RM-Z's, but the woods setup, I'm not too sure how well it would do there. So I called up Cole Gress, and he got hold of Mike Webb (Suzuki off-road Team Manager). So they're going to let me ride one of their off-road bikes, a two-stroke.
And they'll handle your pitting and stuff? Out of the factory semi?
Pitting? What's that?
(Laughs) It's a three hour race! You'll have to stop for gas!
Yeah. I think they'll take care of everything there. I just have to do my part.
And Dowd is racing, too?
Yeah he is. And Rodney Smith is, and Glenn Kearney. So we'll have four guys over there, I guess.
You have any expectations for results?
I don't have any plans as far as results. I just want to have fun. But I watch it on TV every week on OLN and I like it, and it looks fun. I know what it's about. And I ride in the woods at home. I enjoy it. I just want to run with the leaders and see what they're doing, and then maybe I could stay close to them until we get to the motocross track.
Do you want to talk any trash right now?
I don't think so. Hey if they beat me, they beat me. But they can't say anything to me until they try a motocross race.
So what do you do at this time of year? I know you've been banged up from Glen Helen the last few years, but now you're healthy.
I like to take a few weeks off. That's what we did last week, I wasn't doing any physical training, I was just riding in Mexico. So that's what I've been doing. I'm also doing some training on my foot, making sure that's 100 percent and ready to go.
You're still having problems with that?
Yeah. Not too much on the bike, but some of my training techniques, like bicycling and stuff, I haven't been able to do them like I want to. So I'm going to work on that this off-season and try to get stronger.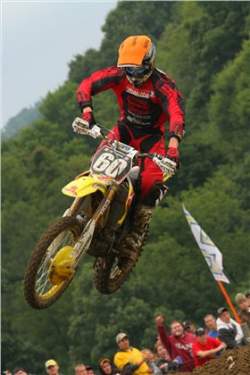 Broc will pit out of the FMF/Suzuki factory GNCC semi. He'll also race an RM250 for the first time since Loretta Lynn's in 2003.


Well there's one major difference between motocross and this. We had 1800 riders at this race last year. Do you have any idea what lapped traffic will be like out in the woods?
Yeah I've heard this race in Unadilla, everyone wants to ride this one, so it might be the toughest as far as lappers. I'll just try to take my time, be patient and smooth. I'm hoping my buddy will fly me there on Saturday, so hopefully I don't have to do seven hours of driving. I've heard the pros can't walk the track until Sunday, so I'll just check some of it out then.
How about the two-stroke?
I'm off the High Voltage MX Park by my house right now to go ride it. Hopefully I'll feel good on it. Hey do you get any holeshot money for this?
Yup! GNCCs have the Racer X Holeshot, too!
Okay, I have to work on that dead-engine start then, too.
Ever done that?
Nope.
But you think in three days you can get it down and go for the Racer X holeshot money?
I don't know. But if I do, I think I'll have to talk to Steve Whitelock and change all the motocross and supercross races over to a dead-engine start.
Hey I would stick with the live engine ones now. You're starts are going better and better. It's turned out to be a decent season for you down the stretch. Hey, do you get some kind of crazy bonus money if you win?
I don't know! I haven't even asked. But hopefully if I were to win I could get the Rodney Smith bonus.
Awesome. Good luck, see you this weekend, Broc.
Thanks!
(For more info on the Unadilla GNCC, scroll to www.gnccracing.com)