Monday Conversation: Christophe Pourcel
September 18, 2006 5:11am
The final round of the Motocross GPs in Ernee, France, got to see a new French world champion crowned at home. Young Kawasaki rider Christophe Pourcel had a good point advantage going into the final round; boosted by a very enthusiastic and loud French crowd, he tried his best to win.
Instead the win went to his rival Antonio Cairoli, the Italian defending champion, who went 1-1. Pourcel had to fight his way back up after a mistake sent him over the bars in moto 2. It was still enough to take home the MX2 world championship.
Pourcel looks to be next in line in a long and impressive list of French talent that grew up wanting to race both supercross and outdoors in America. He's going to be at Anaheim 1 on a Pro Circuit Kawasaki, but after a few rounds, he goes back home for one more season of GPs before full-timing it in America. The future looks very bright for him right now, so we stopped him at the Ernee press conference to see what he's about.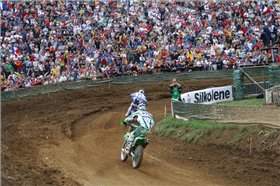 You haven't seen a crowd go nuts until you have seen the French cheer on a hero racing for the win at home! Here Pourcel pressures Cairioli in moto 2.

Racer X: Christophe, what is your racing background?

Christophe Pourcel: I started at 4 years old. I started riding for fun then got into racing. Part of my racing was in America at the U.S. Open—my first experience in America—in the 80 class. I got second and Mike Alessi won it. Another time I went to Loretta Lynn's and got third behind Alessi and Villopoto. I started in the GPs last year—before I was too young—and I was 5th overall. This year I went for the title.

How old are you now?

Just turned 18.

It must feel really good today to win a MX2 world championship in France.

Yes, I was definitely feeling the crowd pushing. I enjoyed that. It encouraged me to try to win the race, even though I didn't have to. I pushed really hard, and made a mistake and hit neutral, and went over the bars. I wanted to win for sure.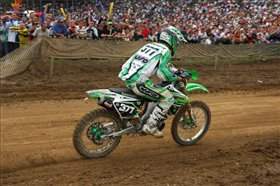 Pourcel charges in moto 2 as the crowd cheers

Just a comment, those motos were as good as Alessi and Villopoto this summer in the US. Has the whole GP season had intense, close racing like today?

That has happened many time this year with Cairoli, and even more with [David] Philippaerts. We have some really close racing, with hitting too.

So in the future, your new 3-year contract with Kawasaki has you racing a partial season in the U.S. in the first year?

Yes, the contract is to be racing the GPs next year, but it includes testing in America in the next few months, after the MXdN. Then there is a trip to Japan. I am leaving for America in October. Then I come back for Bercy (early November), then after that back to America to get ready for some supercross with Pro Circuit, in the beginning of the season. Then I return home five weeks before the beginning of the GP season. I am not sure how many supercrosses I will do.

That part sounds like David Vuillemin in 1998. What if you are winning in supercross, or leading the series, will you have to stay?

[Laughs] I will wait and see! I don't want to avoid the answer, I just don't know. I want to work hard to prepare for all this.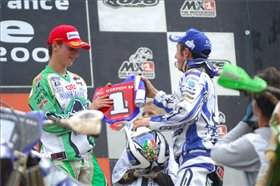 Cairioli hands Pourcel the #1 number plate.

Do you think you can be as good in supercross as outdoors?

I like both. I have no problem with supercross. I have a supercross practice track, but I have raced more outdoors. I feel as good in one as the other.

Next week at the MXoN, you are on Team France and will be competing with Villopoto, then soon you will teammates.

Villopoto will just be another rider to race. I am not thinking about that at the moment really.

Are you looking to have a career like Vuillemin or Pichon and racing a lot of years in the U.S.?

I have signed a three-year deal with Kawasaki so I know I will be in America for at least two years. Even if the first year, I am not completely ready, I am planning on winning in America after that. That's my goal. I have always wanted to race in America. It's like Bayle or Pichon—these guys always wanted to go to America. But I am very happy to win this world championship here, of course.

Thanks, and we will see you in a week, and be watching for #377 at Anaheim.

Thank you.