5 Minutes With ... Ivan Tedesco
September 18, 2006 11:17am
Sometimes adversity and change can make a person stronger. If you've ever participated in team sports, you've probably heard a coach relate (or yell) the expression, "There is no 'I' in team!" To that end, the Motocross des Nations IS a team sport (albeit a team sport born out of an individual sport). As recent history has taught us, everybody's All-American, AMA Team USA captain Ricky Carmichael, is currently on the injured reserve list due to his on-track miscue at the Glen Helen National. As a result, RC's Suzuki teammate Ivan Tedesco has been called off the bench (after being injured and out most of the summer) and asked to sub for player/coach Carmichael if he can't line up at Matterley Basin this weekend. While his chance of being sent out to race in the UK is maybe 50/50, Tedesco's attitude and team spirit in regard to being tapped to represent Team USA next weekend is very admirable, and to large extent, representative of what the Motocross des Nations is all about.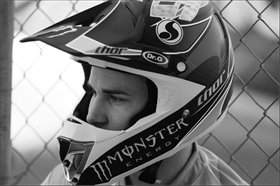 photo: Simon Cudby

Racer X: Ivan, how are things going?
Ivan Tedesco: Wide open! I'm just getting ready to go do the deal. I'm riding and training and doing as much as I can without wearing myself out.
How's your health? Are you at 100?
Yeah, yeah. I'm good. I'm ready.
As far as being asked to go to England, I'm going to go out on a limb here and say you got blindsided a little bit…
[Laughs] For sure. I was at the race on Sunday and watching when RC went down. When he did, I thought, 'That sucks for RC and for the team.' Then I got a call on Monday evening asking me to be ready to go to England. I said, "Alright, I'll be ready!" I made my plane tickets right then and there. I'm with RC and the team if he races or if he doesn't. I'll support him if he races and he'll support me.
If I have it right, your bike is already over in England, correct?
Well, they [Suzuki] sent two. Last year they sent two bikes over and realized it was good idea as the team needed the extra bike for extra parts and stuff. So, my bike and RC's bike are identical. The only things different between the two bikes is the suspension and bars. Our team can slap that stuff on and my bike will be ready.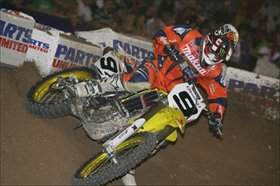 Tedesco finished fourth overall in Amp'd Mobile SX

photo: Simon Cudby

Since America's dominance of the MXdN began in 1981, there has been more than one racer that spent his season struggling with injuries, only to be invited over to race the MXdN for Team USA. Where I'm going with this is that if you go over and do well, it'll make up for your lost summer, huh?
Yeah, for sure. Definitely. I missed racing the outdoors this season. I was bummed I got hurt in Vegas because I was a defending outdoor champion and the injury kept me out for a while. But even though I've been out, I feel good and feel like I'm riding as good as ever. I'm not worried about my speed or fitness. I know I can go over there and ride well. I'm not the kind of guy that needs to do pre-season races or races to get ready or anything like that. I can get on the line and just go.
You certainly rose to the occasion last year at France. In fact, RC has already brought that point up.
For sure. I heard RC say it's much easier the second time around. Yeah, there is pressure but you live with it. I'm fine with all that. There's a lot of pressure to be an American rider at the Motocross des Nations; it's a kind of The World vs. America deal. I can deal with the pressure. The whole team will come together.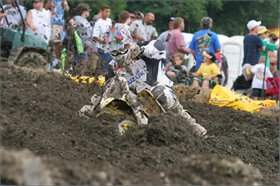 Ivan finished ninth overall in his only national of 2006 at Broome-Tioga

photo: Matt Ware

As far as your selection to join the team, there have been, if you read the websites, some detractors as well as some second-guessing.
Yeah, that's a tough deal. I've seen the talk on the Internet. It doesn't make sense. If RC doesn't race, the bikes are all there. I think it's just people being nervous, but I have confidence in the team and myself and I know Roger [DeCoster] and RC have confidence in me. We have a solid team. You can't make everybody happy. I mean, it's not like I raised my hand and yelled, "Me! Me! Me!" They came to me and I think it's cool.
Okay, the tough question. Come next Thursday, you're likely going to find out if you're going to race or not going to race. Has that scenario been going through your mind?
[Laughs] That's all I've been thinking about. All week long, while I've been riding and training, I've been going over it again and again. You know, if I don't race, fine. RC is a better man for the job. If I do race, I'll do the job. Either way I'm stoked to be invited to be a part of the team. Like I said, I'll support RC if he races. If he doesn't, I know he'll support me.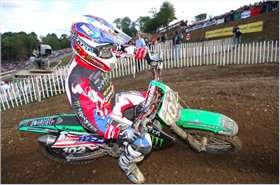 Tedesco rose to the occasion last year, and hopes to do the same if needed this year

photo: Steve Bruhn

While you were a kid growing up in New Mexico, did you keep a close on Team USA and its travels to the Motocross des Nations?
I didn't. Where I grew up, nobody really followed it. To be honest I didn't really know about it as a kid. I didn't realize just how big and important the race was until last year. When I did go to the Motocross des Nations in France, I couldn't believe it. It was the coolest race! After that, I'll definitely be following the race the rest of my life.
The fact that you've stepped up and offered to help the team any way you can shows your compassion for the team and the event itself. I think a lot of U.S. fans are going to be hoping you got the nod.
Thanks a lot. Whether I ride or I am there to watch the team race, I'm stoked.