Our fearless contributor G. Venkat Ganeshan, from somewhere in India—and now Philly—wanted to weigh in on RC's season. Here's how GVG sees the GOAT in his getting-better-all-the-time English.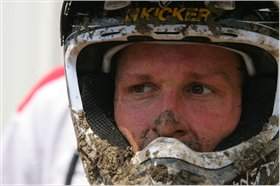 photo: Matt Ware
Now that
Ricky Carmichael
is going to ease off from the throttle, giving a break to the endless pounding of the mind and body, aka the AMA Toyota MX Championship, it's time to look back on a glorious career. RC, maybe you can afford to be proud for a moment, though, and at least tear off the modest face that you always seem to wear during Sundays.
Of course, RC hasn't hung up his boots yet or, for that matter, his champagne-soaked leather jacket for us to jump on and write a paean for him. It's just that he is going to take it easy on the schedule and participate in a select few events next season. But I can't comprehend a less crazed-out schedule that RC is going to do from next year.
Let me do a Dr. Phil here (yes, they have TVs in India). The gleaming bike sure would look inviting. So does the prospect of watching James "
Bubba
" Stewart and
Kevin Windham
duel out on a Sunday afternoon. Would that force RC to swear at himself looking in the mirror?
The key to this decision is how far RC can control his instincts on any given Sunday. I would love to be a fly on the wall to watch how RC can stomach the idea of watching someone else race in the outdoors when he pretty much knows he has way more aura and invincibility than anyone in the entire MX world right now. Maybe it's time to call on the reality TV folks at OLN or any other channel and do a play-by-play on how Ricky feels about not racing on Sundays.
It's an alien notion, for sure. But one thing the decision shows is Ricky's maturity. The most difficult decision that sports stars ever comprehend is to when it call it quits or when to take it easy. It's especially difficult in the case of individual sports.
In football and baseball, you are just a cog in the wheel. Mind you, not a key cog, unless you happen to be the quarterback or Big Papi. Whereas in individual sports, you drive your destiny, you are the creator of your fame and fortune and likewise you can dump the hard-earned name by a boneheaded move in a jiffy. Ask
Mike Alessi
.
The conundrum that sports stars always confront is the timing of their announcements. It's something like putting a block pass on a rival: You've got to get your timing and precision right. It looks like Ricky, by announcing his decision, has made a perfect holeshot.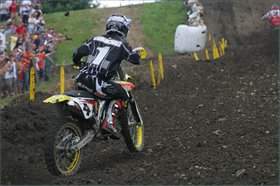 photo: Matt Ware
I am not going to lay down the records here. If you are fan of MX and a reader of this site, you are expected to know that Ricky does own quite a few records that seem near invincible at least for another decade. But for a star at such a level, to take the foot off the gas pedal when he is at his prime is something akin to walking off the table at Vegas after pocketing a million bucks. Tough, but not an impossible decision.
Not everyone has the moxie to do that. To arrive at this decision, Ricky might've spent quite a few sleepless nights, but whatever it is, it's his decision. We ought to respect that.
We might now prod Ricky to stay on the bike for a few more seasons, be it the track promoter or an ordinary fan or a cynical journalist. Everyone wants Ricky to continue what he is doing right now for a few more years for purely selfish reasons (well, accept those other 39 guys maybe). And if Ricky does a Junior Seau and comes back and doesn't live up to the lofty expectations he has set for whatever reasons, imagine the backlash. Do you think will you cut some slack because he is Ricky? Well, no. It's his records that might act against his favor. You don't want to see champ exit in a slump like Cal Ripken Jr. did, do you? You would sound off every message board saying that Ricky should've quit a few years ago; every journalist would start using his pen as a weapon and make scathing remarks at the champ. By announcing his decision, Ricky certainly has put a rev limiter to such unnecessary gobbledygook in the future.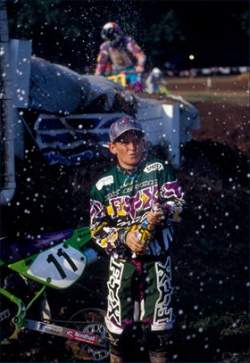 photo: Racer X Archives
Ricky must've imagined a thousand scenarios and had thousand fall-back options. But to take a break when you are miles ahead of the competition speaks about his foresight, his maturity and probably to a lesser extent his ego. Let's face it. After all, his ego is satiated to the point that he doesn't foresee a challenge in the near future.
The competition, or the abject lack of it outdoors, might've forced him to arrive at this conclusion. He doesn't need to prove his talent to anyone or any longer in the sport. He's achieved whatever he had set out to do when he started off in the sand and red-clay tracks in Florida when he used to diligently practice under the watchful eyes of his mom.
If he had found a worthy challenger who could go shoulder-to-shoulder and kept him on tenterhooks, maybe he would've found the competitive gas to do the full season for a few more years. But the competition is in a shambles.
Bubba
offers a glimpse or two of his potential but is often prone to the dirt and takes took many walks/rides to the Asterisk Mobile Medics.
Chad Reed
,
Kevin Windham
and the rest seem to be in a different planet that it will take light years for them to catch up.
And to think that RC has accomplished the sky-high status riding various manufacturers to the title seems staggering. What else does one would want to achieve? If the said person has obliterated the competition, has won on every single manufacturer, proving that the man is more important than the machine, what else does he need to stoke his championship fire?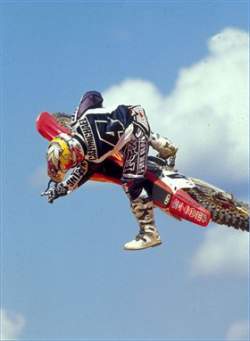 photo: Racer X Archives
Finally, Ricky had this to say about his decision: "When I sit back and look at it, to never lose an outdoor title, that's pretty amazing. I can't believe it. I feel really fortunate; it's been a great career. I had the opportunity to race against some great riders like Jeremy McGrath – the best supercross racer ever. The way I look at it; if I keep racing I'm going to get beat. You have to know when your time is and I'm happy with what I've accomplished in my career. I have some other opportunities and look forward to seeing what they have in store for me. I'm glad I could go out on top." That was after claiming his TENTH straight outdoor title at Broome-Tioga, speaking to AMAMotocross.com.
Spoken like a true champ. For a change, fans can put on a show to the champ at
Glen Helen
this coming weekend just like those tennis buffs did to Andre Agassi at the Big Apple. That's the way you can give back something to RC who has given us many a cherished moment and lots of flash-bulb-popping events.
Thank you, RC.