Racer X/Kawasaki Race Report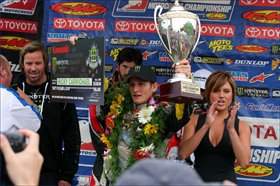 Ricky Carmichael won a whole bunch of money from Monster Energy, sweeping the triple crown for the second year in a row.

If
Ricky Carmichael
's goal was to retire on top, then he has accomplished yet another project on his extensive career to-do list. With just one race remaining on his final full season in the AMA/Toyota Motocross Championship presented by FMF, Ricky has proven once again, and now more than ever, that he is the greatest of all time and the greatest of this time. His convincing 1-1 performance landed him the victory at the Monster Energy/Kawasaki National at
Steel City
presented by Anderson and Strudwick, and what's more, he locked up the Monster Energy Triple Crown for the second year in a row, this time worth $30,000 for sweeping all three rounds of that series within a series.
Carmichael is going out way on top. In the rolling hills of Steel City, it was once again only Kawasaki's James Stewart who was able to put the challenge to RC, but once again RC prevailed with big margins both times. It is this final accomplishment—beating Stewart in a series of outdoor battles—that will allow Carmichael to leave full-time racing on the highest of high notes.

And that's because Stewart is an amazing competitor. He tried very hard to take Carmichael down at Steel City. In the first moto Carmichael jetted off with the $500 Racer X Holeshot Award, but Stewart soon slid into second and tried to stay with him, to no avail. It was better in moto two, when Stewart grabbed the early lead and Carmichael got a bad start. By the time Carmichael was into second he had eight seconds to make up on Stewart, which meant once again the fans were salivating over the chances of a great battle.

But it ended quickly, when Stewart lost the front end of his Kawasaki in a corner and slid out. Carmichael took the lead and checked out after that.

"I just feel sorry for the fans, I really wanted to put on a show out there," said Stewart.

Carmichael had the fans on his mind, too. "Man, these Pennsylvania fans, they are crazy," said Carmichael. "I've said it before, now that Gatorback is gone, I feel like the Pennsylvania races are my home tracks. And I'll be back at the Pennsylvania races next year."

Yes, Carmichael is supposedly going to not race a full schedule next year, but he says he will be back at Steel City. In the future, we'll know how long the greatest of all time was able continue to be the greatest of the current time.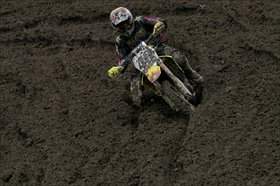 Ryan Mills got third in the first 450 moto! Yup.

A surprise podium visitor arrived in moto one, when Rockstar Energy Suzuki's Ryan Mills held on to an impressive third place. Mills has had a tough season, bouncing back and forth from the Lites class to the 450 class, but he was on for this moto and held Sobe/Samsung Honda's
Kevin Windham
behind him the entire way.
"It's just been a tough season for us," said Mills of the Rockstar team. "I've been working really hard. The 450 is the bike I need to be on."

Unfortunately, Mills had a bunch of crashes in the second moto and never got going. Windham got a good start and was able to hold onto third in that one to finish third overall.

All of the riders had to battle a tough track, which absorbed a lot of rain on Friday night and Saturday. Considering that, the track was in awesome shape for Sunday's racing, but there were still incredibly deep ruts out there that dragged quite a few riders down. Also, only one practice session was held for each class, a move that certainly favored riders who have already ridden the track before.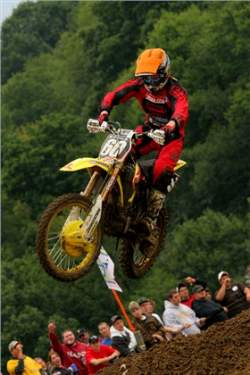 Hepler carried his mega-mojo-mentum into his home track, and he won that, too.

And maybe no one in the entire place has ridden the track more than Makita Suzuki's
Broc Hepler
, who brought his recent 250F hot streak to his home track and completely dominated. Just like last year, Hepler went 1-1 to take
Steel City
, extending his win streak to three. For sure, the Pennsylvania fans were happy to see it. "They were cheering me for the entire parade lap," said Hepler. "I wanted to give them something to cheer about during the moto."
And he did. Hepler is quickly winding into a complete package, as he has now straightened up his one weakness—starts—which makes him very hard to stop.
Red Bull KTM's Mike Alessi grabbed the first moto's Racer X Holeshot, but Hepler passed him immediately and opened up a huge (Carmichaelesque) lead. In the second moto Hepler grabbed the $500 Racer X check himself. Monster/Pro Circuit/Kawasaki's Ryan Villopoto got right in behind him, but this time he couldn't do anything with Kittanning PA's finest and had to settle for second.

Villopoto's loss ended his bid to win the Monster Triple crown money as well, but he didn't take it too badly. His 3-2 performance for second overall easily bettered Alessi, who had a positively mediocre day. In what was once a close title fight, Villopoto now has a 29 point lead heading into next weekend's finale at Glen Helen.
"Ivan had a 35-point lead heading into Glen Helen last year," said Villopoto, with caution. "But I like the track out there, so it should be good."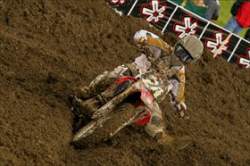 Josh Grant returned to form with a fine podium performance.

A rejuvenated
Josh Grant
rounded out the podium with 2-3 scores on his Sobe/Samsung Honda. In the first moto, Grant outlasted Villopoto. RV fell early and had to come from way, way back, and he did work all the way into second, But Grant was strong this time and managed to pass him back and pull away down the stretch. In the second moto, Grant's start wasn't quite up to par, so he had to settle for third.
Alessi went 6-4 for fifth overall, which drastically hurt his title chances. Villopoto holds a 29-point lead heading into the finale next weekend. Will it be enough in the anything-can-happen world of the 250F class?