Privateer Profile: Jason Thomas
Florida's Jason Thomas is one of the hardest-working privateers in the sport. What he lacks in talent, he makes up with hard work, and this weekend's Steel City National is a venue at which Jason always seems to excel. The 2006 AMA Toyota MX Nationals have been up-and-down for Thomas, whose best finish was at Budds Creek, where he finished fifth overall in the 450 class. We talked to JT$ for this week's Sponsorhouse.com Privateer Profile. Be sure to show his sponsors some support by clicking on the links at the bottom of the page.
Racer X: First off, how's the weather down in Florida?
Jason Thomas: It's all right now. It's kind of rainy but not too bad. It's pretty much all gone now.
Two races are left in the 2006 AMA Toyota Motocross season. Are you ready for a vacation, or will you miss competing?
To be honest, I'm probably not going to have a whole lot of time off—maybe two or three weeks—and then I'm going to start racing some off-season supercrosses. It's not too much of an off-season, but it'll definitely be nice.
What are some of the off-season races you plan on attending?
First is the Montreal SX, which is at the end of September. And then I'm going to do the Jeremy McGrath Invitational the following weekend, and then the U.S. Open the weekend after that. And then it looks like I'm going to do Sheffield after that, and there is one more weekend in October I still haven't, but I think I have every weekend in November and December already booked. I'm going to pretty much be in Europe, Canada, or Australia every weekend once Montreal starts.
Wow, that's going to be a hectic few months for you. Speaking of Montreal, didn't you win that race last year?
Yeah, I did, so I hope I can go up there and repeat. I'm going to feel a little bit of pressure, but I'm looking forward to it.
From what we read about the Jeremy McGrath Invitational and the changes with the Rockstar Energy Drink U.S. Open, you have an opportunity to pocket more cash in those two weekends then you probably could racing the entire AMA National Series.
Yeah, that's definitely a possibility. It's really tough to make any money outdoors—you're more there just riding and representing for your team. The nice thing about these off-season races is that you're usually guaranteed start money, so it takes a lot of the pressure off of racing, and it's more fun. Your team isn't there and it's laid back and everyone is there to just have fun.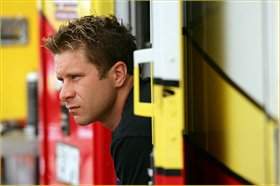 Thomas is unsure if his team hauler will be at Steel City this weekend

As far as the riding aspect of it, do you prefer outdoors or supercross?
I think supercross practice is more fun compared to outdoors. It gets monotonous doing outdoor motos, especially down in Florida because it's so hot. Supercross is a little more fun.
You're currently fourteenth in points. Overall, are you satisfied with how the 2006 outdoor nationals have gone?
I was a little bit more inconsistent this year than I would've liked to have been. I had a few weekends there towards the middle that I was struggling, and it wasn't all my fault, but that doesn't matter in the results. I had some flashes of brilliance at times, but others I really struggled. I don't really have any excuses—I just have to build on it and get ready for supercross.
Well, at the last national at Broome-Tioga, you were working out of a box van and the Team Subway/Coca-Cola Honda rig was absent from the paddock. I understand there may be some problems with the team, so can you elaborate on what's going on?
As far as the actual problems, I know the Chuck has put out there and made public pretty much what I know. I know he was saying that he was having some problems getting some of the money he was contracted to get, and that was causing him problems as far as getting to the races. So that's all he told me, and that's all I really know. I wish I knew more and wish I knew how it was going to turn out, but I really don't. I'm in the same boat as everyone else—just waiting around to see what happens.
Was it hard adjusting to working out of a box van at Broome-Tioga?
Some parts weren't bad at all. Once I got down to the track and put my gear on, everything was pretty much the same as having a semi. Some parts were a little tougher, like we didn't have as much water as we could've used, especially with the mud there. We didn't have all of the parts there or the workspace. It's just the little stuff that makes it a lot more inconvenient, but as far as how I'm going to do on the track, it really didn't affect me.
Will you be in the box van again this weekend?
I don't know, to be honest. I'm just going to fly in, and I'll find out whenever I get to the track.
Other than this little mishap, how has everything else been going with the team?
Everything else has been fine. All of our sponsors have been awesome, and I couldn't ask for anything more.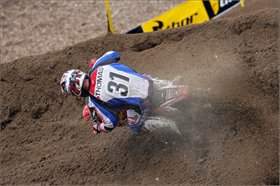 There is no off season for Thomas, who will be racing overseas throughout the winter

Other than this little mishap, how has everything else been going with the team?
Yeah, it's actually one of my favorite tracks. Historically, I have done well there, and I just think there's something about the track that just clicks with me. I'm hoping the weather holds out and I can have a good weekend.
What is your best finish at Steel City?
Overall I think a ninth, but I've had a couple seventh-place finishes in some motos there.
I know you're pretty good friends with Ricky, so what are your thoughts on him retiring?
He has definitely earned the right to do whatever he feels he wants to do. I don't think anybody could ever discredit or argue what he has done. The guy is unbelievable, and I know it's going to be sad for the sport to see him go. But it's not all bad. It'll be nice to have a new champion or new people winning, and I'm sure there are guys like me that won't have a hard time adjusting to not having him out there.

Jason Thomas' sponsors: