Welcome to the Shift Number Cruncher. Over the past several months we have enjoyed going through a wide variety of numbers. We've had glorious single-digit numbers, strange three-digits, and super-popular two-digit racing numbers. This week, we have chosen a number that breaks into yet another new area. How about a random two-digit number? Let's try #85 on for size, shall we?
Following the longest mental blank I have experienced since the morning after the High Point pre-race party, some pretty cool things and events associated with this random but oddly powerful number came to my attention, especially the year 1985. The first motorcycle I ever went through the gearbox on was a brand-new 1985 KX60. This was also the first year Kawasaki used water cooling on their famous miniature steed. My beloved Kansas City Royals won the World Series in 1985, and current Heisman Trophy holder Reggie Bush and our very own James Stewart were born in '85.
But the coolest aspect of #85 is the fact that it was on the number plates of a certain CR250R that raced in the 2003 edition of the Motocross des Nations in Belgium. The rider? The GOAT. There were also some very interesting privateers who ran with this number.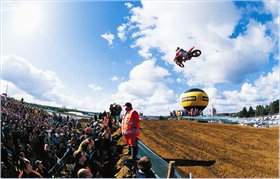 photo: Steve Jackson
It had been two years since Team USA entered the Motocross de Nations. The tragic events of 9/11 thwarted our 2001 campaign, and the Competition Park fiasco eradicated a 2002 showing. A great hype then emerged in Europe. The noise was all about the great Stefan Everts and the claim that he had something for
Ricky Carmichael
. As history books now show the world, there would be no stopping RC at said event. It was not without a fight, though. It goes without saying that Everts is one of the greatest riders to ever throw a leg over a motorcycle. On this day, he used every ounce of power his YZ450F could offer, but he just couldn't match the pace of The GOAT. Be that as it may, his speed and efforts rewarded him with a huge amount of admiration and respect from Ricky. Carmichael stayed at Everts' house before the 2003 event, and he reported that Stefan was one of the most gracious and all-around cool people he had ever met.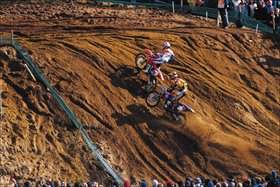 RC battles with Stefan Everts
photo: Steve Jackson
Both of these great racers are entering the beginning stages of their retirement on the heels of what has arguably been the greatest year of their incredible careers. But before they hang up their boots, they have one last race to enjoy next month in Winchester.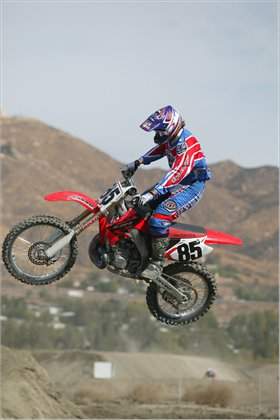 Jeremias Israel
photo: Eric Johnson
Some of you insiders out there may remember my unfortunate crash in the Chilean outback. I had a pretty decent wreck there about ten years ago. How bad was it? Well, let's just say it was bad enough that this former bearer of the great #85 remains alive and well in my memory based on his nationality. Chile's fastest resident,
Jeremias Israel
, came to America in search of motocross stardom. Earning national #85 for the 2004 season was about as good as it got.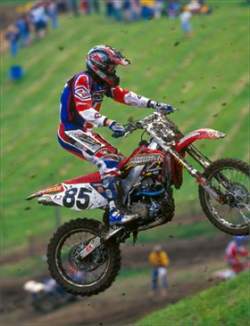 Ty Wallace
photo: Simon Cudby
I will always remember
Ty Wallace
as the rider who liked to race with the "Christmas-tree colors." A longtime Team Green rider from the East Coast, Ty would continually wear red gear on his KX machines. Back in the '80s, this was a resounding fashion faux pas, but it was a good idea for helping your mom pick you out of the pack. Ty suffered a horrendous crash last year that left him with two broken legs, but in 2003 he took the #85 to some great finishes in the outdoor nationals.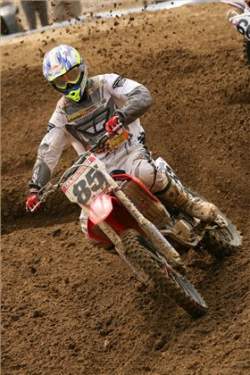 James Povolny
photo: Simon Cudby
James Povolny
is the current owner of #85. In our latest issue of
Racer X
, Kristen Smith conducted a very nice interview with Jim's wife, Donita. James' story is a shot in the arm for our sport. It proves that motocross is one of the greatest sports a kid and a family can get into. From beginning in the amateur realm to the AMA pro tour, motocross offers a so many chances for success on so many levels. James enjoyed a fairly successful pro career, through which he met Donita, and he now enjoys an extremely successful family life that has rewarded him with two beautiful children.
Jim and his family will vacate the #85 and the United States as they move to Algeria, where they will work for the Algerian government building hospitals. Pick up Racer X Illustrated v9#10 for the full, heartwarming story.
Now here's another chance to flex your moto-memory muscle. Last week was the first attempt at Number Cruncher redux, where we give you the chance to send in any pictures or letters about the number of choice that week. We were impressed with the results, so we are going to keep it rolling for #85. So, whatcha got? To refresh your memory, here are some more guys who ran #85:
1988: Gary Semics
1999: Greg Schnell
2000: Scott Davis
2001: Steve Andrich
2002: Tony Lorusso
If you have any cool pictures or stories about these cats or another #85, send them to andy@mxsports.com and we'll make you famous!