5 Minutes With ... Sebastien Tortelli
Sebastien Tortelli was signed by KTM to race the 2006 GP series and help KTM with the development of an all-new 450 SX-F model. Unfortunately, Tortelli was injured early in the season and underwent knee surgery on May 12. Tortelli reports that everything went well, including the patellar tendon transplant. Since then, the 1998 250cc World Champion has been spending his time with his family in Aix en Provence (south France), preparing for his comeback. We caught up with him on his cell phone earlier this week.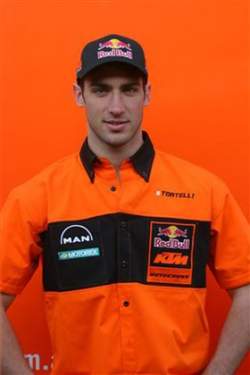 Red Bull KTM's Sebastien Tortelli

photo: S. Leroux

Racer X: What have you been up to, Sebastien?
Sebastien Tortelli: I have been focusing on healing this knee injury. I'm doing a lot of physiotherapy. The doctors told me that it would take six months before getting back on the motorcycle—I got hurt back in May 2006. I am preparing for a possible comeback in October. The healing has been slowed down a little bit by a cartilage fragment that hampers me sometimes when I move, but I am doing the necessary physical therapy to remedy it.
What kind of exercises are you doing?
I'm doing a lot of exercises that are aimed at modifying my body balance to accommodate this cartilage issue. I'm working on a controlled reeducation and muscular reinforcement program. For example, I'm working out on my bicycle thirty minutes a day. I'm not allowed to go over thirty minutes a day! It's pretty short, but better than nothing. Needless to say, I am not allowed to run.
What are you plans for the 2007 season?
I don't know yet. It will depend on the condition of my knee when I can start riding again in October. KTM already told me that they will give me the option to choose between the U.S. and the Grand Prix series. Again, my decision will be made later in the year, depending on my recovery.
So you don't know yet what your winter schedule will look like?
Last year, I had a lot of fun doing the winter supercross races in Europe on a KTM 250 SX-F. I wish I could do it again this year again. But I'm pretty sure that I won't be ready on time for the Bercy Supercross in November.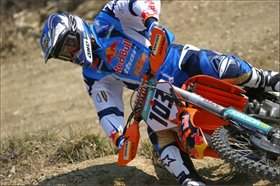 photo: S. Leroux

At this point, spectators won't have the chance to attend another Tortelli-Everts duel in 2007. Is this the end of an era?
I am not sure, but I don't think it will happen again. Even if I decide to participate in the '07 GP season, or the first GPs to get in shape before the U.S. season, Stefan will be retired.
You have a lot of time on the new 450 SX-F. What are your impressions so far?
This year's 450 is a big step forward, especially because of the new electric start system. That thing is an outstanding asset. On the other hand, KTM built an exceptionally light motorcycle with a mild engine—a very good compromise. I really like this motorcycle.
Are you coming back to the U.S. soon?
Yes, we are actually flying back to our home in California on August 29.