Monday Conversation: Ricky Carmichael
It seems when Ricky Carmichael wins these days, there is one or another milestone to go along with it, and Binghamton was pretty important. Carmichael took home his tenth and last outdoor title, sealing his place in history with what may be the only full undefeated career in AMA championship motocross—and he did it this time with five motos to spare. We stopped him on his way out of the press conference to see what he was thinking about his monumental career, his competition, and hanging it all out.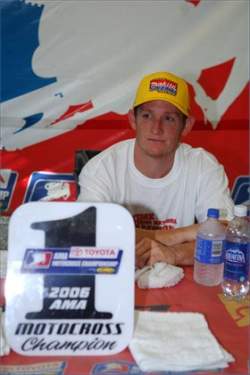 It's been 10 years of dominance. That's a lot to think about.

Racer X: Ricky, your tenth outdoor championship, ten out of ten, and you win this one two weekends early. How do we start? It's been an action-packed day, huh?
Ricky Carmichael: First of all, it's been a great ride and a great series. My whole day, my whole career, I can't believe. I raced some stout guys. McGrath—the best supercross racer ever—with James the next new thing. I think I have the bases covered, dude. When I sit back and look at it, I was thinking this week, if I could wrap it up, to never lose an outdoor title, that's pretty amazing. I know a lot of people say this and that and the other, but you know, I have been faced with everything, and everything has happened to everybody else, whoever I raced. That's just part of racing. I'm super pumped. I can't believe it. I'm really excited. I'm looking forward to the next couple of races, and I'm super motivated for next year.
The comment came up last year in one of the press conferences about luck, and your answer was, "You make your own luck." What kinds of things are you talking about?
I think making your own luck means putting preparation in, being true to yourself and honest with yourself. I believe that you make you own luck if you do things the right way.
Things really turned around from a muddy Saturday. You mentioned that when you got here there was nothing to do but sit around the motor home bummin'. It turned out to be a great day.
It did. The track was a bit one-lined. Hey, considering, it was a great race track. I was a little disappointed with the way the track was on Saturday. You could tell that, with this possibly being their last year, that there wasn't much preparation. I was really looking forward to coming here for the last four years. It seemed they had been doing a lot to the track. It was getting deeper dirt, and not as many rocks down on that base. It wasn't as good as it had been in years before, but that's the way it goes. We set my bike up really good. I still have some motivation for the next race. We have the Monster Triple Crown. I'm looking forward to that. It's going to be good.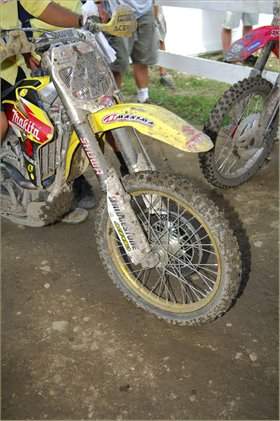 RC won the second moto with a flat tire. This happened about three laps from the end but he just held on. This was his first flat in a moto in 10 years as a pro.

Speaking of motivation, you got your tenth and final title in moto 1—you can cruise if you want. But you and James totally went at it, High Point-moto-1-style.
Yeah, that was High Point-style, for sure. I'm never going to be the guy that just cruises around. If I know I'm capable of winning, I'm going to do the best I can. If I wasn't capable of coming back and winning, I wouldn't [hang it out].
What happened in moto 1 today?
The first moto was uneventful. I got about a fourth-place start. I was able to pass those guys pretty quick. James was right on me. I just had some great lines, and the bike was tuned to perfection. I just kind of motored away, and it was effortless. It really was.
In ten years, has James been your toughest competitor?
Yeah, speed-wise, for sure. He's crashed a few times and he missed a race. He had some bad luck with the engine blowing at Southwick on the last lap. I hate to see that there, especially on the face of a jump. That's dangerous. Speed-wise, he has been the guy. That's the way it's always been. He's always been one of the fastest guys, all the time, so you have to race him.
Okay, one bench-racing question: James has had a couple of years to break your win streak in the outdoors. Has he had enough chances to come up and take it from you, to prove he is better?
Ah, yeah, absolutely. He came into last year ready to try and win, and he came in this year. Everything happens for a reason, and he is a tough competitor. I don't know. I have to give myself a little bit of credit and say I was able to beat him. I just felt like I had a good program. We've gone back and forth and I was able to squeak out a little more. It comes down to who can be more consistent. Luckily for me, I was. I think a little bit of that was just experience. At the same time, I was lucky to win in my first couple of years. We can't keep going on and on and say, Did he have a chance? Obviously, eventually, I will get beat. Every dog has his day. I'm glad I could race someone of his stature and Jeremy's stature and win.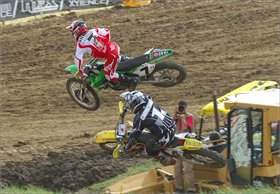 The second moto was this good!

Haven't you changed your style in the outdoors a bit, because of him more than anything else?
I think racing him has just made me smarter. There's not much faster I can go, really. I think other things need to change to go faster. I don't want to ride out of control. We try to find other things to make me go faster.
Are you doing anything special on your weekend off?
I'm really looking forward to it, maybe riding a little bit of supercross, and also healing up a little bit. My thumb and my wrist still hurt from St. Louis when I crashed there. I broke a bone in my wrist when I did that. When I crashed at Washougal it aggravated it again. I'm just going to heal up and get better and get ready for Motocross des Nations. I have the Monster Triple Crown coming up, and I really want us to win the Motocross des Nations. That's our biggest goal, so we set our sights on that and practice for it.