Monday Conversation: Ricky Carmichael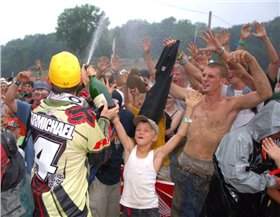 Carmichael still enjoys these as much as the first one ... maybe even more
It's a given in motocross that when
Ricky Carmichael
doesn't win a race, everyone else had better look out next time.
Millville
was two weeks after Stewart's win at
Washougal
, and you could expect a response, but who would have ever guessed that RC, with a points gap wide enough to pit both Suzuki semis in, would actually lap the pack?
It was a strange day, with really good weather and great track conditions for moto 1, and a deep mudfest in moto 2 due to heavy rains.
Carmichael didn't get a great start in moto 1; Stewart did and was getting away, but he made a mistake, then Reed, who was ahead of RC, lost a head pipe on his bike and Carmichael won. In the second moto, RC got the holeshot and everyone else seemed to have problems. He actually lapped the entire pack before that moto was over—something very, very rare in professional motocross.
Racer X: Wow, Ricky, another milestone: Not only did you answer Stewart's win two weeks ago, you did something that's never been done—lap the pack—or has it?

I know, has Everts ever done that? I don't know! Hey, I felt good. I got a holeshot when a holeshot was needed. I'm really happy about that. I know a lot of people are going to be saying how fast James was in practice. He was riding good. This weekend I got fed up because there are so many guys on the track [in practice]. I just said, Know what? I'm going to wait for the race this weekend. I know that I'm always trying to put in a good lap, but it's getting crazy. I'm sure everyone thought I had my hands full. It was going to be an epic moto again in that first moto. I got a bad start and James, of course, got the holey. I had my work cut out for me.
Let's step through those first few laps: James was out front, Millsaps, then Reed, then you, and you had to get around Reed. Is Chad getting better?

When he gets a good start, he's good. He's a great rider for sure. I don't know, I never really asked myself that question.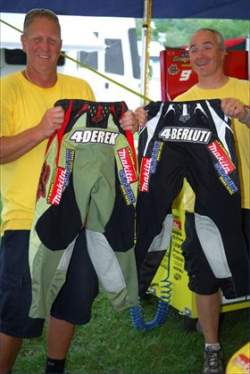 RC is winding down the season with a special thank-you on his gear for the Makita Suzuki crew. Derek is semi driver Derek Littlejohn, and Berluti is Tony Berluti, Ivan's Tedesco's mechanic.

Were you playing it cool for a few laps when you were behind him, or were you anxious to get on to chasing James?

I was in a big hurry. He would say the same. We don't like to give each other the advantage. The old dog got a bone in that first moto [James' crash], and I just have to take it and run.
When you were pressuring Chad and looking on to catching James, were you confident you were going to do that?

I knew that it was going to be hard, but I felt that I had a good shot. Hindsight is 20/20 ... it's hard to say. I felt real confident in what I could do.
Moving on to moto 2, it was all you: You got the holeshot and it seemed everyone but you had a ton of trouble.

I knew the holeshot was important, and mine have been on the sad side lately. It's super, super important, and I did what I had to do. When I got a good jump and James didn't, I thought, Ah, man, he's going to be back there. Then I looked over and saw that he was right on my tail, and he got through there. Anyhow, it was a great moto, and I just kept trying to plug away. He and I were checking out, and I was putting a little time on him. At the same time, I was just concerned about making it through the moto and making the bike last. I worry about stuff like that out there.
So you're conserving your bike when you're racing?

Absolutely! You can't just go right out there and fry your bike.
How did you go from being the guy that everyone poked at for your mud riding in the early years, to this?

I don't know. I think definitely I've improved in the mud. I still am not the fastest mud rider in the world, that's for sure. It's hard work.
It sure was a great day for Makita Suzuki: Hepler won too, and the rookie made the top ten.

Yeah, good for Dungey. The guy went top-ten both motos! He might have beat my performance in my first year, I don't know.
Is he an RC student now? Is that going on?

I just love helping people. I'm going to be there, and if he has a question and I can help him, I would like to help. That's part of my deal. I would love to help him and Suzuki.
How did your trip to Loretta's go, and any comments on announcing Team USA there and all that?

It was awesome. The participation was awesome. That should be annual, for sure. I'm glad to be the team captain. We have a strong team, rain or shine. I am looking forward to it.
Aren't things way better-organized? It seems in year past it was "Are we even going to go?" and there were weeks of online bickering. This time it's all about being proactive, it seems.

Yeah we are proactive, and that race is getting back to where it needed to be.