Where Are They Now: Rick Burgett
The Pacific Northwest appears to be headed toward a renaissance in the national motocross scene. Washington's Ryan Villopoto is enjoying an amazing rookie season in the AMA Toyota Motocross Championship (which led to a position on AMA Team USA Presented by Loretta Lynn's at the MXdN), and this weekend, Oregon's Josh Hill will make his pro debut, pitting right out of the Yamaha factory rig. These boys claimed back-to-back AMA Horizon Awards, so things look bright for race fans from the rainy country.
This would mark the second great era of Pacific Northwest motocross, as another duo, Oregon's Chuck Sun and Rick Burgett, represented the area in fine form in the late 1970s and early 1980s. We found them both hanging out, predictably, at Washougal two weeks ago!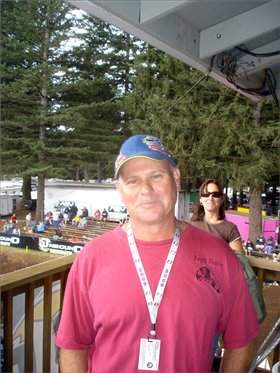 Rick Burgett today
photo: Jason Weigandt
Sun now works for Tucker-Rocky and MSR, so we see him at quite a few races. But seeing Burgett is rare, so we asked him what's going on for this week's Where Are They Now?
"I work construction. I haul dirt and big boulders and stuff," Burgett said. "It's a one-truck business. I've been doing it for 15 years now. I guess I just can't get the dirt out of my system!"
Burgett was a factory Yamaha rider during the brand's monoshock glory days, riding alongside heroes like Hannah, Glover, and Bell. He notched the 1978 AMA 500cc National Championship at a time when the 500s where still the premier class.
Does he ride now? "I have a tractor at my parents' house, and people will come out and ride over there, and if they do, I'll go swing a leg over it," he says. "But basically I just putt around. I can still go, but it hurts a lot more the next day!"
Occasionally, Burgett will strap on the boots when Yamaha runs one of their big (and highly competitive) Race of Champions events. He'll train for that, but he says he has more fun going to the races and seeing old friends.
Burgett always comes out to
Washougal
, and Yamaha has invited him down to the Red Bull MotoGP at Laguna Seca for the last two years as they celebrate their championship heritage.
"We went to Laguna Seca the last two years for Yamaha. I saw Davey down there this year, and he brought up my old number, 261. That's pretty good that he remembered that. I trained for that one—did some party training! That's what I like about this: I spend more time visiting people here than I actually do watching the races. It's great to come out and see your old friends."