Privateer Profile: Daniel Sani
A rider really turning heads lately in the 450 class in the AMA Toyota Nationals is 19-year-old Daniel Sani. This California resident is coming off his first top-10 overall finish, in only his second national of the season! Sani, who won the 250 Open A Pro Sport class at Loretta Lynn's last year, has really gotten some attention in only two races and is looking to improve throughout the next four. Make sure you show Daniel and his sponsors some support by clicking on the links at the bottom of the page.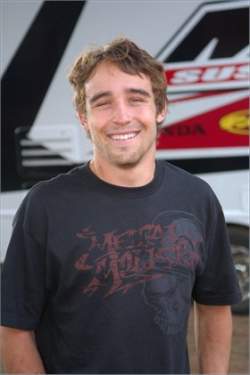 Daniel Sani

Racer X: What's going on, Daniel?
Daniel Sani: Oh, just heading out to Glen Helen right now to get some laps in under the sun.
Your practice is paying off, it seems. Congratulations on your ninth overall at Washougal—that was pretty impressive.
Yeah, I was pretty pumped. I'm trying to keep that situation flowing and not think about it too much, because I just want to finish the rest of them up the same way.
Were you surprised that you did that well?
After Colorado, I kind of knew that I had pretty good speed, so I just figured if I could get rid of all those little mistakes that I have and try to ride smart, I could be up there.
What were your thoughts going into Thunder Valley? That was your first national of the year, right?
It was my first race of the year, and it was my first 450 race ever. I just knew it was a smarter class and not so dense, so if you get a good start and ride well, you could finish well. I like the class, though. It's good stuff.
So why didn't we see you in the first half of the season? Were you injured?
No, I wasn't injured. Just with the MB1 team—it's a small team that just started and they weren't even going to do the outdoors. I did supercross with them, and I wanted to do the outdoors, so they asked if I would mind if we just did the last six, legit. So that's kind of what we're doing. We didn't want to be stressing through all the rounds, so we're just doing the last six rounds.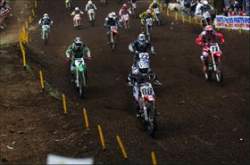 Good starts helped Sani to a top ten overall finish in the 450 class at Washougal

The Tokyo Mods/MB1 Suspension guys have to be pumped with your results so far.
Yeah, he's pumped. He's been coming out testing with me a lot, just trying to get stuff better. It's a good team—I like those guys.
Have you had any offers for next year?
I haven't necessarily talked to anyone, but my dad has talked to a few guys. I just turn my phone off and try to finish up my stuff for the week. But the guys at MB1 have a lot of stuff going on for next year. They plan on getting a couple more riders and getting a bigger rig. They're really easy to work with, so it's nice being over there.
Have you been doing anything different this summer, as far as training and practice goes?
I don't know. Like, last year I felt good with the training; I just had a bunch of mechanical failures. I won Loretta's last year too, so that was good. But for the most part this year, I just think racing supercross and being around the other riders more has helped. But my speed and endurance is good. Like last weekend, I set some of my fastest lap times on the last three laps. I just have to stay focused and charge the whole moto like RC and Stewart.
Do you get intimidated running up there with those factory guys?
Not really. For the most part it seems like they have a lot of respect for riders on the track, and I want to be the same way. Riding with them, it's more or less who's putting it together. I don't play any games with them.
Who's your mechanic?
A buddy of mine, Damon Mahoney. He actually never really worked on bikes before. He's just learning, but he's doing a great job.
What's your goal for the next four rounds?
To be honest, I just want to get in the to 20 in points so I don't have to ride in the unseeded practice, because that can get pretty gnarly. Last Saturday I had an incident where I clipped some guy and shot off the track—I didn't even think I was going to be able to race after that. But I would like to finish consistently in the top ten. And if I can get better than a ninth overall for my finish, I can get the WonderWarthog Most Improved Rider Award, so that would be good. So I'm thinking to finish in the top eight.
Do you have any Millville experience?
Actually, last year I did, but I had two motors break on me and had to go home. But I like the track—it's awesome.

Daniel Sani's sponsors: