5 Minutes with ... Mike Brown
Mike Brown was an interested spectator at Namur, Belgium, this weekend. In 2001 he was scheduled to race Namur as part of the U.S. Motocross des Nations team, but after the events of 9/11, it was decided that Team USA would remain at home. Finally, five years later, he made it to the Citadel. Not only was he checking out the racing as a spectator, but he was also considering the possibility of a return to World Championship motocross in 2007. While enjoying the race and pounding out a few laps of the circuit on foot, he stopped to chat in between the motos on Sunday. (And then this week it was confirmed that Mike will race MX1 for CAS Honda in the GPs next year.)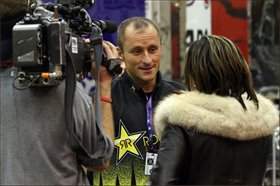 Mike Brown looks to return to Europe in 2007

photo: Matt Ware

Racer X: Hey Mike, you've been here all weekend, so how many times have you walked the track now?
Mike Brown: I'd say about four or five laps. You missed that lap with me yesterday.
What brings you to Namur this weekend?
It's a bit of everything, really. I came to look at the CAS Honda team, and it was also a vacation to see the race. Maybe they'll never have it again, and I was, of course, supposed to race it in 2001. The main thing is to see what I'm going to do next year.
So how has this season been with the Rockstar Suzuki Team? From the outside, it seems maybe things haven't gone to plan with the results, and you've raced every type of bike apart from a 125 two-stroke.
Yeah, for sure, nobody planned it to go the way it has. It's kind of a bad scene, really. I think they could be a really good team if they get a bit more organized. But the bike thing has been the main problem. I haven't been getting on with the RM-Z250 [in the Lites class], so I decided to switch to the 450 outside. I had tried it a bit for indoors, but there wasn't enough time to get used to it in the middle of the season. With the 450, you go to the race and you know you don't have to worry about the power issue. In the 250F class it's not all about the rider. It's 90 percent having a good bike.
You think as much as 90 percent?
It's up there for sure. Those young kids are fast—I'm not taking anything away from them—but without a good bike it's hard to be up there with them. It's a new team, and it takes a while to get going. I really hope, for them, it gets going for next year.
So you just had the one-year deal with them?
Yeah, it was just for one year. They wanted me to stay again, but I wasn't really sure what they were doing. And I can't be left out; I've got to look after myself. They wanted me to do supercross next year, and I don't really want to do that. I think my supercross days are done. But I love riding motorcycles and racing outdoors. Here's [Europe] the place I think I can do that.
You've come close a few times to signing for CAS before. What attracts you to the team?
Seeing the team and how they work. The bike and the organization, they have what it takes to be up there. You can see Josh [Coppins] is a great rider, and the bike is up there. Everything works for the team.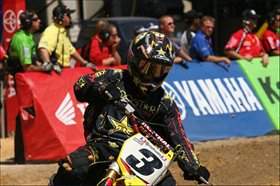 Brownie switched from a 250F to a 450 outdoors

photo: Matt Ware

You came to Europe last year to race MX2 for RWJ Honda and then disappeared back to America under a cloud of rumors that you weren't being paid. Where are you with that now?
Everything has been done now and it's been sorted out. There are no problems; I spoke to some of the mechanics this weekend. Everything is good, and it's cleared up.
So what about racing MX1?
I rode a 450 [Suzuki] back in January, which I liked. That was the first 450 I'd ridden in a lot of years. I heard through a friend in England that CAS [a 450 team in Europe] were interested in talking about next year. The 450's great; you don't have to worry so much about the power, you just worry about riding the bike and doing the best you can, rather than if you get a good start. I think I showed last week [an eighth in the second moto at Washougal] I have okay speed in America after only riding the bike for a week and a half. And over time I'll obviously get better.
Obviously, Stefan Everts will be gone in 2007. What do you think about your competition in MX1 next year?
It's a bit like America at the moment in Europe: Ricky and Bubba are in a class of their own over there. But last weekend there were something like six guys about the same speed after Ricky and him. I think it's the same here after Stefan. It's difficult to tell here, though [at Namur]. It gets gapped out pretty quick, but I think that's because of the track. It looks like there'll be about five or six guys next year winning here [in Europe] for sure. Coppins is a great rider, so is Ramon, and I hear Strijbos is too, but he's carrying an injury this weekend.
How about your old class?
Yeah, in MX2, I've been hearing a lot about the Pourcels and [Tommy] Searle. I don't know, though. For me watching, David Philippaerts looks the fastest kid out there. He looks pretty smooth. And there's Cairoli too, who won the first race. I've not heard much about Philippaerts, though, so he's really impressed me.
He might be one of your opponents in MX1 next year. We're still waiting to find out officially from KTM.
Oh yeah? I look forward to racing him.
So how much have you enjoyed this place?
It's different. I don't know how to describe it. A lot of people in America wouldn't understand a race like this. You have to see it. I'd heard about it for many years and had seen pictures, but it's still different to what I expected. It's a bit of GNCC and everything. It's something to see for sure!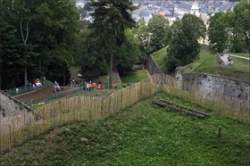 Namur looks more GNCC than GP!

photo: Stefan Paetow

A few riders complain about the rocks at Unadilla. How does this compare?
It's more like a GNCC; there are huge rocks through the woods, and roots. It's gnarly. It would be fun to ride, though. As for the racing, there's not a lot of racing going on out there, but it's demanding for sure.
I noticed that there are still a lot of people who seem to remember you from your GP years.
Yeah, it's cool. You come from a different country in another part of the world, and it's cool that people still remember you or they recognize you from supercross maybe. It's awesome, and it makes me feel like I do want to come back. Hopefully, they'll be cheering for me next year.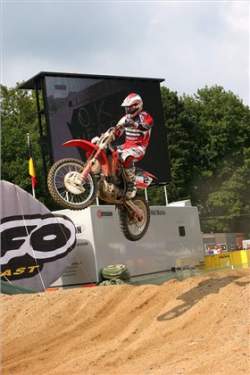 (edited) Brown will be taking Josh Coppins place (pictured) on the CAS Honda team.

photo: Stefan Paetow

What about a race number?
Well, I'm hearing that Smets is retiring, and he is currently #3. If no one else can claim it or wants it, wouldn't it be cool if I could race with that number over here?
So are you going to walk another lap of the track before you go home? It's the veterans' race now.
Well, maybe I should be out there with them [laughs]. Let's do it. But we've got to get back to the Citadel to see Stefan win his tenth title!