Kawasaki/Racer X Race Report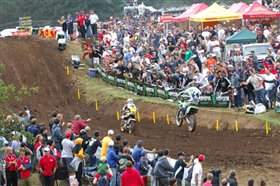 Carmichael had to chase down Stewart in both motos. A bobble in the second moto gave Stewart the win and the overall with 2-1 moto finishes.
photo: TFS
Something had to give. For the first time in nearly three months,
Ricky Carmichael
and
James Stewart
faced off in a full-tilt duel for an overall win in the AMA Toyota Motocross Series, and the result had the 27,000 plus fans at
Washougal
saying "greatest race of all-time." And it may have been. Carmichael was plagued with bad starts in both motos, and he had to fight his way through the pack to catch a very game Stewart. The latter laps of each race featured amazing duels, with the duo pushing and pushing each other, the fans cheering everyway.
In the first moto, Carmichael was able to get past just before the two-lap board came out and win. In the second moto he got into the lead at the same point, but Stewart kept the heat on throughout the next lap, and then, something gave. Carmichael got out of shape heading into a big single jump at the end of a whoop section, and came unglued from his Suzuki at the very top. It was a scary moment as the champ went flying, but he was able to land softly and recover to at least finish second. But at that point, Stewart was past and gone and headed to a 2-1 score and his second win of the season.
"It was a hard road to get here, having all of the injuries I had and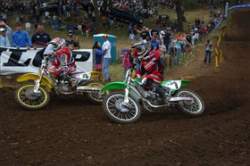 Ricky and James had epic battles in both motos.
photo: TFS
just struggling," said Stewart. "I felt like we came into the season ready this year, but things really snowballed after Mt. Morris. I was able to ride this week and we did some testing and got the bike working much better. I could see Ricky inching up on me, and really I just had to kind of wait for him to catch me so we could battle it out."
"I'm so bummed out," said Carmichael. "But you know what, that's racing and life goes on. We had a great battle. But we work so hard during the week, to have the lead like that and not get it, it's a bummer."
The Carmichael fans were bummed out, too, but it was hard to be too upset considering how good the racing was. Surely they'll be back at it at
Millville
.
For the record, Carmichael did come from way back in both motos and he was obviously running faster lap times. But Stewart showed the fight needed to turn the tables. Carmichael started just inside the top ten in moto one, while Stewart made his way past
Davi Millsaps
, who had grabbed another Racer X holeshot, and
Chad Reed
, who was going fast but tipped over while leading. Carmichael eventually reeled Stewart in, but Stewart just wouldn't let him get around. Then Carmichael made an aggressive pass and bumped Stewart accidentally, and Stewart repaid the favor by knifing back inside and bumping Carmichael back. "I knew I had that coming back to me," said Carmichael. "I don't like to race like that so he got me back."
"He said he was sorry to me after the moto," said Stewart.
Stewart's payback on the block pass put him out front, but Carmichael was able to execute a move in the back section and take the lead just as the two-lap board came out. He held on to win by just over a second.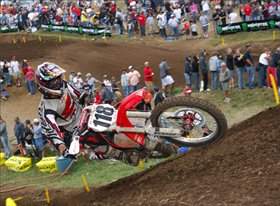 Davi Millsaps scored $500 from Racer X with his first moto holeshot.
photo: TFS
In the second moto Stewart grabbed the Racer X holeshot over his teammate Byrne. Then Byrne crashed and took Millsaps down with him, and Carmichael nearly got collected in it and lost a ton of spots. Reed set out in second to try to stay with Stewart, and he rode pretty close to the pace. Carmichael finally inched up on Reed, and they battled hard for a full lap until Carmichael made a pass.
"I've just been off the pace all year and I'm trying everything I can to get up there," said Reed. "I just ran as hard as I could until I couldn't hang on any more. Then I just tried to get it home."
Reed went 3-3 for third.
Meanwhile Carmichael set out after Stewart again, and he was catching him slowly. Stewart had one more super-fast lap in him and maintained the gap briefly when it was down to three seconds, but Carmichael was able to keep it going and get to him. Then Ricky dove inside near the mechanics area and took the lead with two laps to go.
"I felt that was a strong point for me, I was able to get good grip on the inside by the mechanics and turn in there," said Carmichael.
But Stewart wouldn't give up. He launched incredibly far off of the Scott ski jump and almost got RC back. Then he scrubbed hard over the big single and momentarily got the lead back, only for Carmichael to squirt back past. When they got to that jump on the next lap, Carmichael lost control and crashed.
Either way, it was an amazing ride for both.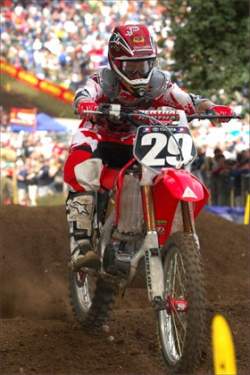 Andrew Short made a statement after bike problems ruined his homecoming weekend at Lakewood.
photo: TFS
In the 250F class, the motocross gods work in mysterious ways. After a mechanical failure cost him a shot at the overall in his homestate of Colorado last weekend, Honda's
Andrew Short
answered back with a 1-1 win at
Washougal
. Meanwhile, the same bad luck befell
Washougal
's favorite son,
Ryan Villopoto
, who's bike broke on the second lap of moto one while he was in third place. He suffered a DNF, just like short did in Colorado.
The bad luck for RV opened the door for
Mike Alessi
, who finished third behind Short and
Josh Grant
in moto one to take the series points lead back from Villopoto. In moto two, Villopoto had to deal with a terrible gate pick, and Short got out front early while RV worked his way into second. Villopoto tried to catch him, but Short's lap times were every bit the match for the young Washington rider, and Short held on for the win.
"I'm glad Shorty won it with the way things worked out for him in Colorado," said Villopoto. "We had some bike problems, nothing we could do about that."
"It was a bummer last weekend, but that's racing," said Short. "I want to give a big thanks out to my mechanic Losch, who has really been stressing this week."
Grant went 2-3 for second overall and Alessi went 3-4 for third, giving him a very small points lead again over Villopoto.
Both classes are competitive again. After all, Alessi has regained the points lead over Villopoto, 315-312. But you can't count out Andy Short, who sits in third with 280 points. We'll do it again in two weeks, shall we?