Where Are They Now: Mickey Kessler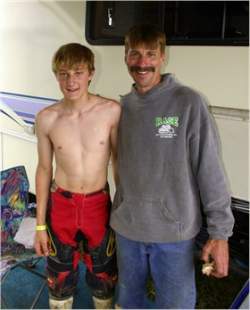 Mickey Kessler with son, Dakota.
photo: Billy Ursic
Bayville, New Jersey, veteran Barry Carsten has logged a lot of miles on the AMA circuit, as the popular privateer from the Garden State has been making a living at the races for nearly 20 years. Nowadays, Estell Manor's
Jason Lawrence
is the one making headlines for the Jersey folks. But ask any Jersey MX fan about the original legend, and they'll wax poetic about Farmingdale's "Mick the Quick."
Mickey Kessler was the original Garden State fast guy, and he actually reached factory status with the Maico team back in the day. He also collected top-ten finishes in the final standings of the 1978 and '79 500cc Nationals. After that, Mickey still raced the nationals, but eventually cemented his status as the all-time legend at Raceway Park in Englishtown, New Jersey. Whenever the factory guns would show up at Englishtown, Mickey would be there to put the challenge to them. Some of his mid-80's battles with Bob Hannah at E-Town are legendary!
Other career highlights include his famous 50-moto win streak at Englishtown, where the promoters eventually had to put out a bounty to anyone who could stop him, and a win in the 500cc support class at the 1986 Unadilla USGP.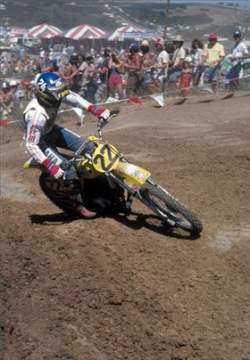 Kessler at the 1980 Carlsbad 500cc United States Grand Prix
photo: Dick Miller Archives
We found Mickey hanging out in the pits a
Unadilla
a few weeks ago, and he is still involved with the sport through his suspension company, KPS (Kessler Pro Suspension). He's at the races quite a bit since his son, Dakota, has been racing for years and is now battling in the schoolboy classes. Dakota was racing amateur day Friday on
Unadilla
's "U2" amateur track when we found Mickey cruising the pits.
"I'm just running the KPS deal right now," Mickey says. "It's going good."
Indeed, plenty of East Coast motocrossers run the KPS logo on their forks. Nowadays, it's Dakota who is doing most of the testing for dad. "It's good because he's a really smooth rider," Mickey says. "That helps because he knows what the bike is doing, which is really good for testing. But also, it's good to have a smooth rider using your stuff, because that makes your suspension look good!"
Mickey also plays a big hand in managing the track at Englishtown. With all the time he spends on the track, does he ever climb on a bike anymore? "Not really, not in a few years," he says. "You'll see me at The Race of Champions this year, but it will be in a dozer!"
When it comes to New Jersey motocross, Mickey Kessler isn't far removed from that other Jersey guy who burst into the national spotlight in the 1970s: he's The Boss.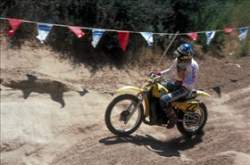 photo: Dick Miller Archives