5 Minutes With ... Jake Weimer
Not every young prospect can be a Ryan Villopoto. Many new talents sign on with major teams, but they don't just start finding the podium immediately—going through a learning curve only makes a rider more well-rounded later down the road (think Doug Henry or Nathan Ramsey). SoBe/No Fear/Samsung Honda rider Jake Weimer, 18, is digging deep right now to climb the ladder after a car accident during the winter.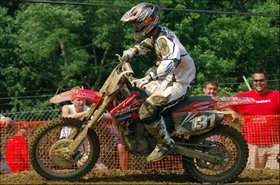 Sobe/Samsung Mobile Honda's Jake Weimer

photo: Steve Bruhn

Racer X: Jake, what's going on?
Jake Weimer: Today I went riding at a local track here in Indiana. I needed to make sure I could hold on—my shoulder had been bothering me. It's all good, so I'm good to go.
You're in the Michigan area. I take it that you're staying with Mike LaRocco?
Yeah, I've been working with Mike since before supercross. He watches over me and is steering me in the right direction. It's awesome to have him help with my training and riding. He has some other deals going, but Mike is a great help.
After suffering some facial injuries off the track in that car accident during the supercross season, you returned to racing and raced the first national of your career at Red Bud. What were the feelings you had coming in?
I didn't know what I was getting into; I'd never seen this level before. I felt I was in shape and ready. Now, though, I know I wasn't. I have to go hard; it's been one of those things, after sitting out, that you can't help. I came in ready to learn from the beginning. I was not fast enough or strong enough, but I work hard.
Has the pace you have to hold thrown you off?
Not really, because I was in California riding around many of the top guys every day. I had a feel for how the pace could be, so it wasn't a big surprise.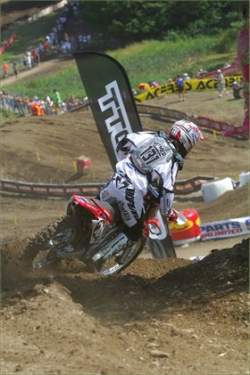 Jake is looking forward to Washougal

photo: Steve Bruhn

Your results on paper look like it's been rough. What will it take for a turnaround?
My starts are the biggest problem, and of course, I have been concentrating on them a lot. They will improve; I actually pulled a holeshot in my qualifier at Colorado, which helped my confidence. The team was joking that I ride like a chameleon. If I start 20th, that's how fast I go; if I start up front, I go their pace.
Are you familiar with or looking forward to any of the remaining tracks?
I'm looking forward to Millville because I've been there and looked at the track, just never rode it. Obviously, Washougal is one I feel good at, since I come from Idaho and have an idea of what to expect.
You're returning to your team for 2007 with your feet wet. That a good thing?
I look forward to supercross next year because my style fits the indoor tracks better. Right now, my main worry is to get some strong results, pick up things, and get to where I was before my accident in the winter.
Usually, rookies find outdoors more to their liking. Did you grow up around a supercross track?
I did ride a supercross track, mainly when I was younger. I grew up on a farm and there were no hills or really good places to practice. When I was a kid, we had a more stadium-like track, then at about 15 years old, Dirt Wurx built a full-blown supercross track. I got ready for World Minis and Loretta Lynn's riding that stuff because all I had to do was hit a button and my track was watered. Also, I'm not comfortable riding on the edge just yet like some riders can.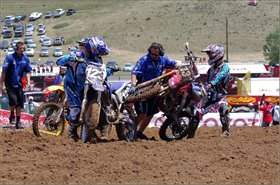 Jake picks his bike out of a first-turn pileup at Thunder Valley

photo: Steve Bruhn


Do you have a vision of what you would like to come about in your racing career?
Well, I want to further my relationship with SoBe/Samsung and Honda down the road. I want to see the podium next year, and then in the long term, capture a championship whether it is indoors or outdoors. I want a long career, and if I can do that, I will accomplish a lot.