5 Minutes with ... Ernesto Fonseca
As you are no doubt aware, Team Honda's Ernesto Fonseca made a return trip to the motocross track, more than four months after the catastrophic practice crash that left him in a wheelchair. Ernesto was all smiles at Thunder Valley—just as he was the week before when he attended the Dew Action Sports Tour stop in Denver. (Check back later for a special Shift MX Number Cruncher featuring Ernesto's digits!)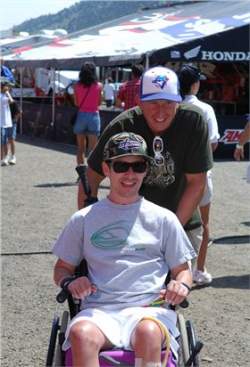 Ernesto gets around Saturday with some help from Denny Hartwig

Racer X: Ernesto, it is so cool to see you again. Are you enjoying being at a national?
Ernesto Fonseca: Yeah, I'm just excited to be out here. It's good to watch everyone riding on the track. I'm really happy that I'm out here.
What's it like being back at a national and seeing everyone and hearing the bikes?
I think the biggest thing is that I'm really pumped to be out here to watch. I've been at the hospital and doing therapy for a long time now—four months. It feels good to be out and about, seeing the people that I used to ride with, my friends, my sponsors, just everyone that is around the sport that I didn't see for a long time. It happened so quick and everything changed so fast that ... you don't forget about it, but you wonder what's going on.

Was there any point in your recovery that you had a bad feeling about the sport, like if you got hurt doing it, you don't want anything to do with it?
No, never. I love this sport. I wish I could get back on a motorcycle and do a couple of laps. It's not like that, and it seems like it's going to be really hard to ever get on a bike again. I'm fine talking about it and stuff. I just want to see people around the sport and see old friends and watch how good these guys ride.

How is your health? You seem to be getting around in the chair with no gadgets attached.
That's the most important part: I don't have any more tubes or machines to help me breathe or anything like that. It's more just trying to get a little more movement back. It can take years.

So are you going to get your grip back in your hands next?
I would like to think so. That would be awesome. Not even the doctors know. It's a matter of time.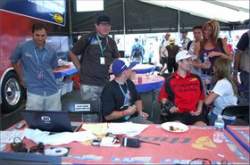 Ernesto spent some time in press

Did things really pick up for you when you moved to the Craig Hospital here in town?
Yeah, definitely. I was talking to Ryno and his wife, and we have to try and get David Bailey out here. I have seen a lot of different patients that had something that has to be similar to his situation. It's a nonprofit organization. The people are awesome—the staff, the doctors. It would be a good thing for him.
For the people that haven't heard how your crash went, can we go over that?
It's funny, I have had so many big crashes—the biggest crashes—and nothing has ever happened. Then this stupid crash. Like, I cased it, I was going to roll, double, jump on, jump off, triple, and then double into a turn, but I cased the triple part. The bike kind of hit me in the butt and I went forward. When I hit the next jump, it just made me do a somersault and I landed on my head. It was just a weird deal as soon as I landed. I was on my back, and I knew I couldn't move my legs at all, and you just have that weird feeling.
Like I said, it was a dumb crash. I saw so many people at the hospital that had so many different injuries. It can happen any time. If it's going to happen, it's going to happen.

Jimmy Button said when it happened to him, he felt cold. Did you feel that, too?
You feel either really cold or really hot. There's no in-between.
As far as your recovery, initially it was tough because they had to work on breathing and everything, right?
Yeah, I had pneumonia and a couple of complications that made it really tough at first. After I had my trach, I thought I was going to die. After that, things started looking a lot better. When I got to Craig, things were just so much better, and so quickly, too. It was amazing.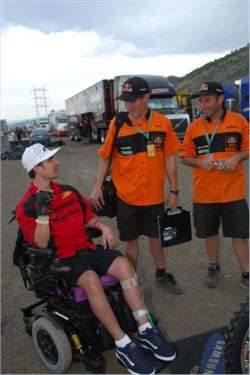 Ernesto got to catch up with good friends all weekend, like Casey Lytle and Paul Delaurier.

When did you become aware of the communication from fans and friends?
All along. Ever since I was at Riverside Regional, my wife, Carolina, would read me letters and stuff. All my friends would read the stuff to me, and it's amazing. We've had letters and support from everyone around the world. I never knew that motocross was so important and that people knew so much about it.
I heard from even people from NASCAR like Joe Nemechek. I don't know the guy, but I know he's a bad dude. Jeff Gordon and guys like that. They have been really supportive and donated a lot of stuff for auctions. It's been incredible. All the people that are my real friends have kept in touch. I talk to them, and they know what's going on. Other people that I don't see that much or they didn't want to bug me or get into our business, have stepped back a little bit.
The highlight of the week for me was, I talked to Valentino Rossi. I think it was a couple of days ago. I love what those guys do. It was so awesome to talk to a guy I hung out with last year and he remembered. Those are some bad-ass dudes! I talked to some people about motorcycle racing in the hospital and they say, "All you do is turn the throttle—that wasn't really very hard!" They don't understand how hard the sport is.

So what happens now? What is your future?
Who knows? I'm just going to get home and try and straighten things out and get into some kind of life. I have to buy a car for Carolina. Someone stole my truck right from Craig Hospital! I have to figure something out. Three days before I got hurt, I sold her car, so we have no wheels. We're stuck in just a wheelchair!