Privateer Profile: Gray Davenport
When was the last time you heard about an unknown rider coming to a major pro series, landing on the podium, and signing a deal with a big-rig team right there at the track? With today's highly publicized amateur events, top prospects typically enter their first pro national with more hype than LeBron James' first game with the Cavs. It seems like the days of Bob Hannah emerging from the Mojave Desert and going straight to the front of the pro ranks are all but over.
Enter Lehi, Utah's Gray Davenport. Davenport, 21, made the 15-hour drive to the Canadian National at Nanaimo, British Columbia, with the intention of making an impression and meeting the right people in hopes of getting a deal for next year. He finished on the podium and ended up on the same team as Darcy Lange, Colton Facciotti, and Teddy Maier.


Racer X: Gray, when did you start racing?
Gray Davenport
: I wanted a bike ever since I was little; that's what I asked for every year. I didn't ever get one, so I got a paper route and started saving money. My dad saw how badly I wanted one and ended up getting me a bike.
What is your amateur racing history?

I started in '97 and just raced locally. I turned pro in '03 basically because I didn't have much support, so I started riding pro to try to make some money at the local races so I could to go to some bigger races. I didn't really get out to any amateur nationals because I started a little late and had to turn pro quickly to pay for my racing. So I rode locally until '05, and then I tried a couple of supercross and outdoor events to get my feet wet. I have been meaning to come up and race the Canadian nationals for the last three years, but I just didn't know how I would do and didn't have the money to take off for that long. This year, I finally did it and went up there and ended up doing pretty well. I mean, I was going for top-10s up there [
laughs
]. I went to the first one and did all right and then ended up getting some help from Richmond Kawasaki.
Why did you decide to come to Canada this year? What made it work for you?

Well, I have a lot of people at home helping me, like Chad Wallwork from South Valley Motorsports. They have been helping me out a ton, and they got me some bikes. Tool Benefits helped me out—I just got some money together to be able to do this kind of thing. Even the Governor of Utah [Jon Huntsman Jr.] helped me out and made it possible for me to get up there.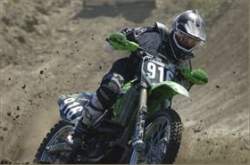 photo: Allison Kennedy

I was researching the Utah motocross scene on the internet before I called you and noticed that the governor did a parade lap on a CRF450R during the opening ceremonies for the BooKoo Arenacross in West Valley City, Utah. That's a big deal for the motocross community in Utah.

Yeah, the governor is into motocross 100 percent; he's fighting to get the supercross back here. He's just behind it, trying to keep areas open so we can ride. Our state park here had a track on it but it went downhill and he put a couple hundred grand of funding into it and got it back up and going again. He comes to a lot of the local races. His son rides and he ride, too.
That's very impressive. So, were you surprised when you finished 4-2 at the first round in Nanaimo?

Yeah, for sure. Like I said, I went up there going for top-10s, but when I rode practice, I paced myself behind [Jimmy] Nelson and [Jeff] Northrop and a few of those top guys. I haven't raced with any of them, to be honest—I've seen them in the magazines. I rode with Nelson back home, and that's kind of what made me come up there. I knew he was fast, but I can run with him, so I just went up there to see how I could do. I was really surprised after the first moto because I got a bad start and worked my way through the pack and did well. In the second moto, I got a better start and ended up on the podium. That's what kept me going, really. I had only planned to go up there for the first round and turn some heads. I didn't have a ton of money or anything, so I was going to try to turn some heads and see if I could get a deal for next year. Richmond ended up coming to talk to me after the race, and I got a deal to do the rest of the rounds. I couldn't believe it.
Did the Richmond Kawasaki team come and talk to you right after the race?

After I was on the podium after the second moto, I went back to my trailer and was just kind of cleaning up. One of the head mechanics came over and asked what my plans were and whether I wanted to go over and talk to them. So I went over and met with Billy Whitley and they just threw some stuff on the table and told me what they had to offer. The ride was definitely a lot better deal than what I had, so I rode for them. I mean, just having a mechanic was a huge eye-opener. I had never had a mechanic before and Pat [O'Connor] was way good. My dad took me to some races and stuff, but I always worked on my bikes, so it was nice to be able to relax and focus on racing.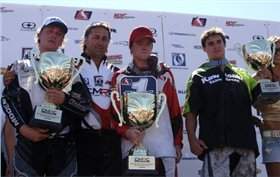 Teddy Maier, Mark Stallybrass, Jimmy Nelson, and Davenport
photo: Allison Kennedy

Do you have a highlight from the series?

The highlight was probably at the first round in the second moto when I got a second place start behind Nelson. We came up to tabletop section in the back and he wasn't jumping the table-to-table section but I thought he was. He went up to it and ended up scrubbing it and I jumped it and passed him. I mean, that was the first round and I couldn't believe that I just passed him for the lead. I kind of tensed up a bit when I was in the lead but that was way cool.
What are your plans for the rest of the year?

I'm back home now, so I'm going to train and get myself in better shape and come back to the East-West shootout [in Walton, Ontario, on August 19-20] and get a win.
Any plans to race an AMA national?

Not yet. I'm talking to some people to see if I can get some help but I'm not sure right now. I'm just focusing on that East-West shootout in Canada.
Do you want to come back to Canada next year?

Yeah, for sure. I want to talk to some teams up there and see what I can line up. I haven't talked to Richmond yet—I don't know if they're coming back next year—but I liked it. There are lots of cool people up there and I met some good friends, so I definitely want to come back. I'll come back next year in better shape and try to win the title.
Richmond Kawasaki and associated sponsors
South Valley Motorsports
Motorex oil
ProRacing Suspension.com
FactionMX.com
FLY
Ogio
Utopia
Factory 1
C.I.A
ASV
Motografx.com
Utah Controls
Toolbenefit.com