Privateer Profile: Kelly Smith
At 26 years of age, Ludington, MI's Kelly Smith is a veteran of the 250F class. A former KTM and Yamaha of Troy factory rider, he is in his first full season with the Motosport Outlet Honda team, and he finished sixth overall in the Eastern Regional 250F supercross series. His outdoor campaign hasn't exactly gone as planned and he's struggling to break into the top 20 in points. But you can never count Kelly out, as he is a former 125cc national winner and always has podium potential. We caught up with him for this installment of the Sponsorhouse.com Privateer Profile. Be sure to show Kelly and his sponsors some support by clicking on the links below, and check out his website at kellysmithmx.com.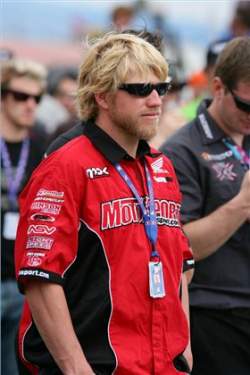 Motosport Outlet Honda's Kelly Smith

Racer X: Kelly, first of all, sum up your outdoor season so far in 2006.
Kelly Smith: [Laughs] Well, there's not a whole lot to sum up. It hasn't gone too well. The first few races I was really struggling. I was hurt and my elbow was bugging me a lot, so I was just struggling with that. I finally had a good moto finish at Budds Creek [fourth] and then got taken out right at the beginning of the second moto and couldn't put anything together there. I was really hoping to do well at Red Bud, and then in the first turn I was coming around and had a good start going, and then Martin Davalos never turned and just went straight and took out a few of us. I was one of the people caught up in that and was over half a lap down before I got going. I then got a halfway decent start in the second moto, even though I had a horrible gate pick, and at least got a top 10 there. So I'm just plugging away, trying to get some points and get back in it. I'm two points out of 20th right now, so I'm trying to at least get up to where I don't even have to do Saturday qualifiers, which really stinks. I think that now that I've ridden up front a few times, I at least have a little more confidence and I know that I've got the speed if stupid things don't happen.
I have to admit, it surprised a lot of people when you came out and finished fourth in the first moto at Budds Creek.
Yeah, definitely! That's the first time I got a start—that's all it is. I just have to be the old Kelly Smith who just gets the holeshot. You can look at the lap-time charts, and I deserve to be there. It just wasn't a fluky thing where everybody crashed and I did well. I had the speed for the entire moto. Everyone is so close that you just have to start out up front if you want to end up up front.
How's your conditioning?
Good. I feel strong and confident about that part. Budds Creek was probably one of the hottest races that there was.
We're almost halfway through the series, and like you mentioned, you're in 21st place trying to break into the top 20. Being that far back in points, does that add more pressure to you to perform well for your team?
I guess because I'm looking for a job for next year, yeah [laughs]. It's tough when it's the time of season to be talking to people and you feel like you don't even have the right because you haven't done anything yet. So yeah, I'm giving it everything I've got. I've got to show these guys, because they don't remember when I was getting fourths in supercross. In this sport, it seems like there's a lot of times when you're only as good as your last race. I always have something to prove, and I want a good ride next year, and I know I can keep doing this for a few more years. I have plenty of years left in me, and I don't know what I'm going to do yet. I'd be open to bumping up to 450s next year; I don't necessarily want to be a lifelonger in this Lites class—kind of get a bad rap like Mike Brown. But I can ride a big bike, so it wouldn't bother me at all. I actually like them—it's kind of how I made my mark, riding the four-strokes and winning the four-stroke national series there a few years, so I favor the bigger bike. I just always had better opportunities in the small class.
Do you think this is your worst outdoor season as a pro up to this point so far?
Well, yes and no. I mean, it's just more up-and-down than a veteran like me should have. My supercross season would've been totally fine, but the first few races, I basically shouldn't have been there. After that, things went good. I got a fourth at the third race, and I was consistent the rest of the season. The Honda is a good bike, and I think maybe the reason I didn't do quite as well at first was because I wasn't used to the bike. As the season went on, I was getting faster and faster. I almost won some heat races, but then I had a dumb crash in the second turn in the main at Texas. Other than that, I was fast. I started out dead last and caught up to seventh, which is good for me. Shoot, in that class, it's hard to go through the pack, so that was probably one of my best rides ever, even though it was only a seventh. It was good for me personally to know that I could fight my way through.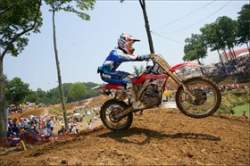 Smith finished a solid fourth in the first moto at Budds Creek

Does it feel weird calling yourself a veteran of the class?
I don't feel like a veteran, but it's just the reality when there are all these 16- and 17-year-old kids in this class.
Let's back up a bit. The Red Bud National a few weeks back had to be bittersweet for you. On one hand it was your hometown race, but on the other it was the last race that Mark Johnson would be managing the Motosport Outlet Honda team. Was it tough to see a guy like that leave the team?
It's tough. The guy did a lot, so who knows where our team is going to be now? Luckily, we only have half of the outdoor season to go, so I don't think it should be a problem. Even if it's just us riders and mechanics holding it together, I think we have it under control.
So there's no replacement?
As of right now, I don't know. I haven't heard of anyone officially being hired as team manager. I know they had plans of getting someone, but I guess we'll just wait and see. That was a big reason I signed with the team, because I know Mark was in charge of it and that he's been in charge of big teams before and he knew what he was doing. The team has great owners, but we also need someone good in charge, too.
What happens if it comes down to Glen Helen and you don't have any offers for 2007?
I won't wait that long. I'm going to be schmoozing around the pits, I guess. I sure hope it doesn't come to that, because I beat tons of guys that I know will have rides next year. I know I still have a lot of speed, so hopefully I don't get overlooked. I'm going to do my best to make sure that doesn't happen. A big thing is just making sure everyone knows that you're available and that you want a ride.
Well, are you looking forward to this weekend at Unadilla? This is a track where you've done well in the past, right?
Yeah, I got on the podium a couple years ago there. I know I can ride good at all the tracks—I think I've been on the podium at all of them somewhere along the line. It's just getting a start. When you're out of the points like I am, I don't get a guaranteed good gate pick. I have to do well and not crash in my qualifier and have things go smooth and not go to the last chance qualifier or whatever, because I get put way out and a lot of these starts are, let's face it, pretty unfair. And Unadilla is one of them. It's a 90-degree right-hand turn, so from the far outside it's pretty tough. Everything just has to really fall in place. You have to get a good gate pick and make the best of it.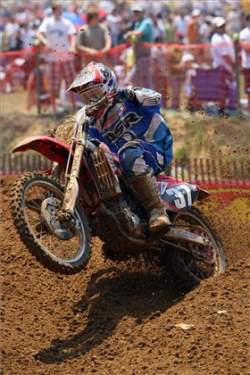 Smith wheelies his Motosport Outlet Honda CRF250R out of the rutted Budds Creek soil

A bright spot of your season has to be working with your mechanic, Scotty.
Yeah, definitely! We got along really well at Yamaha of Troy, so that's why I brought him a long with me to this new team. He works hard, he does a good job and has always done a good job, so we'll stay together as long as we're able to.
Anyone you want to thank, Kelly?
Yeah, I want to thank Mark Johnson, even though he's not with us anymore. He's the one who hired me and believed in me and gave me this ride. And I want to thank my family. I have a growing family, and I know it's tough with all of the travel I do, so I want to thank them. And I'm also a strong Christian, so I want to thank the Lord for everything I've got. I feel really blessed to be doing what I'm doing.
Kelly Smith's Sponsors:

American Honda