5 Minutes with ... Linda Ardehali
You can add it up in a variety of ways, but the sum always seems to point to the 2006 Amp'd Mobile Supercross Series being the best ever. The racing was great, the coverage was great, and more people than ever showed up to watch it all. Now the 2007 schedule is out, and tickets are about to go on sale. But if you want an early shot at the good seats, we found an inside line. We tracked down Live Nation's Linda Ardehali for some insight.

Racer X: Linda, what are you up to right now?

Linda Ardehali: I'm heading to the Dew Action Sports Tour in Denver.

Cool. How is that season going?

Very good. It was really competitive at the first event, we had a lot of new faces and a lot of the bigger names as far as talent goes. Everyone is scheduled to be back this weekend in Denver so it should be good.

So you have the Dew Action Sports Tour this summer, the US Open coming up in October, and then Amp'd Mobile Supercross begins again not far after that. Did tickets go on sale yet?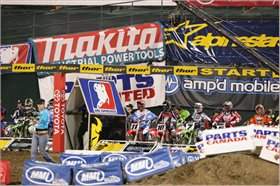 If you want to see the starting gate live at Anaheim 1, join the Cross Club.
No. We just announced the supercross schedule, so the 2006-2007 Amp'd Mobile Supercross Schedule has been released. So what we do is, we open it up to Cross Club members first. That's kind of like our VIP or frequent flyer program. They are our frequent ticket buyers. What it is, we always announce the schedule in the summer time and put the tickets on sale for the general public. We realize that there's a huge group of people that look forward to the announcement of the schedule and look forward to purchasing tickets. We want to do something special for those people because they are really our most loyal fans. So we created the Cross Club. You can join for free, and you get a monthly email with details and promotions on exclusive offers and all kinds of fun stuff. For example, throughout the supercross season we give pit passes to supercrosses that you can pick up if you're a member. And this year we sent five cross club members and their guests to the supercross banquet in May.
Yeah and I know you can't buy tickets to that at all!
Right. Unless you're a racer or in the industry, you can't go to the banquet. And those Cross Club members had the greatest time ever. They were able to just hang out with Ricky and James and Chad and all kinds of people in the industry, and take pictures and eat and drink and dance. It was fun.
Yes I can personally verify that the banquet was fun.
Yeah the pictures on the website prove you had a good time!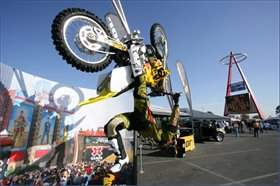 You never know what you'll find in the supercross pits.

Yeah that's a bonus!
Well, we just try to make the Cross Club a lot of fun like that. We have sponsor merchandise that we just randomly mail out to a bunch of Cross Club members. But the biggest thing is, the Cross Club members get the first chance to buy tickets. This Wednesday, all of the members get an email with links to all of the supercross events, the Freestyle Motocross events, and the Toyota AMA Arenacross events. They'll be able to purchase tickets, and there will be discounts at selected events. All of the details are in the email. And they have from the 14th to the 16th to purchase tickets. So they get first dibs.
So basically if you want to go to Anaheim 1, which always sells out, this is the best way to do it.
Exactly. And this is how you get the best seats. The actual on sale date for the general public is July 24th. So it's their chance to be first in line, and it's our chance to thank them for being loyal fans. And it's a free program, so there shouldn't be any reason why any motocross fan isn't signing up for the cross club.
So how do you sign up?
Go to www.supercrossonline.com and on the front page we have a big graphic on the front page that tells you all about the Cross Club. It doesn't get any easier than that.

Okay great. Have fun this weekend. Anything else?
We'll be announcing the Freestyle Motocross and the Toyota/AMA Arenacross Schedule soon, too, and the Cross Club members will get that info in their email.
Okay enjoy your trip. Be cool, Linda.
Thanks. You too.