Welcome to Racerhead, and maybe the first sunny day since
High Point
here in West Virginia. The rains that have washed out much of the Northeast in the past few weeks have subsided for now, which should give everyone time to get outside, do a little riding, and get ready for next weekend's
Unadilla
round of the Toyota AMA Motocross Nationals.
While it's been a slow week in motocross, things picked up today over on Mototalk, where an impromptu Photoshop contest kicked off. Here's how it started: Last weekend at Red Bud, Matt Ware shot a really cool start photo with Ricky Carmichael, James Stewart, and Chad Reed. I mentioned that it might make a great shot for the AMA Team USA shirt, but only if someone Photoshopped out Reed for whoever the third man on the American roster turned out to be—likely either #51 or #800. Well, that got the ball rolling, and "Alphado" rolled out the first idea, and then it was on!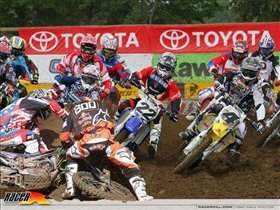 After suggesting putting Alessi in for Reed, Alphado had a different idea
What followed were some really funny pieces of computer creation, and we will run some of the best of them throughout the rest of Racerhead. (My personal favorite is
Team RC/Bubba/Bicycle!
by David Brozik.)
With this being an off-weekend, we sent Simon Cudby and Matt Ware out with their Sony HD cams for a couple of videos for Racer X Films. Simon caught up with title contender Ryan Villopoto out at Glen Helen, while Ware and Bad Billy drove up to Pittsburgh to hang out with Broc Hepler. Check them out here.
The dichotomy of their two practice tracks is amazing. It's summer in California, so GH looks hot and baked. Meanwhile, with all of the rain in Pennsylvania, the place where Hepler practices, looks like Vietnam with all its lush green trees. And the Cribs-like tour through Hepler's home—he still lives in the house he grew up in, Hulk Hogan pillow and all—is quite a departure from some of the other homes top pros live in now.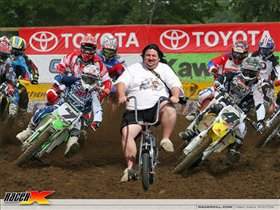 TFS on Team USA? Why not?!
Ricky Carmichael is taking the weekend off, heading over to his boat docked in Destin to take his dad on a fishing trip. RC earned it, not only with his win at Red Bud, but the work he put in this week. After telling everyone how much he liked the new setup he and Team Suzuki had found, the whole squad flew to Florida—including Roger DeCoster—for four days of testing and development. But they did take off Tuesday night to celebrate the Fourth of July at RC's parents' house, complete with their own little fireworks show.
The off-weekend gives James Stewart more time to heal up. I wasn't at Red Bud, but from all the reports I heard, James looked like he was trying to smooth things out a little and come back slowly from his epic crash at Southwick, which of course wasn't his fault (though it must be the highlight of the year so far on OLN, as their cameras were trained on #7 just as his bike locked up).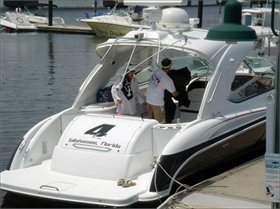 RC will be taking it easy in his canoe this weekend

photo: Scott Taylor

Donovan Mitchell is back on the case. Dono caught up with Josh Grant yesterday for an interesting "5 Minutes With…" with the young man many figured to have at least a win or two by now. If you missed it, check it out. Also, Jesse Bryant served up a short interview with Team Moto XXXer Tim Ferry, who had a real nice ride at Red Bud.
Hindsight's 20/20, right? I went back and looked at three different motocross magazines' coverage of the Hangtown opener, which James Stewart won. MXA's headline for the story was "Is Ricky Carmichael's Reign Over?" Transworld's header was "Same As It Ever Was… Or Is It?" followed by the subhead "Did Hangtown Host a Changing Of the Guard?" And Racer X wrote of Stewart, "He's the fastest man on the planet right now."
Carmichael must love reading our collective rhetoric, because since that race, which marked his first loss after 27 consecutive wins, he's reeled off four straight overalls, proving his reign is not over, there wasn't a changing of the guard, and he's still the fastest man on the planet. But after the amazing ride that James had at Hangtown, it really did look for the world like RC's days of dominance were numbered. Turns out we were all a little off on our warnings, and Carmichael certainly used the chatter for some bulletin-board inspiration.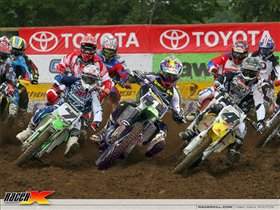 RC said he wanted to maybe ride the MX2 class, but this is ridiculous
Dave Brozik's handywork, again
From "Lucero10x" on Mototalk: "Is it just me or is it like these photogs are battling for moto supremacy??? It's like watching a couple hotties mud wrestling. The viewers are definitely the winners. Thanks!"
He was talking about all of the good photos from Red Bud—a great track to shoot, what with those 30,000+ people standing around! Here's a few galleries to check out:
Paul Buckley's stuff is here: http://www.buckleyphotos.com/
Tom Ferriter's gallery: www.pbase.com/thomasef
Trevor Hawk's pics: http://www.trevorhawkphotography.com/
There's also some great one from "Ecoulter" and "Squidly31" on the Mototalk message board.
Since I wasn't at Red Bud, here's Jason Weigandt's take on some of the weekend's action:
After the first Red Bud 250F moto, it looked like Ryan Villopoto was going to walk away with the rest of this series. As if his Budds Creek 1-1 ride wasn't impressive enough, RV completely destroyed everyone in moto one at Red Bud. It was a dominating performance we haven't seen in this class since the man once called "JBS" was doing it on a bike once called a "125."
But not so fast. This championship chase includes Mike Alessi, and that means a little bit of drama is always just around the corner. Mike saw his points lead shrinking down to nothing, and what's worse, the damage was being done by one of his old amateur rivals, not a seasoned veteran like Grant Langston or the newly arrived Ben Townley. He was notably shaken on the podium after the race. Nervous, scared, mad, whatever, the Villopoto streak was definitely upsetting the #800.
If RV joins RC and JBS, as "OneLane" imagined, here's how it's going to look
Villopoto was flying high. He grabbed the
Racer X
Holeshot in moto one and checked out while everyone else battled behind
Andrew McFarlane
. And I mean everyone. It was a great battle, but unfortunately,
Jason Lawrence
,
Ben Townley
and
Broc Hepler
all tipped over. It would have been a big momentum-builder for
J-Law
to just finish third, but his crash opened the podium up to Alessi, who was obviously not thrilled with that performance.
"I don't know what's going on with my speed," Alessi said. "I felt like I didn't even ride—I wasn't even tired. I had no motivation. It was depressing to see that I got beat by Ryan by that far. I know where my pace is and I'm capable of running with Ryan. It was pretty demoralizing. So I started seeing my points gap start to shrink, and I thought, I need to pin it! I need to get those points back!"
Now, Mike has been in this kind of pressure situation before. When you talk up the hype in the amateur ranks and go to the gate with several other riders just waiting to take you out, well, that's pretty good experience in dealing with pressure.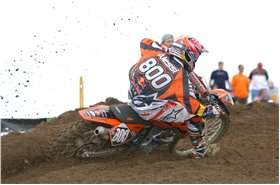 Give him credit: Mike Alessi answered the bell in the second moto at Red Bud
photo: Steve Bruhn
Often in these situations, Mike steps up, gets the holeshot, and checks out. But not this time.
Josh Grant
pulled the next
Racer X
Holeshot and this was exceptionally bad for Mike. Grant is his other old amateur rival, and he had some heat going after moto one. In that moto, Grant was trying to pass Mike on the last lap, and the two collided in the corner before LaRocco's Leap. After the moto, Grant immediately rode up to Mike and started yelling at him. You know there was some bad blood left to boil over in moto two.
And Grant rode like a champ for a few laps, holding Alessi behind him and looking like a fit for a moto win. But then he stalled his bike on the big off-camber. Dang. Alessi assumed the lead and had about a five-second gap on Villopoto, and he managed to hold it all the way to the end. Once again, Alessi had gotten a good start and a win when it mattered.
But of course there's more! Word surfaced that Mike had actually ridden off the side of the track and onto some grass at the start of the moto in order to avoid getting pinched off. He lined up on the very inside gate, so the grass might have been the only way to keep his elbows ahead of everyone else into turn one. Accusations were flying, but in the end, the result stood: a moto win for Mike and first overall (again) for Villopoto.
By the way, that's three wins in five races for RV, and what's more, it's all on tracks that he has never raced on before. Ryan says four 20-minute sessions are plenty to figure out how the tracks work, and for what it's worth, Carmichael has been saying he's over having Saturday practice altogether. RC and RV seem to agree on a lot of things lately.
And by the way, they're now both two-for-two in the Monster Energy/Kawasaki Triple Crown of Motocross. Only Steel City sits between the double sweep for the two redheads.
I'll say it again: this 250F class is just crazy stacked with competition. Besides the two kids out front, J-Grant is within millimeters of figuring this all out and reeling off wins. He has all of the tools. And once Hepler and Townley are back running at full-steam, look out.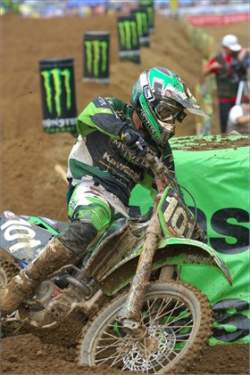 BT101 was happy to be back on the racetrack after nine months off of it
photo: Steve Bruhn
That's it from the Weege, who gets a well-deserved weekend off, too: No outdoor nationals, no GNCCs, no Bon Jovi concerts.
A public service announcement: "Clarity Research is a powersports research company, based in Detroit and North Carolina. We conduct onroad and offroad motorcycle research studies around the country. We are also a member of the Motorcycle Industry Council (MIC). We have also conducted a study at Southwick. We will be conducting a MX research study on Saturday July 15 in the Fullerton, CA area. We are need of 18-27 year old MX bike owners and 18-27 year olds who would intend to buy a MX bike." Interested? Click here.

The U.S. Open is getting a makeover of sorts, and it should make for a much more intense weekend out in Sin City come October. Check it out on the official site (www.ussx.com/news/trifecta.asp).
Also, this from Live Nation: "The 2006-2007 supercross, arenacross, and freestyle motocross schedules are being announced next week. Tickets are set to go on sale on July 24th. From July 14th-16th we are offering a special opportunity to CROSS CLUB members to purchase tickets first online. If you are a Cross Club member, you will get an email next week with the special password in it allowing you to purchase tickets and get special discounts on select shows. If you are not a member, sign up now. It's free to join, and there are some great benefits to being a member!"
For more info on the Cross Club, click here.
Want to get amped up for Loretta Lynn's? Here's a cool video from Shift MX of two young riders who are expected to be title contenders, Justin Barcia and Lowell Spangler.
By the way, has anyone been paying attention to the Tour de France? With Lance Armstrong no longer there, and so many other top contenders kicked out for doping violations, it just doesn't seem the same, does it?
As for the World Cup, my beloved English team lost to Portugal, much to Sandra Egger's delight. But then Portugal got knocked out by the French, much to DV12's delight. Now it's France vs. Italy this Sunday. Too close to call.
Looks like Mark Johnson, former manager of the Motosport Outlet/MDK team, has a great new gig with the PKV Racing Champ Car team.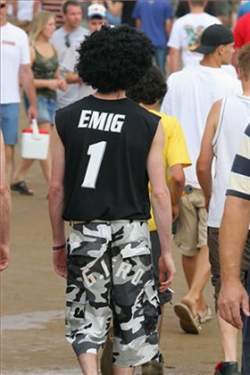 Fro fans are still out there

photo: Matt Ware

Matt Ware snapped a photo of a Jeff Emig fan at Red Bud that was still running the fro, eight years after Jeff's last race there. I sent the pic over to Jeff and got this reply:
"Wow! Fro lives! I guess I still have one fan out there, but don't you think that guy was burning up in the black gear? Must have been drinking a bunch of cold ones to keep his temp down."
Ben Townley's practice mechanic and friend Ruben sent his old friend Stefan "Still Undefeated" Everts some of the Ernie #10 stickers that Throttle Jockey made up for the fallen Honda rider. Now the nine-time world champion is wearing them on his helmet to show support.
Okay, now it's Ping's turn with some West Coast news….
The Fourth of July is a great day to think about how lucky we are to live in this country. It's also a great day to be thankful you are smart enough not to blow your fingers off with an oversized firecracker. Unless, of course, you were not that smart and you are reading this with a bloody nub of a hand. In that case, keep some Neosporin on it and maybe you'll have learned your lesson for next year.
At a BBQ at Nate Adams' house this week, I ran into Dan Flanahan and Marty the One-Man Party. I see these two guys once or twice a year and it's always entertaining. They are the alter-egos of Ivan Tedesco and Jiri Dostal. Those two think there's nothing funnier than going down to the local drug store and buying complete outfits for under $20 and staying in character all day. I think they're insurance salesmen from Wisconsin. Anyhoo, when I showed up they had on tight short-shorts (pulled up way too high) with generic tank tops, sun visors, and the cheapest sunglasses they could find. I wish I had my camera with me. Next time.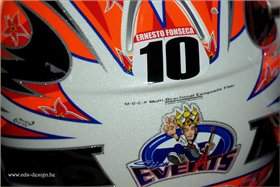 Stefan shows Ernesto his support
Former Renthal front man
Shawn Norfolk
has officially left California. Shawn called this week as he was driving by Lorretta Lynn's Ranch in Tennessee. When I asked him how it looked he told me, "It's green, grassy, and rainy." Yeah, that sounds about right. Shawn is headed for a suburb of Charlotte, North Carolina, to start his new position as the manager of No Fear's eastern division headquarters. Good luck, SND.
Where in the world is Jay Marmont? The last I heard, the Red Bull KTM rider was staying in Florida with Chad Reed. But I've heard rumors that he is still having knee problems and that he had surgery on his knee this week to repair a torn ACL.
The two biggest surprises from Red Bud last weekend had to be Timmy Ferry and Jason Lawrence. Ferry has been struggling with his wrist for what seems like two or three years. The former 125 Supercross Champion seems to be feeling better, and his results have been steadily improving. In Michigan, Ferry carded a very solid 7-5 for sixth overall.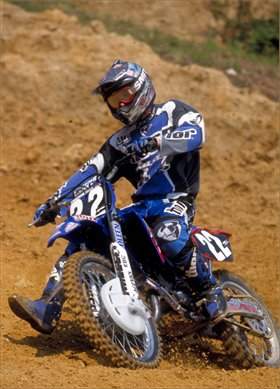 photo: Racer X Archives

Jason Lawrence also turned heads at Red Bud. Scott Sepkovik, Jason's agent, has been telling me all year how amazing Lawrence is on an outdoor track and how great he was going to do this summer. I've made a couple of comments about Jason's race preparation (or lack thereof), and although it makes Scott want to strangle me, i think it's right on the mark. Red Bud was the first time I saw Jason put his heart into it. He hounded Andrew McFarlane the entire moto and had third locked up until he tipped over in a corner with a couple laps to go. Was he tired? Take it easy, Scott; I'll let you watch the OLN footage of it on Monday and decide for yourself.
Regardless, it was a great ride for Lawrence and he backed it up with a last-to-11th effort in the second moto. I didn't think someone whose race-day diet consists of 27 Otter Pops could ride that hard for two motos. Imagine what this kid could do if he trained and prepared properly. Unfortunately, Jason has a subconscious reflex to authority where his middle fingers stiffen up and the rest of his knuckles curl into a ball. Try giving him advice or telling him what he should do and you'll see what I mean. Hey, I'm pulling for the kid. If he can figure out how to get results and win some races and titles, he would be a breath of fresh air in a sometimes stale and uniform environment.
Josh Hansen, are you reading this? Because I'm pulling for you, too. Now drive your Bentley to the gym and get to work.
That's it from Ping. You can hear more from him on the OLN broadcast of the Red Bud National, which, due to the Lance-less Tour de France, will air one day later than usual—Sunday, April 9, at 5 p.m. EST.
And now a few words from Bad Billy: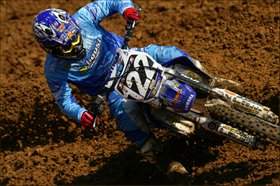 Matt Walker is looking to turn his season around next weekend at Unadilla
photo: Simon Cudby
Yamaha of Troy's
Matt Walker
is having a season so far that he'd probably rather forget, but you can never count out the speedy Georgian. He seemed to finally have things going his way in the second moto at
Red Bud
last weekend, but a stroke of bad luck forced him to pull off the track. "The lens in my goggles were put in backwards and I had to pull off and get new goggles," Matt told us earlier today, in obvious disappointment. "I had to take all of my tearoffs off because I was wiping my goggles. I pulled a really good start and a couple people got around me, but then it got to the point where I couldn't see, so I just went backwards because I had to take them off." Matt is looking forward to
Unadilla
because he said that's a track where he turned his season around last year.
Earlier this week I spoke to Jake Marsack, the Team SoCal Yamaha rider who suffered a broken pelvis the week prior to his home-state race at Red Bud. Jake was gaining some momentum outdoors, and you can check out our conversation in this week's Sponsorhouse.com Privateer Profile.
And I want to thank Ryan Abrigo for the kind note he sent us yesterday. Ryan said, "I'm in a cast right now from an old broken bone in my right wrist. I waited till after the SX season to get it fixed so I'm missing a few of the outdoor nationals. I should be back by Millville. Anyway, those Saturday practice videos from the nationals on Racer X Films keep me excited and I can't wait to get back out there!"
Now, the not-so-good news. Hunter Whitley, the son of Richmond Kawasaki Team Manager Billy Whitley, suffered a broken back this week. He has undergone surgery to repair his spine, which was reportedly damaged at T3. Hunter and his whole family have vowed to fight this thing with all they got. Our absolute best wishes go out to the entire Whitley family.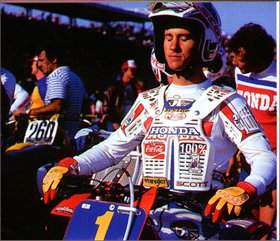 It's time for motocross to help our Icon
As you may have heard, things are not going well for
David Bailey
, either. Bailey, the Icon himself, suffered a career-ending injury in January '87. He has fought for years to make a good life for his family and himself and, as a result, he's became an inspiration for us all.
But Bailey had been very ill these past few months. In large part, it goes back to the day that he rode a specially equipped motorcycle at Lake Elsinore. It was essentially an easy ride, but the jolting to his body and the muscles and organs that lay paralyzed for 20 years began a chain of internal events that have now led to a life-threatening situation. David has what's called a pressure sore, and it's so deep and infected that it requires surgery in the very near future. But whatever insurance David has had has been exhausted by this progressive problem, and he's been lying on his stomach for more than four months now.
The point is this: He really needs our help. Of course, there are a lot of people out there who do, and we should all do what we can to help out. In David's case, the whole motocross industry knows and respects him, but he was too proud to ask anyone for help—his dad, Gary, and friends like Mark Edwards finally stepped in and decided to do all they could. You will be hearing about some really cool fund-raising plans in the future, but for right now, please visit www.fullcirclefoundation.com and click on the "Donate Now" link at the bottom of the page and choose "Clinic Program."

You can also mail a check to:
Full Circle Foundation
Attn: David Bailey Fund
3585 Keefer Road
Chico, CA 95973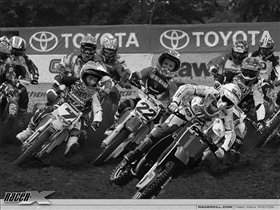 Joe and GMan will certainly help David Bailey, but what about you?
And here's another case that needs our attention. I received this from
Stefy Bau
: "Tomorrow will start the first part of
Chase Borders
auction on eBay. Make sure to take a look. You can get a chance to have a cool and rare autographed jersey and by doing so you will help a kid that really needs a hand:
"Chase Borders 18 years old, son of Johnny Borders of Renegade Suspensions (Johnny was a professional rider himself back in the days racing against the likes of Mark Barnett, who is a good friend of the family), got seriously hurt few weeks ago while practicing at Monster Mountain, AL. Currently he is on life support and we are hoping for a miracle. In the accident he broke his C5 vertebra and his right femur. Chase was about to turn pro and fulfill his lifelong dream of becoming a professional motocross rider. This auction is going to be for 10 days, ending at 12:00pm EST on Monday July 17. The keyword is Chase Borders Auction. My intention is to have a different auction every ten days with different jerseys. RC and Ben Townley stepped up immediately and their jerseys are in this first auction. Thanks for the support. If you want to know about Chase's updates check out www.chaseborders.com."
Sorry for all the unfortunate news, but that's just the way it is sometimes. Thanks for reading Racerhead. See you at the races.