5 Minutes with ... Live Nation's Dave Prater
We were at the Aurora, IL,, office of Live Nation, promoters of the U.S. Open, when a press release was going around for a final look: The U.S. Open Trifecta was about to be announced. This is a new format and adds a possible $50K a night for a winner, and $50K on top of that for a clean sweep. This is an all-new format for the U.S. Open, so we asked Dave Prater, Director of Supercross, to explain.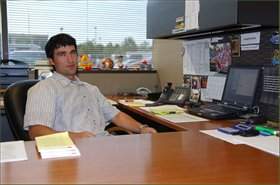 Live Nation's Dave Prater

photo: Steve "TFS" Bruhn

Racer X: You just released a press release on a new format for the U.S. Open. What is the U.S. Open Trifecta?
Dave Prater: We are trying to add something new, a little spice to the event. There are three parts. The first part is called the Superpole; it's a time-trial thing with 12 riders. Right out of the gate, right after opening ceremonies, they do one lap. The fastest qualifier will win $10,000 for the night.
How do you pick those 12?
Past champions are in: Supercross, Supercross Lites, or U.S. Open champions.
So you really just pick them?
There are going to actually be 10 from past champions, then two fast qualifiers for that night.
So you run through this both nights?
Yeah. It's done exactly the same each night. Right after opening, one hot lap each, and a second $10,000 goes to the winner of this for Saturday night.
It seems a little like a game show warm-up.
Exactly. Ten grand each night—someone will get it no matter what.
Now the second part: main-event holeshot.
The main event holeshot from each night will be worth an additional $5,000.
So far you have spent $30K more.
For the third element of the Trifecta, you have to win the main event.
Okay, suppose a best-case scenario for someone who sweeps everything. How does that add up?
The third element is contingent on the first two. If you win the $10,000 in the Superpole and the $5,000 for the holeshot, you win $35,000 more for the main, so that makes $50,000 more total for Friday night. You try and do it again for Saturday. If someone does the Trifecta the first night, you automatically double down and have the opportunity to win the Trifecta the second night, and if you win that, it's bumped up an additional $50,000.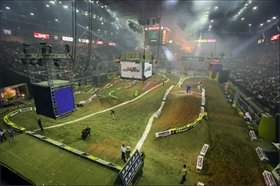 The 2006 U.S. Open of Supercross is undergoing some major changes. This is one event that you won't want to miss!

photo: Simon Cudby

So that's where the extra $50,000 comes from.
Exactly. Friday's Trifecta is worth $50,000. Saturday's Trifecta is worth $50,000. Winning both gets you an additional $50,000 bonus, plus the $100,000 first prize for the overall winner.
Do you think this will ramp up the enthusiasm on the riders' side and make them try that much harder?
I think so, definitely. Just $5,000 alone for a holeshot? Kyle Lewis, Jason Thomas—anyone should do pretty decent.
Are you worried about someone doing something crazy like pinning it to the chalk line and just hitting the wall?
No … well, you never know.
How's the U.S. Open growing up? The event has been around a while now.
Yeah, this is the ninth year. It's going well. It's a fun event. It's something different. It's a standalone event where there isn't so much pressure. Ricky, James, Chad, during the season they have that championship pressure. They come out for the Open and it's more of a fun, standalone event. It's like a vacation for them.
Will this be your best U.S. Open ever?
Definitely. With the Trifecta, it's going to spice it up a little, add some more interest. We are hoping the "three guys" are there and good to go.
Is this really motorcycle racing meets game shows?
We're just trying to marry supercross and Las Vegas together. It's at the MGM Grand, as always. In the opening ceremonies, we just try and give it a Vegas or a boxing flair. We are definitely giving it the gaming feel. It will be exciting.